Subscribe/Access
Advertisements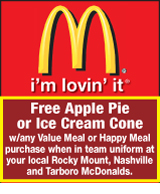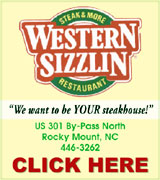 Sections
Member Options
Back
Marketing plan targeted for I-95 exits
Nash County's Board approved a contract for professional services which will develop a marketing plan for I-95 interchanges.
Planning Director Rosemary Dorsey told board members the plan would look at the interchanges in the Hickory area, Sandy Cross area, and Highway 97 area of I-95. More ...
By Amanda Clark, Graphic Staff Writer
Marijuana bust nets $1.9 million
A tip to the Sheriff's Department led to the discovery of $1.9 million worth of marijuana in a rented cargo truck.
Deputies with the Nash County Sheriff's Office issued a search warrant at 9265 Bray Road in Bailey after receiving an anonymous tip. A search of the home revealed around six pounds of marijuana and paraphernalia inside the residence. More ...
By Amanda Clark, Graphic Staff Writer - 2 opinions posted
School board looks at tobacco-free policy
The Nash-Rocky Mount Schools (N-RMS) board of education is considering the adoption of a 100% tobacco-free program for the system. Currently, N-RMS is one of 31 school districts in the state that has not adopted 100% tobacco-free policies. More ...
By Michele A. Cruz, Graphic Correspondent
AR Idol fun
Nashville Elementary students were treated to some fun on Friday afternoon when they participated in the AR Idol. Students celebrated their success in the Accelerated Reading (AR) program with a contest in the gym. This year, a total of 30,474 points were earned for the Accelerated Reader program, up 4,067 points from last year. The boys and girls competed in the program. The boys won the contest with 15,935 points, leaving Principal Beth Lucas to kiss a donkey. The girls earned 14,539 points. Had the girls won, Assistant Principal Doug Davis would have shaved his head. Pictured left, Ms. Lucas plants a wet one on a donkey Friday afternoon. More ...

Spring Hope discusses 2007-2008 FY budget
Water and sewer rates may not increase after all, Spring Hope Town Manager John Holpe told commissioners during a second budget workshop meeting Monday night. More ...
By Amanda Clark, Graphic Staff Writer
Red Oak hears sewer study
Red Oak Commissioners met with representatives from the Wooten Company to discuss the preliminary draft of a sewer feasibility study. Engineers Chris Thomson and Gary Hartong presented the report at regular monthly business meeting on Monday, June 4. More ...
By Amelia Harper, Graphic Correspondent
Stoneworx to relocate to Town of Nashville
A manufacturing company will soon move to Nashville, Jeremy Stratton of Carolinas Gateway Partnership announced during Nashville's Town Council meeting Tuesday night. More ...
By Amanda Clark, Graphic Staff Writer
Stoney Creek Volunteer Fire celelebrates 51 years of service
It was 51 years ago that Stoney Creek Volunteer Fire and Rescue began operating out of a small building at Barnum and Benvenue Road. At its inception, the department was a volunteer fire department. It eventually grew into both fire and rescue. Today, the department remains volunteer but is completely rescue oriented. It is now located in a larger building on Country Club Road in Rocky Mount. More ...
By Amanda Clark, Graphic Staff Writer
Addington receives Barton scholarship
Emily Rebecca Addington of Nashville, a senior at Nash Central High School, is the recipient of the John J. Harper Scholarship at Barton College. The renewable scholarship will cover $3,000 of tuition for the freshman year. More ...

Board reviews attendance boundary issues
School meals prices to increase 25 cents next year
Gayle Hudson, Edgecombe County Director of Elections, explained the current attendance boundary problem to the Nash-Rocky Mount Schools (N-RMS) board at their meeting Monday night. Hudson found that State House Bill 1074, put into law in 2003, was written incorrectly, thus creating areas of question along the boundary between Nash-Rocky Mount Schools and Edgecombe County Schools (ECS) systems. More ...
By Michele A. Cruz, Graphic Correspondent
Nashville budget is approved
Nashville's Town Council approved the 2007-2008 fiscal year budget at their meeting Tuesday night, which means residents will see a 2.5 percent increase in water rates and a 54 cents increase in recycling fees. More ...
By Amanda Clark, Graphic Staff Writer
Johnson & Wales Dean's List
The following Johnson & Wales University students have been named to the Dean's List for the 2007 winter term. To receive Dean's List commendation, students must earn a cumulative grade point average of 3.40 or above. More ...

Just call me the newest mini-van man in town
Just two months ago, the concept would have been unthinkable.
Then child #3 came along and my wife and I began what we thought was the surrender, the beginning of the end for us. We considered buying a minivan.
That's right, the image of the hulking SUV, the power under the hood, the size, the boldness, the coolness — if we went through with this, we'd give all that up for the frumpy, generic bane of renegade parents like us — the van. More ...
Mike Brantley
Congratulations 2007 graduates!
Out of all the fun things you'll do in life, graduating from high school is definitely among the top ten.
It was nine years ago that I graduated from high school; four and half since I graduated from college. They were both very important days for both me and my dad and days that are etched in both my mind and heart. More ...
Amanda Clark
Reader responds to recent letters
Homosexuality has become a very controversial subject. Everyone has an opinion, as you can see by the two previous letters to the editor. I, however, have to agree with Mr. Cary. My Bible tells me that it is a sin, that no one is born homosexual. It is a lifestyle chosen by the individual. Immoral conduct, including homosexuality along with vile wickedness, caused the complete destruction of Sodom and Gomorrah. No sign of these two cities has ever been found. More ...
Letters to the Editor:
Medicaid expenses burden many county budgets in North Carolina
Each year counties across our state have asked to end their requirement that county governments use local revenues (our property tax) to fund 15 percent of the state's share of Medicaid, a federal and state program that helps pay health insurance for the disabled and low income citizens. More ...
Letters to the Editor:
A tribute to former superintendant of schools
On May 12, 2007 Mr. Fries died at the age of 92. He had followed L.S. Inscoe as superintendent of Nash County Schools and served in that capacity for sixteen years. In 1955 Mr. Inscoe named a young man, fresh out of Langston University, principal of what was called Bailey Colored School. More ...
LETTER TO THE EDITOR
Staying Together
RED OAK -- Let's stick together.
Back during their middle school days, several former Nash Rec baseball performers met and decided to undertake that theme. More ...
By Geoff Neville, Graphic Sportswriter
Northern's Gay going to NC Wesleyan
RED OAK -- A strapping slugger.
That's the look Northern Nash's Jason Gay exudes on the baseball field, and for good reason. At 6-foot-3, Gay certainly appears to be a player who can knock the cover off the ball. More ...
By Geoff Neville, Graphic Sportswriter
Webb set for NCWC challenge
RED OAK -- At only 5-foot-6, Northern Nash senior shortstop Andrew Webb doesn't necessarily pass the eye test.
But he sure passes the results test. And in a big way. More ...
By Geoff Neville, Graphic Sportswriter
Legion's season is ongoing
ROCKY MOUNT -- The Coleman-Pitt Post 58 baseball team, which features some of Nash County's top prep diamond performers, has resumed another summer American Legion season. More ...
From Staff Reports
NCWC Gets Moore
RED OAK -- When college coaches inquired about Daniel Moore to Northern Nash baseball coach Al Carter, one description almost always came to mind.
"They would come to games and always talk about how hard Daniel worked,'' Carter said. "Little things like how Daniel sprinted off the field between innings were things that they noticed. He's the type of kid who plays hard all of the time.'' More ...
By Geoff Neville, Graphic Sportswriter
Post 58 strong this summer
ROCKY MOUNT -- Coleman-Pitt Post 58 American Legion baseball coach Lance Peck wanted his squad to play some "small ball" in their season-opening doubleheader contests with New Bern Post 24 last Saturday. More ...
By Charles Alston, Graphic Correspondent
Development camp coming to RM
ROCKY MOUNT -- The National Football League is coming to Rocky Mount High School.
No, the Patriots are not playing the Colts in an exhibition game at the Rocky Mount Athletic Complex. The NFL is bringing one of its most important high school player camps to the RMHS campus. More ...
By Charles Alston, Graphic Correspondent
ECU players picked for tournament team
CHAPEL HILL -- Stephen Batts, Jamie Ray and Corey Kemp were named to the 2007 Chapel Hill Regional All-Tournament Team following North Carolina's 6-5 regional championship win over Western Carolina tournament officials announced Monday afternoon. More ...
From Staff Reports
C.B. Aycock wins state 3-A baseball title
RALEIGH – Junior Jay Rose had two hits and drove in three runs to lead Pikeville Charles B. Aycock to a convincing 10-2 decision over Southeast Guilford and a sweep of the North Carolina High School Athletic Association 3-A baseball championship series last Saturday at Doak Field on the campus of North Carolina State University in Raleigh. More ...
From Staff Reports
ROSE HEDGEPETH
GRIMESLAND – Rose E. Hedgepeth, 68, died Saturday, June 2, 2007. Funeral services were to be today (Wednesday, June 6) at 1 p.m. at First Timothy Missionary Baptist Church with Pastor John Neal officiating. Burial was to follow in the Gardens of Gethsemane cemetery. More ...

THOMAS LYNCH
ROCKY MOUNT – Thomas Junior "Curly" Lynch, 38, died Monday, May 28, 2007. Funeral services were held on Friday, June 1, at the Pleasant Grove Baptist Church with the Rev. Linda Taybron officiating. Burial followed in the Pleasant Grove Church cemetery. More ...