Subscribe/Access
Advertisements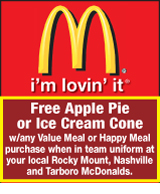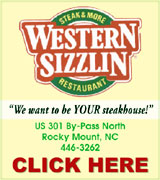 Sections
Member Options
Back
Juvenile arrested for carjacking
A 13-year-old boy was arrested after carjacking a woman and her three-year-old baby last Saturday in Spring Hope as part of a gang initiation.
According to Lt. Pat Joyner, with the Nash County Sheriff's Office, the suspect placed an object in the roadway on Pleasant Grove Church Road, causing Edith Tabron to stop and get out to move it. The suspect allegedly held a gun to the woman, taking her vehicle with both her and her baby still inside. The two were eventually dropped off at a relatives house, Joyner said. Neither were injured. More ...
By Amanda Clark, Graphic Staff Writer - 1 opinion posted
Council approves special use permit
Nashville's Town Council approved a special use permit after an agreement between homeowners and developers of the subdivision was made.
A called meeting was held last Wednesday night at the request of homeowner Greg Finch after Finch said the homeowners of Cross Creek Subdivision had met with K.L. Walston and come to an agreement about the 27 lots in question. More ...
By Amanda Clark, Graphic Staff Writer
Teen Leadership Club pitches in
W.L. Greene student Isaac Daniels picks up trash along Sixth Street beside the school. The school's Teen Leadership Club adopted the street and spend two mornings each year cleaning the roadway. The club also picks up trash on campus each week. Edward Lyons is the club's advisor. (Graphic photo by Amanda Clark) More ...

Local movie store robbed
Movie Gallery of Nashville was robbed last Tuesday afternoon and police are still on the lookout for the suspect. More ...
By Amanda Clark, Graphic Staff Writer - 1 opinion posted
Castalia donates to library
Castalia commissioners voted earlier this month to donate a $350 bench to help furnish Nashville's new Cooley Library which is currently under renovation. Commissioners voted unanimously in favor of the project at their regular monthly business meeting on June 5. Though all of the commissioners were in favor of contributing to the library project as presented by Cooley Library representatives at the May meeting, Mayor Eileen Leonard suggested the bench with a plaque noting the source of the donation as a way to remind patrons of the library of Castalia's continued support of the library's goals. More ...
By Amelia Harper, Graphic Correspondent
DERRS honors volunteers, organizations
ROCKY MOUNT — The Nashville Graphic was one of more than 60 volunteers and organizations honored by Down East Radio Reading Service (DERRS) at its fourth annual Appreciation Dinner held in May at West Haven Presbyterian Church in Rocky Mount. More ...
By Michele A. Cruz, Graphic Correspondent
Local selected by talent scout
Rainey Williams was chosen for excellence at a recent audition for the American Modeling & Talent Association, hosted by Touch of Class Models & Talent of Greenville. More ...

Boys and Girls Club celebrates first Ambassador's Charity Dinner
The Boys & Girls Clubs of Nash/Edgecombe Counties celebrated its First Annual Ambassador's Scholarship Charity Dinner on June 6 at the Holiday Inn Gateway Convention Center in Rocky Mount. The event celebrated individuals, businesses, and past Board Members (Ambassadors) who have worked tirelessly to support the Boys & Girls Clubs since its inception as the Boys Club in 1966. More ...

ECU announces recent graduates
The following Nash County students are recent graduates of East Carolina University. Their names are followed by honors they received (if any), their degree and major. More ...

North Carolina Union Soldiers - part two
Last week, we covered in this space a little discussed piece of history from the Civil War — North Carolina regiments raised for the Union Army.
While countless numbers of Southerners stayed loyal to the United States and left the South before hostilities began, relatively little has been written about the entire units that were formed in many of the Southern states. More ...
Mike Brantley
USF must make room for wireless phones in NC
As North Carolinians know, the wind is blowing strong in the direction of wireless. Cell phones are no longer a novelty, they are a necessity. More and more people are claiming wireless phones as their only phone line. More ...
Letters to the Editor:
California Men
ROCKY MOUNT -- Rocky Mount High's Demetric Marshall, Jason Tyler and C.J. Ford hope to follow in the footsteps of former Northern Nash and current Arizona Cardinals football standout J.J. Arrington.
They feel if Arrington could go west to California to a junior college (College of the Canyons), sign with a Top 10 Div. I team (California) and during his senior season become one of the best college players in the country (lead the nation in rushing), they could do it, too. More ...
By Charles Alston, Graphic Correspondent
Rocky Mount's Womble makes college decision
ROCKY MOUNT -- When Chad Womble was sitting way down at the end of the bench during his freshman year, he never realized the impact he would have on Rocky Mount's varsity baseball team.
Fast-forward four years and the recent honor graduate is now getting ready to carry his game to the next level. More ...
By Charles Alston, Graphic Correspondent
All-NEW honorees finalized
ROCKY MOUNT -- The NEW 6 3-A Conference has released its all-conference teams for the 2007 spring sports season. More ...
By Charles Alston, Graphic Correspondent
Carolina wraps up first half
ZEBULON -- The Carolina Mudcats (28-42) ended the first half of the Class AA Southern League baseball season on a positive note with a 5-4 victory Sunday over the Chattanooga Lookouts (29-41) at Five County Stadium. More ...
From Staff Reports
NN announces football staff
RED OAK -- It's been a well-guarded secret around Northern Nash's campus all spring. Everyone's been wondering who would be on new head coach Chad Smith's football staff. More ...
By Charles Alston, Graphic Correspondent
ALAN KYLE JOYNER
BAILEY - Alan Kyle Joyner, 47, of 12137 Oak Avenue, Bailey, passed away suddenly at Johnston Memorial Hospital on Wednesday, June 13. Graveside services were Saturday in Forest Hill Cemetery, Nashville. The Rev. Matthew Stone officiated. More ...