Subscribe/Access
Advertisements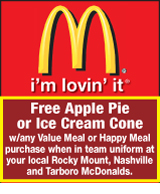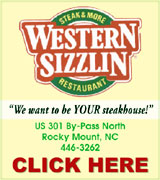 Sections
Member Options
Back
Board hears greenway, paddle trail possibilities
A possible Greenway and Paddle Trail is in the future works for the Town of Nashville.
A presentation was offered to council members Tuesday night that explained the planning stages of the trail, which could include over 5,000 linear feet of gravel, boardwalk and grass trails throughout the town. More ...
By Amanda Clark, Graphic Staff Writer - 5 opinions posted
Momeyer Fire receives grant
Momeyer's Volunteer Fire and Rescue Department recently received a $4,864.35 grant from the State of North Carolina. More ...
By Amanda Clark, Graphic Staff Writer
Aaron Davis joins Nash County Rec
There's a new face in Spring Hope. Aaron Davis has joined Nash County's Parks and Recreation Department as the West District Recreation Coordinator. Davis will operate out of Spaulding Auditorium and will work with recreation in the Spring Hope area. More ...
By Amanda Clark, Graphic Staff Writer
Band camp
Nash Central High School band students attended a week-long band camp last week. The students attending the all day camp Monday through Friday and then held a cookout on Saturday. Band students will soon be preparing for a trip to Washington, D.C., where they will be performing at the Lincoln Memorial in June 2008. The school was chosen to represent North Carolina out of 66 schools. Pictured Nick Vickery and Allen Hyde perform a piece on the trumpet during camp. More ...

Hammer Chiropractic opens in Nashville
Nashville's Chamber of Commerce welcomed Drs. Allen Bolin and Dimpal Patel of Hammer Chiropractic to town last Tuesday during a ribbon cutting for the business.
The business, located at 343 W. Washington Street, became Nashville's only Chiropractor. Dr. Patel used to work for a chiropractic office in Nashville years ago and said she jumped at the chance to come back to town. More ...
By Amanda Clark, Graphic Staff Writer
Officer shot during stop
A Rocky Mount police officer was shot early Sunday morning and the suspect's body was found dead Monday with a self-inflicted gunshot wound. More ...
By Amanda Clark, Graphic Staff Writer
Nashville man found dead
A missing Nashville man was found dead after his car broke down last Wednesday. According to Nash County Sheriff Dick Jenkins, 85-year-old Plummer Ricks, Sr., was found dead by a Nash County K-9 unit after his family reported him missing. More ...
By Amanda Clark, Graphic Staff Writer
Tobacco to be restricted from school grounds in '08
NASHVILLE — The North Carolina General Assembly passed a bill last month, which prohibits tobacco use at all school sponsored events and in or on school buildings, facilities, campuses, and any other properties owned or operated by the school administrative unit. The state's school boards must have this policy in place and enforced by August 1, 2008. More ...
By Michele A. Cruz, Graphic Correspondent
Glisson, Nichols marry
Grayson Anne Glisson and Christopher Ashley Nichols were united in marriage on Aug. 4, 2007, at Rose Hill Plantation. The Rev. Rick Moser officiated the 7 p.m. ceremony. More ...

BIRTH
Steven and Misty Cockrell of Nashville announce the birth of a son, Dominick Ray Cockrell, on July 4, 2007, at Nash General Hospital. He weighed 7 pounds, 14 ounces and was 21 inches long. More ...

Schools may offer parents attendance choice this fall
NASHVILLE — The Nash-Rocky Mount Schools (N-RMS) board approved a lease proposal from Conterra Ultra Broadband (CUB) involving Benvenue Elementary and Edward Middle schools properties during its regular meeting Monday night. Mark Strickland, N-RMS special assistant for auxiliary services, had presented the proposal to the board for review at their June work session. More ...
By Michele A. Cruz, Graphic Correspondent
New history lessons will leave children behind
Maybe I'm sticking my nose into something that I may not know much about and just running off at the keyboard, but that's never stopped me before.
This week's tirade involves a decision this summer by the North Carolina Department of Public Instruction (or Obstruction, as some veteran local educators might say) to change how history is taught in our high schools. More ...
Mike Brantley
Friends of the Harold D. Cooley Library spearhead fundraising campaign
Work is underway in Nashville to convert the former Joyner's Supermarket to the new Harold D. Cooley Library. The Friends of the Harold D. Cooley Library are excited about the enlarged space and great location of our new library. The facility, containing 6,000 square feet of library space, will have small meeting rooms, a conference room, a children's program room, more computers, and a comfortable seating area for adults. More ...
Letter to the Editor:
Imports may be more costly in the long run
I always knew the United States would get hit with the reality of importing its goods to other countries. While it may prove to be a cheaper way of doing business, the end result could be a little more expensive. More ...
Amanda Clark
VICTORY LAPS
ROANOKE RAPIDS - Six was the lucky number for Nash Rec at last Saturday's Nash-Halifax Swim League Championships.
Nash Rec, continuing its recent conference dynasty, claimed its sixth consecutive title by outlasting area foes Roanoke Rapids, Birchwood and Westridge. More ...
By Geoff Neville, Graphic Sportswriter
Brittany pairings finalized
WILSON -- The third annual Brittany for the Boys Soccer Showcase will once again feature several local teams on Aug. 24-25 at Gillette Park in Wilson.
Proceeds from the event will go to the Brittany Willis Memorial Scholarship Fund. More ...
From Staff Reports
Huffman takes over at NC
ROCKY MOUNT -- New Nash Central head baseball coach Chris Huffman has given fair warning. His 3-year-old son Kaleb will be the Bulldogs' biggest fan come spring. More ...
By Charles Alston, Graphic Correspondent
Nash teams prepared for scrimmage
NASH COUNTY -- After pounding on one another the last two weeks, Nash County's high school football teams will finally get to hit someone else. More ...
By Charles Alston, Graphic Correspondent
POST 58 FINAL SEASON TEAM STATS
ROCKY MOUNT -- Nash County Post 58, despite playing just 25 of the original 34 games it was scheduled to play, had one of its most offense seasons, statistically, in recent memory. More ...
By Charles Alston, Graphic Correspondent
Carolina Mudcats defeated by West Tenn
ZEBULON -- Charlton Jimerson fell a triple shy of the cycle, clubbing four hits good for five RBI as West Tenn snapped a personal six-game losing streak to Carolina, defeating the Mudcats 11-4 on Sunday afternoon at Five County Stadium in a Class AA Southern League baseball contest. More ...
From Staff Reports
Nash Arts: AUGUST EVENTS SCHEDULE
Guitars and Friends - August 11th at 7 p.m. - Guitars & Friends is a group of local singer-songwriter-musicians who cover a wide variety of musical styles including classics from the likes of James Taylor, Jim Croce, The Eagles, and more. More ...

AUBRA L. ARRINGTON
CASTALIA – Aubra L. Arrington, 82, died Wednesday, Aug. 1, 2007. Graveside services were held Aug. 3 from the Arrington Family Cemetery at Red Bud Baptist Church with the Rev. Leo Lowery officiating. More ...