Subscribe/Access
Advertisements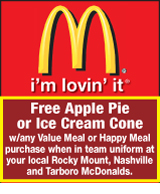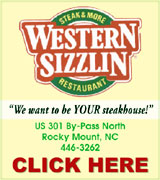 Sections
Member Options
Back
Water use is restricted in Nash County
Nash County residents will have to deal with dirty cars for a while, as a lack of rain has forced the county into a water shortage.
Voluntary conservation efforts were put into place July 2 after levels in the Tar River Reservoir had dropped. Now, Rocky Mount, Nashville and Nash County officials are issuing a water shortage warning and putting into place mandatory water use restrictions. More ...
By Amanda Clark, Graphic Staff Writer - 1 opinion posted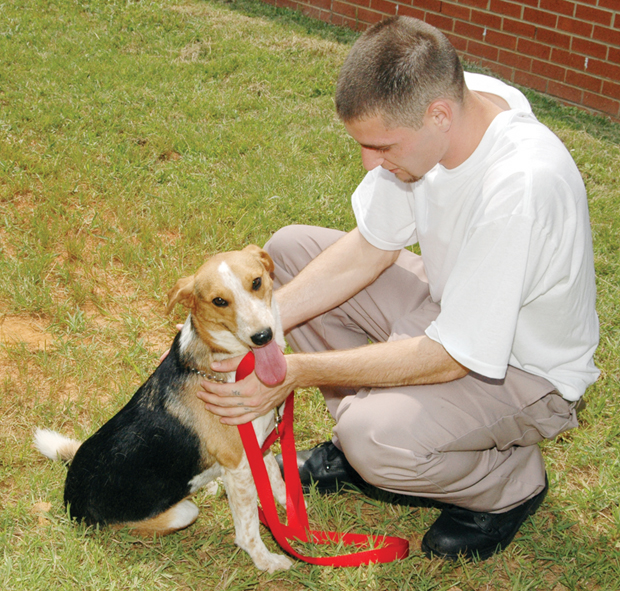 Inmate Michael Jones gets acquainted with Will, a Beagle mix, at Nash Correctional Institute. The prison recently started the "New Leash on Life" program. (Graphic photo by Amanda Clark)

"New Leash on Life"
It was over 100 degrees outside but Tony Faison was set on showing Pammy around her new quarters at Nash Correctional Institute. After giving Pammy some fresh, cold water and a belly rub, Tony led Pammy out and showed her around the facility where he'd teach her the basic skills; sit, stay and roll over. More ...
By Amanda Clark, Graphic Staff Writer - 2 opinions posted
New subdivision rules approved
A new Subdivision Ordinance went into affect after Spring Hope's Board gave unanimous approval Monday night. The new ordinance will help potential developers know exactly what steps to take when planning subdivisions in town. More ...
By Amanda Clark, Graphic Staff Writer
Castalia to review new electrical bids
The Castalia Town Commissioners approved a motion to reevaluate contract bids made by three companies for electrical work to install transfer switches on town generators during last week's meeting. More ...
By Mason Rizzo, Graphic Correspondent
Local company helps area family
A local company has reached out and helped a Nash County family and hopes their efforts will encourage other businesses to do the same.
AmeriGas recently donated a year's worth of propane to the Whitman family. The donation equals 1,000 gallons, or around $3,000 worth of propane. More ...
By Amanda Clark, Graphic Staff Writer
Wulffhaver honored by Nash Community
Nash Community College is proud to announce that Cynthia A. Wulffhaver was selected as the 2007 Nash Community College Outstanding Alumni Award recipient. This award recognizes the achievements of past graduates and provides inspiration for current students of Nash Community College. More ...

Patchwork Players Children's Theatre to host camp at Nash Arts Center
Starting next week, Nash Arts will play host to animated children looking to show off their acting skills.
Patchwork Players Children's Theatre will offer a summer theatre camp starting Monday, August 20. On Thursday at 7 p.m., children ages four to 18 will show off their talents in a production of "Alice in Wonderland." More ...
By Amanda Clark, Graphic Staff Writer
Chavis, Battle unite in marriage
Doneva Zebbra Chavis and Deryl Tremayne Battle were united in holy matrimony at the Kanawha Ranch, home of the bride, in the Dr. Geneva Boone Chavis Gardens on June 23, 2007 at 10:00am. The Rev. Dr. Thomas L. Walker officiated the ceremony. More ...

ANNIVERSARY
Mr. and Mrs. Askew Sherrod of Nashville celebrated their 60th wedding anniversary July 29, 2007 at a reception held in their honor at Free Union Free Will Baptist Church fellowship hall near Spring Hope. Approximately 75 friends and family attended. Hosts were the couple's children and their spouses, Danny and Trudy Sherrod and Ronnie Sherrod, all of Nashville and Jackie Roberson of Wilson. More ...

BIRTH ANNOUNCEMENT
John and Ashley Bridgers of Nashville announce the birth of a daughter, Audrey Faith, on July 21, 2007 at Nash General Hospital in Rocky Mount. She weighed 7 pounds, 14 ounces and was 20 inches long. More ...

Joyner re-elected to food industry board
RALEIGH – Cliff Joyner, owner of the former Joyner's Supermarket in Nashville, has been re-elected to serve on the 2007-2008 board of directors for the Carolinas Food Industry Council (CFIC). The formal announcement was made during the CFIC third annual convention held July 27-29 at the Kingston Plantation in Myrtle Beach, S.C. More ...

MILITARY
Air National Guard Airman 1st Class Rachel E. Schmidt has graduated from basic military training at Lackland Air Force Base, San Antonio, Texas. More ...

Ephesus Community News
Stacie Barnes with the Pregnancy Crisis Center at Rocky Mount was guest speaker at Ephesus Church concerning the center and Walk for Life program coming soon. Our church is very involved with this project and we watched the video of a young girl's testimony and how she accepted Christ as Lord and Savior and how they helped her in her spiritual life and also how to be a mother of twins. More ...
By LOTTIE LOU DICKENS
Mt. Zion FWB ChurchNews
Geraldine Manning taught the adult ladies' Sunday school lesson on Ezekiel preaching about individual responsibility. There is much in the Bible that are lessons for us as individuals and our responsibilities. We need to heed them. We had 99 in attendance in Sunday school including two visitors. More ...
By ROSALENE BASS
Castalia Church & Community News
Castalia Baptist's Summer Youth Minister, Amanda Price, was recognized for her 10 weeks of ministry with our youth group on Sunday by our pastor, Chris Carroll and the youth. Amanda leaves CBC to return to UNC at Chapel Hill in studies on graphic design. We wish her the best. More ...

Philadelphia Community News
Sunday morning we finished up in 1 Peter, (Humility). April Brice attended the Women's Auxiliary of Southeastern luncheon last Saturday. We will be starting a mission project for Duke Hospital, ward 52, children with cancer. We will be making blankets to go in their welcome bags. Anyone in the Church and community is welcome to join in and help with this project. More ...
By PEGGY FREEMAN AND DEBBIE MARKS - 1 opinion posted
Beulah Community News
I hope you all have had a safe and happy week. Be careful if you are outside in this extremely hot weather. Even inside, be sure to stay in an air conditioned area if possible. If not, please use your fans and drink plenty of liquids. The rain was really a welcomed sight but let's remember those who were injured or lost property in the storms that accompanied the rain. The weekend was a little cooler and I hope everyone was blessed with a nice weekend. More ...
By WILMA ENROUGHTY
Peachtree Community News
On Sunday, Pastor Whitehouse chose as his sermon topic, "Seeds of Peace – A Harvest of Goodness." His scripture was taken from Galatians. The children's sermon by Marta Whitehouse emphasized loving unconditionally. More ...
By BARBARA HARDISON
Glover to serve Southern Nash County
RBC Centura Bank recently appointed Randy Glover to serve as market executive for the southern part of Nash County, which includes Bailey, Middlesex and Spring Hope. In this role, he will continue to manage the banking center office in Bailey, N.C., while also facilitating contribution and sponsorship requests, coordinating community involvement and overseeing the bank's local Advisory Board for the area. More ...

Scout donates bookbags to elementary schools
Jackson Wall, rising sophomore at Southern Nash High School, recently presented 96 bookbags to Middlesex Elementary School and Spring Hope Elementary School for children in need. Jackson is a Life Scout with Troop 148 and selected the endeavor as part of his Eagle Scout Project. More ...

Boys & Girls Clubs After-School Program is back in session
The Boys & Girls Clubs of Nash/Edgecombe Counties will begin their After-School Program registration August.
This year's program will begin on August 27 at all five locations from 2-7 p.m. for all children ages 6-18. Cost of attendance will be $20 per week. More ...
Contributed
It's not the heat, it's the stupidity
It's not the heat, it's the stupidity.
In case you haven't noticed, it's hot as @#$% outside these days.
Walking outside on weeks like this is akin to an encounter with a close-talker, having to see that creepy person at conventions who always wants to hug you or wearing really bad underwear. All at once, you're wet, you need a shower and you feel like something's going to give at any moment. More ...
Mike Brantley
Atlantic Beach will never be the same without Sportman's Pier
I spent a night at Atlantic Beach this weekend to celebrate my grandma's 80th birthday.
As exciting as celebrating 80 years of my grandma's life was, I couldn't help but notice how much Atlantic Beach has changed over the years. After this last trip, I may never go back. More ...
Amanda Clark
Daddy's lessons to us will last a lifetime
Over the past years, in this space, I have written good-byes and/or tributes to many of our local heroes as they have passed away.
June 16th, the day before Father's Day, a very precious hero in my life departed this Earth, my father.
My father, Oliver Green, or best known all around Nash County as 'Bum' Green, was a loving and caring person, always putting his family first. He had a very calm demeanor, always steady as a rock, even while he and mother raised four girls. More ...
Jo Anne Cooper - 1 opinion posted
Weather Beaters
RALEIGH -- Before the scrimmage even started, Nash Central High football coach Kenneth Grantham looked to the sideline and wondered if he had just as many unavailable players as ones suited up.
Due to injuries, disciplinary reasons and practice-time limits, the Bulldogs had several performers who were unable to participate in last Friday evening's weather-plagued Wakefield Jamboree in North Raleigh. More ...
By Geoff Neville, Graphic Sportswriter
Northern stalwart to 'Canes
LOUISBURG -- Don Gines wanted Arielle Boltinghaus to join his Louisburg College fast-pitch softball program.
Last year.
Instead, Boltinghaus, who prepped at Northern Nash, opted to spend her freshman year at Nash Community College, which doesn't offer athletics. More ...
By Geoff Neville, Times Sportswriter
Southern Nash shows off its new grid squad
STANHOPE -- With only four starters returning for his team, head coach Brian Foster had no idea how his Southern Nash Firebirds would respond during last Friday's North Johnston Football Jamboree in Kenly.
But SN opened its preseason scrimmage schedule with a solid performance during sessions with Eastern Wayne, South Johnston, Warsaw James Kenan and Rosewood. More ...
By Geoff Neville, Graphic Sportswriter
NC HOF honorees released
CHAPEL HILL -- Eight more outstanding names in the annals of state prep athletics have been selected for induction into the North Carolina High School Athletic Association Hall of Fame. More ...
From Staff Reports
Carolina Mudcats edged by Jacksonville
JACKSONVILLE, FLA. -- Blake McGinley worked six shutout innings en route to his third straight victory as Carolina downed the Jacksonville Suns 4-3 at the Baseball Grounds on Sunday in a Class AA Southern League baseball event. More ...
From Staff Reports
Nash teams to open season
NASH COUNTY -- Friday, Aug. 17 got here faster than at least three Nash County high school football coaches wanted it to. More ...
By Charles Alston, Graphic Correspondent
RM looks strong on soccer field
ROCKY MOUNT -- With less than a week left before their first preseason scrimmage, Rocky Mount High School's boys varsity soccer team is yearning for the games to begin. And there is no lack of confidence in this experienced group of players. More ...
By Jeff Kluger, Special to The Graphic
Scrimmage time for area squads
WAKE FOREST -- Football coaches are rarely ever satisfied. So there were no surprises to find out that Rocky Mount's B.W. Holt and Northern Nash's Chad Smith weren't overjoyed with their teams' performances in scrimmages last week. More ...
By Charles Alston, Graphic Correspondent
Run ends for Nash diamond All-Stars
LUMBERTON -- Nash County's 14-under Babe Ruth All-Star team had great hopes of repeating the feat of the previous three years' teams of playing in the World Series. More ...
By Charles Alston, Graphic Correspondent
Southern Elegance art exhibit opens Friday at Mims Gallery
Southern Elegance is Eric McRay's second art exhibition at the Mims Gallery at North Carolina Wesleyan College. Many will remember his dripped and spattered jazz paintings, but McRay's Southern Elegance exhibition shows a painterly departure into the pleasant and nostalgic environs of the North Carolina landscape from Raleigh through the countryside to the beach. McRay's recent landscapes feature sunny color, cool comfortable shadows, and descriptive brushstrokes. More ...

MARY LEWIS GRIFFIN FOOTE
NASHVILLE – Mary Lewis Griffin Foote died in her home in Nashville, NC on Tuesday, August 14, 2007, after a wonderful life that was, in her own words, "spent, not wasted." More ...