Subscribe/Access
Advertisements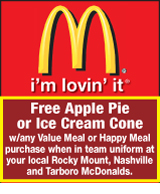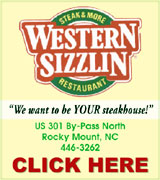 Sections
Member Options
Back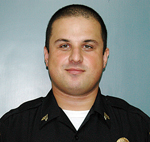 ALZER

Nashville men win big in NC Lottery
Two Nashville men hit the jackpot in the "Carolina Cash 5" lottery, bringing home $247,481.
Ala Alzer and Frederick Wilson regularly buy lottery tickets from Alzer's father's store, Nashville Supermarket. Last Monday, the two were surprised when they discovered one of the tickets they purchased held a winning number. More ...
By Amanda Clark, Graphic Staff Writer - 2 opinions posted
Boddie-Noell buys 34 Hardee's restaurants
Boddie-Noell Enterprises announced the purchase of 34 Hardee's Tuesday morning, including most of the Hardee's in Nash County.
The announcement came outside the Hardee's at N. Raleigh Street and Grand Avenue in Rocky Mount, just blocks away from where brothers Bill and Mike Boddie were raised. More ...
By Amanda Clark, Graphic Staff Writer - 1 opinion posted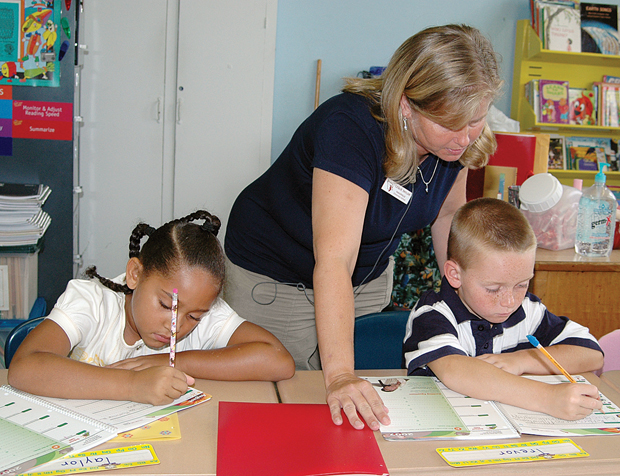 Second graders Taylor Lewis and Trevor Mills (L-R) work on homework assignments while Nashville Elementary teacher Leslie Taylor looks on. Monday was the first day of school for Nash-Rocky Mount students.

BACK TO SCHOOL
Nashville Elementary School students started their first day back eager to learn, Principal Beth Lucas said.
"We're off to a good start," Lucas said of the first day. "The children came in excited and eager to learn. When I see my children excited, I'm excited." More ...
By Amanda Clark, Graphic Staff Writer
Nashville Wal-Mart to be completed in early 2008
Construction on Nashville's Wal-Mart is ahead of schedule and engineers say the supercenter will be ready during the first quarter of 2008.
Paul Smith, of Stocks Engineering, said site work for Wal-Mart, located on Eastern Avenue, next to State Employees Credit Union, is about 60 percent complete. The foundation is in as well and work is currently ongoing for the exterior walls. More ...
By Amanda Clark, Graphic Staff Writer - 1 opinion posted
Forest Resources issues burning ban for NC
North Carolina's dry weather is causing more than just a drought for the state. Officials with the N.C. Division of Forest Resources recently enacted a burning ban to all North Carolina residents. More ...
By Amanda Clark, Graphic Staff Writer
N-RMS receives national and state awards
NASH COUNTY— Nash-Rocky Mount Public School System was recently recognized for achievement in the area of effective communications and marketing by the National School Public Relations Association (NSPRA) and the North Carolina School Public Relations Association (NCSPRA). More ...

BIRTH ANNOUNCEMENT
Gary Long of Battleboro announce the birth of a daughter, Natalie Gayle Long, on May 28, 2007 at Nash General Hospital. She weighed 8 pounds, 2 1/2 ounces and was 19 1/2 inches long. More ...

Nelms graduates NC - SHP School
EDNEYVILLE — Nash County resident Amanda Lee Nelms was one of 11 new Troopers graduating from the 120th Basic School of the North Carolina State Highway Patrol. They were sworn in during ceremonies at the North Carolina Western Justice Academy. More ...

Mt. Zion FWB ChurchNews
The pretty roses that graced the altar table were given in memory of Curtis Batchelor by his family. Thank you. More ...
By ROSALENE BASS
Ephesus Community News
Rev. Tony Futrell's message on Sunday morning was "The Greatest Discovery of All," which is Jesus Christ, our lord and savior, taken from Matthew 13:47-52. The choir sang a peppy song that was really preparing us to be blessed with the sermon, "Let the River Flow." More ...
By LOTTIE LOU DICKENS
Peachtree Community News
The Sunday Morning worship service opened with a Celebration of Believers' Baptism. Chase Gupton and Jason Davis were baptized by Pastor Whitehouse in this sacred ceremony. Many family members and friends attended. More ...
By BARBARA HARDISON
The faithfulness of God
Extreme-Games include death defying ice climbs and adrenaline pumping jumps off of cliffs, towers and bridges. One ice climber confesses she expects to lose three or four friends a year. This growing disregard for personal safety, and life itself, in favor of greater excitement is the product of an addiction to the thrill of it all. More ...
By Dr. Dennis Prutow
CHURCH CALENDAR OF EVENTS
The church will hold singings on Sept. 1 with Gospel Outreach and on Oct. 6 with the Blue Gospel Trio. Both programs begin at 7 p.m., preceded at 5:30 p.m. by a plate sale. Plate sales will also follow the programs. The church is located at 6111 Race Track Road in Castalia. For more information, call Pastor Billy Henry at (252) 459-2993 or 903-8016. More ...

Beulah Community News
We really had a great weekend at Beulah Church of Christ this Sunday. We had several visitors whom we hope will continue to worship with us. Sunday morning the flowers were placed in the church by Ann Evans Boykin in memory of her father, Johnnie Evans, whom we all loved and miss very much but know he is in a much better place. Ann, thank you for the beautiful flowers. More ...
By WILMA ENROUGHTY
Red Oak Community News
Ellis Troutman was honored on her 4th birthday, July 28, with a party given by her parents, Mitch and Beverly Troutman and brother Henry Poe at their home in Pittsboro. Everyone enjoyed the birthday dinner cake, ice cream and drinks. More ...
By SUZY PEARCE
Philadelphia Community News
Sunday morning, Albie Brice, our pastor taught from the book of 2 Peter, Ch. 1 vs.: 12-21. "Am I a follower of Christ?" Our little ones also enjoyed their Sunday school lesson taught by Albie and they had a little recess after class. All the children will be back in school as of Monday morning and we hope you all had a wonderful summer. More ...
By PEGGY FREEMAN AND DEBBIE MARKS
Memories of one of the greatest teachers of all time
It seems appropriate that on the last weekday before a new school year began, I ran into one of the greatest teachers of all time — Bonnie Kane — in the grocery store.
Although I hadn't seen Ms. Kane in the better part of a decade, it was ironic to run into her not long after having mentioned her in a recent column. And remarkable that she could remember so many things about a 9th grade class 20-plus years after the fact. More ...
Mike Brantley
Teachers can be life-long heroes, shaping our future
I remember back to school days very well. The days leading up to back to school were always so fun and exciting, shopping for clothes and school supplies, meeting your teachers and crossing your fingers that you ended up in the same classes as your friends. But once you actually got back to school, it's not so fun anymore. It means work, work and then, homework. I'm not complaining though. That's what school is all about. More ...
Amanda Clark
We shouldn't fear proposed greenway and paddle trails
At the August Nashville Town Council meeting, a presentation was given to council members and guests regarding a possible greenway and paddle trail planned for Nashville, along with a farmers market. Planning of all three will depend on grant funding, such as the possibility of funding through the Clean Water Trust Fund Grant. More ...
Jo Anne Cooper
Bunn defense "spreads" out Firebirds
STANHOPE - Bunn's offense has recently received plenty of preseason acclaim, but it was the team's defense that sparked last Friday's opening prep football victory at Southern Nash.
The Wildcats picked up two key interceptions from Antoine Glover in the first half and limited Southern Nash to 93 total yards during a 26-7 decision at Firebird Stadium. More ...
By Geoff Neville, Times Sportswriter
Bunn bests Nash Central at The Brittany
WILSON -- Nash Central and Bunn got off to an early start -- as in last Friday afternoon -- at The Brittany For The Boys Soccer Tournament.
Most teams were in action last Saturday, but BHS and NC headed to Gillette Park one day earlier to renew their recent non-conference rivalry. More ...
By Geoff Neville, Graphic Sportswriter
Carolina's TV sked released
RALEIGH -- The National Hockey League's Carolina Hurricanes and the team's broadcast partner FSN South have announced FSN South's 55-game cable television package for the 2007-08 NHL season. More ...
From Staff Reports
NN's Tough Loss
WILSON -- Finding a few good scorers is the current top priority for Northern Nash boys soccer coach Joe McCarthy.
That wasn't a problem in 2006 as the Knights had little trouble putting the ball into the net, thanks to the likes of talented snipers such as John Lucas, Jose Alvarez and Sebastian Barrios. More ...
by Geoff Neville, Graphic Sportswriter
Seven Unlucky For SN
STANHOPE -- Seven hasn't proved to be a lucky number for the Southern Nash Firebirds during boys soccer action this week against a pair of Franklin County opponents.
Southern traveled to Franklinton last Monday and was swept 7-0 by the Red Rams in the season opener for both clubs. More ...
By Geoff Neville, Graphic Sportswriter
Late TD sparks Rocky Mount
ROCKY MOUNT -- Wilson Hunt had never beaten Rocky Mount in the B.W. Holt era. So the Warriors brought a new spread passing game to town last Friday to put a scare into the Gryphons. More ...
By Charles Alston, Graphic Correspondent
RM's Langston earns Shrine Bowl invite
ROCKY MOUNT -- Although the 2007 Shrine Bowl of the Carolinas won't announce its player rosters for another two months or so, one Rocky Mount High student knows that he will be on the field at Wofford College's Gibbs Stadium in Spartanburg, S.C., on Dec. 15. More ...
By Charles Alston, Graphic Correspondent
Season winding down for Carolina Mudcats
MONTGOMERY, ALA. -- Jake McGee fanned nine over seven shutout innings as Montgomery cut Carolina's elimination number to four, blanking the Mudcats 4-0 at Riverwalk Stadium on Sunday night in a Class AA Southern League baseball matchup. More ...
From Staff Reports
Narrow Setback
WILSON -- After dropping their first two matches by a combined 14-0, the Southern Nash Firebirds put forth their best effort of the season -- at the right time -- last Saturday afternoon. More ...
By Geoff Neville, Graphic Sportswriter