Subscribe/Access
Advertisements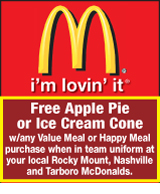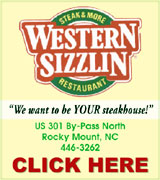 Sections
Member Options
Back
County okays incentive for downtown
Nash County Commissioners approved a Downtown Incentive Program for the Town of Nashville that will offer incentives to downtown businesses that improve their buildings.
The program is the same one commissioners approved for the City of Rocky Mount in May. More ...
Amanda Clark, Graphic Staff Writer
Castalia vandals sought
At the August 3 town meeting, Castalia commissioners debated the merits of offering a monetary reward for information leading to the arrest and conviction of the vandals who defaced the town hall and several local businesses last month. After much discussion, the decision was made to not offer a reward, but to trust in the civic-mindedness of Castalia residents instead. More ...
Amelia Harper, Graphic Correspondent
4-H SUMMER CAMP
Richard Price, head trainer at Southern Police Canine in Momeyer (far right), introduces youth to Apollo during a visit to the facility last Wednesday. The youth were taking part in a 4-H Criminal Justice Camp, led by Corporal Angel Ricks, of The Nash County Sheriff's Office.
More ...

Citizen demands Murphy's resignation
A Nashville business owner has asked for the resignation of County Manager Bob Murphy.
Dennis Nielsen, who owns Nashville Guns, asked for Murphy's resignation during the County Board's regular meeting on Monday morning. More ...
Amanda Clark, Graphic Staff Writer
Nash students participate in TRU All Stars campaign
The students come from different backgrounds. They attend different schools. But they all have one thing in common; their pledge to remain TRU.
The Nash County Health Department recently released its second installment of its TRU All Stars Campaign, which features Nash County high school students and their reasons for pledging to remain tobacco free. More ...
Amanda Clark, Graphic Staff Writer
Filing ends for November 2 election
Filing for the November 2 election ended Friday at noon and ten residents have filed for five seats on the Nash-Rocky Mount Schools Board of Education.
The district two, four, six, eight and nine seats are up for grabs in this election. Incumbents for each seat have filed for re-election. All will face one challenger. More ...
Amanda Clark, Graphic Staff Writer
Spring Hope discusses parking concerns
Spring Hope Commissioners were asked to deal with another parking problem during their meeting Monday night. At Godwin's Auction Gallery on Nash Street, parked vehicles are being towed and charged $150 to be reclaimed.
Retired salesman Milton Culpepper, of Rocky Mount, said that at the auctions on Friday and Saturday nights, a lot near the auction house has a tiny sign asking people not to park or their vehicles will be towed. More ...
Michele A. Cruz, Graphic Correspondent
95 and still loving the game!
Every Thursday, Herb Stallings' family knows where to find him. Stallings, of Rocky Mount, takes a drive each week to Birchwood Country Club in Nashville to play golf with a group of his best buddies.
Last week, that same group of guys held a party at Birchwood to celebrate Stallings 95th birthday. More ...
Amanda Clark, Graphic Staff Writer
Chamber celebrates opening of 64 Marketplace
Before opening a business in Nashville, all Randy White knew about the town was what he saw passing through on Highway 64. But a piece of property on the eastern end of town attracted White to stop by one day and look around. White opened his business, 64 Marketplace, on that property on Eastern Avenue in March and said he hasn't regretted his decision.
"I didn't know a soul in Nashville when I came," White said. "I liked the little town." More ...
Amanda Clark, Graphic Staff Writer
Bailey's Country Doctor Museum receives mid-wifery set, photo
BAILEY — The Country Doctor Museum has received a patient care set that belonged to a midwife who practiced in Sweden in the late 19th century.
Emma Sandberg Vico trained at the time when Sweden had an extensive state-sponsored system of midwives that resulted in much lower maternal mortality rates than the United States. More ...

MILITARY NEWS
Air Force Airman 1st Class Logan K. Langley graduated from basic military training at Lackland Air Force Base, San Antonio, Texas.
The airman completed an intensive, eight-week program that included training in military discipline and studies, Air Force core values, physical fitness, and basic warfare principles and skills. More ...

CORRECTION
In last week's coverage of the Nash-Rocky Mount School Board meeting, it stated that the deadline for public input was 12 noon on the Friday before the meeting. A board member made that comment during discussions referencing the board policy on public input. More ...

United Way completes national requirements
Ginny Mohrbutter, Executive Director, announced that United Way Tar River Region, serving Nash and Edgecombe counties, has successfully completed all of United Way's national membership requirements by their respective due dates. The annual certification process ensures that the organization is maintaining strong financial, business and operational practices, as well as, the highest standards in donor accountability. More ...

Red Cross anticipates active hurricane season
With an extremely active hurricane season looming, an oil spill in the Gulf that could make matters even worse, and local disasters such as home fires, the American Red Cross Frederick E. Turnage Chapter is launching a new disaster relief fundraising drive. More ...

Nash County Blood Drives for August 2010
Monday, August 16 from 3 until 6:30 p.m. at Nash Correctional Institute, 2869 US Hwy 64 Alt, Nashville
Tuesday, August 17 from 12:30 until 4:30 p.m. at RBC Bank downtown, 134 North Church Street, Rocky Mount
Wednesday, August 18 from 9 a.m. until 1 p.m. at RBC Bank, 1417 Centura Highway, Rocky Mount More ...

Peachtree Community News
The area received two wonderful rains last week. It was such a blessing!
On Sunday morning Pastor Whitehouse chose as his sermon topic, "Can I Count on God This Week?" He based this on the Bible passages from Exodus 13: 21-22; Psalm 48: 1-4.
More ...
BARBARA HARDISON
Mt. Zion FWB Church News
Our choir sang "Happiness is the Lord" for the call to worship. Pastor Rogerson welcomed everyone and prayed the invocation. Hymns of worship were "Surely Goodness and Mercy" and "Breathe on Me". Jason Modlin prayed the morning prayer. Usher, Tim Bass prayed the offertory prayer. The congregation sang the doxology in praise to God. The choir sang "Living By Faith" for their special. More ...
ROSALENE BASS
Ephesus Community News
On Sunday morning, Student Minister, Dan Crumley, welcomed our guest speaker, Rev. Ray Deck, from Word of Life Ministry. He reviewed the new study guide and program for all of our children that will begin in September on Sunday evenings from 5 to 6:30 p.m. He delivered our message in God's Word from Psalm 127 and 2 Timothy 3:16. How are you doing things in your home; are you raising your child in a Biblical manner? More ...
DEBBIE PHILLIPS
Beulah Community News
Our sincere sympathy goes out to the family of Robert Daniels who passed away Aug. 5. He was the brother of Lula Bell Walker and Billy Daniels. Robert grew up in the Beulah community, a member of Beulah Church of Christ, and will be missed by a lot of family and friends. More ...
WILMA ENROUGHTY
Jack Stickley Award
Jim Boehm, of Nashville, was recently awarded the Jack Stickley Award at a Lions Club Awards Banquet on July 10 in Williamston. The award was presented by Bob Walton, District 31J Governor for the Lions Club. Boehm is the District Chair for the Jack Stickley Committee. Boehm's wife, Mary, contributed $500 to the NC Lions Foundation for the award to be given.
More ...

Recognized
Vince Tesoro was recently recognized for his efforts in providing a BBQ dinner for the 252nd CAB, USAR in Nashville on July 17, 2010. Pictured is James Ervin (far right) presenting a plaque of appreciation to Tesoro (far left).
More ...

NCC Basic Law Enforcement Training Cadets graduate
Seven cadets recently graduated from Nash Community College's thirty-first Basic Law Enforcement Training (BLET) class. During the twenty-seven week training, students learned essential skills required for entry-level employment as law enforcement officers with state, county, or municipal governments, or with private enterprise. More ...

Or they could have sent us all a check
If you've ever been to Las Vegas, or New Orleans, or Atlantic City, or the Caribbean, maybe you've won some cash playing Blackjack or Roulette and felt like it was "free money," to be spent as quickly as possible.
You know, like the fellow who said he spent some of his "money on women, wine and song — and the rest I wasted." More ...
Mike Brantley
A note from The Nashville Graphic founder's granddaughter
I was exceedingly pleased to read the letter to the editor published in the July 25th edition of The Nashville Graphic which gave credit to JoAnne Cooper for her wisdom and courage in speaking up on matters of importance which affect the Town of Nashville. Her brave editorial stance on so many occasions regarding important matters concerning Nashville should make every citizen proud to know her and eager to support her efforts. More ...
Letter to the Editor:
Some public comment policies are censoring
Every month, I attend several board meetings throughout the county. It seems like each board has a different policy on public comments. But most of them have one thing in common. Out of all the different boards I follow, there is only one board that allows a member of the public to address them without previously signing up. More ...
Amanda Clark
Who knew parking was to be discussed?
Last week I wrote a column regarding a couple of downtown issues, one being parking.
I wrote the column prior to our deadline. We normally go to press around noon on Tuesdays. However we hold the front page of the paper the first Tuesday of each month so we can cover the Nashville Town Council meeting which is held at 7 p.m. Once ace reporter Amanda Clark has written the story, page one is then shipped off to press. More ...
Jo Anne Cooper
Backward Glances
This photo was found in The Graphic's 1959 archives. Many Nashville merchants were preparing for a special promotion called Dollar Days, which was organized by the Nashville Chamber of Commerce.
More ...
A PICTORIAL LOOK INTO THE PAST
Clarifications needed on responses to recent coverage of march
Some of the responses to the Rocky Mount Telegram's coverage of the march several weeks ago protesting Israel's blockade of Gaza and included in the newspaper's blog include hate speech and overt threats. Others are based on misinformation, and this letter is an effort to move the area's reading public beyond false stereotypes and mythology. More ...
Letter to the Editor: - 1 opinion posted
9-1-1 is your lifeline when seconds count
When you have an emergency, getting help quickly is important! Every day, people dial 9-1-1 for help in emergencies that span a wide spectrum ranging from life-threatening situation and crimes in progress to minor accidents and unusual situations. Therefore, it is important for 911 telecommunicators to quickly confirm the location and type of emergency as well obtain essential information in order to determine then most appropriate and efficient response. More ...
Contributed by Brian Brantley, Nash County EMS

WORKING TOGETHER FOR THE BULLDOGS. (L to R) Cedric Crudup (right) has joined the Nash Central High School football staff this season and will work with his brother, head coach Kevin Crudup (left).

FAMILY VALUES
ROCKY MOUNT -- When searching for an assistant coach in the off-season, Nash Central High School's Kevin Crudup found a candidate with seven years of experience, including four as a head coach.
The same person was a prep standout in the 1990s who competed in the East-West All-Star Game before enjoying a strong four-year career as a linebacker at Western Carolina. More ...
GEOFF NEVILLE, Graphic Sportswriter
Ruffin a selection for game
RED OAK -- Northern Nash's Rick Ruffin has received one of the state's top coaching honors -- the opportunity to take part in a North Carolina East-West All-Star Game.
Ruffin, a 27-year coaching veteran, will serve as an assistant for the East Team in the Boys Basketball Game, slated for next July in Greensboro. More ...
GEOFF NEVILLE, Graphic Sportswriter

HERE IS HOW IT'S DONE. Northern Nash High School offensive line coach Mariko Feemster instructs his players during a recent football practice session on the NNHS campus in Red Oak.

Clubs Ready For Jamborees
RALEIGH -- Nash Central and Rocky Mount will open their 2010 football seasons Saturday by participating in the 2nd Annual HighSchoolOT.com Jamboree.
The event will be held at Southeast Raleigh High School in Wake County. This year, the field has been expanded to feature 10 teams in five games. More ...
CHARLES ALSTON Correspondent and GEOFF NEVILLE Graphic Sportswriter
Nash Rec will host signups
NASHVILLE -- The Nashville Recreation Department will conduct its fall soccer season registrations on the following dates:
• Aug. 23-27
• Aug. 30-Sept. 3
Signups will be available at the Nashville Town Hall from 8 a.m.-5 p.m. each day. More ...
Staff Reports
Mudcats rally for wild win
ZEBULON -- Mike Costanzo hit a game-winning home run in the last of the 10th to cap a four-run comeback for the Carolina Mudcats as they stunned the Chattanooga Lookouts 8-6 at Five County Stadium on Sunday afternoon in a Class AA Southern League baseball matchup. More ...
Staff Reports
SHOWING THE WAY
Nash Central High School head football coach Kevin Crudup runs his players through a drill during a practice session Monday evening.
More ...

MAKING A POINT
Nash Central High School assistant coach Cedric Crudup hopes to point the Bulldogs toward success on the gridiron this season. Crudup is the younger brother of Nash Central head man Kevin Crudup. Cedric played in college at Western Carolina University.
More ...

IT'S JAMBOREE TIME
Southern Nash High School defensive coach Robbie Kennedy hopes his Firebirds will be ready for action Friday night at the North Johnston Jamboree, which will be held in Kenly.
More ...


Grand Canyon - Victoria Sowers

"Textiles and Tonalism"
"Textiles and Tonalism," an exhibition of new work by celebrated weaver Victoria Sowers and Imperial Centre Painter-in-Residence Charles Philip Brooks, will debut at Historic Stonewall Manor in Rocky Moun on Sunday, August 15. An opening reception will be held from 1-4 p.m. This collaborative exhibition debuts new works by both artists, created with complimentary arrangements of color.  More ...

WILLIAM EARL LEONARD
NASHVILLE - Funeral services for William Earl Leonard, 63, who died Thursday, August 5, 2010, were Monday, August 9 at 12 noon at First Timothy Missionary Baptist Church. Burial followed at Oakland Cemetery with Rev. Willie Hedgepeth officiating. More ...

GLADYS E. PARKER
NASHVILLE - Funeral services for Gladys E. Parker, 79, who died Saturday, July 31, 2010, were Thursday, August 5, at 2 p.m. at Mt. Vernon Baptist Church. Burial followed at Oakland Cemetery with Rev. Tyrone Jones officiating. More ...

EDWARD K. "DICK" MORRIS
Edward K. Morris, 82, passed away, Saturday, August 7, 2010. He was born August 26, 1927 to the late Robert Morris and Fannie Minchew of Nash County. Dick was preceded in death by a sister Rachel Pittman.
More ...

MARJORI D. MCPHERON
WILSON - Marjorie D. McPheron, 90, passed away, Wednesday, August 4, 2010. She was born March 28, 1920 in Nash County; she was the daughter of the late Lonnie David and Tempie Bone Driver. She was preceded in death by her husband, Harvey Clinton Leonard, four sisters and one brother. More ...

WILLIAM G. "BILL" KIRKMAN
NASHVILLE - William G. "Bill" Kirkman, 80, passed away Wednesday, August 4, 2010. He was born September 17, 1929 in Goldsboro. Bill was the son of the late James Hoyle and Lillian Langston Kirkman. He was preceded in death by his first wife, Nancy McKinnon Kirkman and grandson, Matthew Ray Massengale. More ...

ALFRED MICHAEL DIXON
GREENVILLE -Bishop Alfred Michael Dixon, Sr., 54, of Greenville, NC, died on Saturday, July 31, 2010 at Duke University Medical Center in Durham, NC. More ...

BASIL GLENN LEWIS
ROCKY MOUNT – Basil Glenn Lewis, 72, of Rocky Mount, passed away Sunday, August 8, 2010. He was born in Edgecombe County to the late Robert R. and Effie Mae Lewis. He was preceded in death by his parents and his brother, Douglas Lewis. More ...

GRADY ODELL LANGLEY
Grady Odell Langley, 82, passed away Friday, August 6, 2010. He was born April 11, 1928 in Nash County, son of the late Lonnie and Evelyn Langley. He was also preceded in death by his sisters, Pauline Winstead and Lillian Wooten; and brothers, Jack Langley, Cecil Langley, Louis Langley, Guy Langley, Reggie Langley and Vernell Langley. More ...

MARJORIE "PEG" COOPER FEHNEL
Marjorie "Peg" Cooper Fehnel, 83, passed away on Thursday, August 5, 2010. She was born in Schenectady, NY on September 25, 1926 to Henry and Lillian Cooper. She was preceded in death by her husband of 50 years, Robert L. Fehnel and two brothers, Leroy Cooper and Theodore Cooper. More ...