Subscribe/Access
Advertisements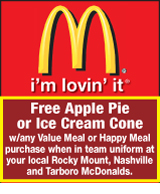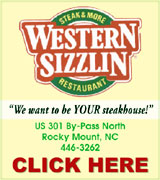 Sections
Member Options
Back

Christopher Thomas Walker

Local men busted for drugs, guns
The Nash County Sheriff's Office arrested two men last week in two separate incidents after finding drugs in their homes.
In both cases, the men consented to a search of their homes.
Christopher Thomas Walker, 19, of Red Oak Road in Nashville, was arrested on Wednesday, August 11 after deputies found 73 grams of marijuana, a sawed off 12-gauge double barrell shotgun and a 9 mm handgun inside his home. More ...


AUTOGRAPH PLEASE – Little Joshua Nelms gets his UNC baseball cap signed by Ethan Horton, former UNC football player and Carolina Panthers Analyst while visiting the Phil Ford Golf Tournament Saturday at Birchwood Country Club.

Phil Ford Golf Classic raises funds for Boys & Girls Clubs
Just like when Phil Ford played basketball for Rocky Mount and the University of North Carolina, there's a new dynasty being built.
This one is the championship fivesome from the Phil Ford Golf Classic, which hosted its third annual event last Saturday at Birchwood Country Club. More ...
GEOFF NEVILLE, Graphic Sportswriter
Nashville man killed in accident
A Nashville man is dead after falling asleep at the wheel early Saturday morning.
According to Trooper Kevin Heath, of the North Carolina Highway Patrol, 20-year-old Joshua Tyler Strickland, of Nashville, was traveling south on Old Bailey Highway around 5:20 Saturday morning when his vehicle crossed the center line and ran off the left side of the road. Heath said Strickland's vehicle hit a tree. More ...
Amanda Clark, Graphic Staff Writer
Nash commissioners vote to leave ABC Board salary as is
Nash County Commissioners voted to leave the county's ABC Commission stipends as is despite a bill that was signed into law that limits the compensation levels of board members.
Governor Beverly Perdue signed into law House Bill 1717, which goes into effect October 1.
More ...
Amanda Clark, Graphic Staff Writer
Fires keep Nashville fire fighters busy Sunday
Nashville Fire Fighters battled three fires on Sunday, two of which occurred within thirty minutes of each other.
Fire fighters responded to the first call at around 4:00 on Sunday afternoon. The fire was at 2176 Oak Level Road. Nashville Fire Chief Tim Pope said in that incident, a tobacco barn caught fire. More ...
Amanda Clark, Graphic Staff Writer
Elementary overcrowding drives NRMS capital plans
Due to overcrowding at Nashville and Benvenue elementary schools, the Nash-Rocky Mount Schools (NRSM) board began to determine ways to use existing space to more evenly distribute the student population, as part of their five-year capital projects plan. More ...
Michele A. Cruz, Graphic Correspondent
Greets guests
Phil Ford greets guests including Walter Davis and Keith Smith as they arrive at the Phil Ford Golf Classic Gala that was held Friday night.
More ...

Basketball clinic
Former UNC football player Melvin Williams speaks to youth at a basketball clinic held Saturday afternoon in Rocky Mount. The clinic was sponsored by Phil Ford who also provided supplies and T-Shirts for the clinic.
More ...

Boys & Girls Clubs award
Boys & Girls Clubs of Nash/Edgecombe Counites Chief Professional Officer Theresa Shaw presents Scott Lewis an award for his leadership and dedication to the Boys & Girls Clubs of Nash/Edgecombe Counties. Distinguished Service awards were also presented to retiring board members Vanessa McCleary, Helen Collins and Bill Lehnes.
More ...

Youth of the Year
Boys & Girls Clubs of Nash/Edgecombe Counties Youth of the Year Mercedez Haywood attends the gala. She earned her title as Youth of the Year in April.
More ...
1 opinion posted

Jerrick J. Staton

MILITARY NEWS
Torre M. Evans, daughter of Lindel and Jeanette Evans of Castalia has been promoted to senior airman with the 916th Maintenance Squadron, a unit of the 916th Air Refueling Wing, the Air Force Reserve tanker unit here.
As an aerospace maintenance apprentice, airman Evans assists in maintaining the 16 KC-135R Stratotankers assigned here. More ...

CLASS OF 1965
The Nashville High School Class of 1965 held its 45th class reunion in June at the Elm Grove Ruritan Club.
More ...

NRMS receives grant for alternative school
W. L. Greene Alternative School (WGS) in the Nash-Rocky Mount Schools (NRMS) district will receive a federal school improvement grant totaling $1,788,099 for the 2010-11 school year.
The school is one of 14 at-risk schools across the state to receive these grants, the NC Department of Public Instruction (NCDPI) announced last month, and it will implement the federal intervention "transformation model" with these funds. More ...
Michele A. Cruz, Graphic Correspondent
Spring Hope changes leaf collection regulations
As the town transitions its garbage and leaf collection over to Waste Industries, "everyone is positive about it except the older folks," Spring Hope Commissioner Clyde Best said.
The change brings a policy that leaf collection will be handled in clear plastic bags only, instead of just raking into piles. The board voted unanimously to accept the policy and have leaf collection handled solely through Waste Industries. More ...
Michele A. Cruz, Graphic Correspondent
Tyson attends Shelton Leadership Challenge
In July 2010, Madison Tyson, from Greenfield School, attended the 8th Annual Shelton Challenge at North Carolina State University in Raleigh. Madison is the daughter of Mike and Bridget Tyson of Bailey.
As former Chairman of the Joint Chiefs of Staff, General H. Hugh Shelton often reflects on how his experiences as a youth prepared him for the opportunity to serve his country. More ...

BIRTH ANNOUNCEMENT
Adam and Christy Lake of Tarboro are pleased to announce the birth of a son, Ian Tyler Lake, born July 22, 2010 at Nash General Hospital in Rocky Mount. He weighed 8 pounds, 12 ounces and was 21 inches long.
Maternal grandparents are Kenneth and Rose Burns of Rocky Mount. More ...


Scotty Edwards, Spring Hope Fireman, prepares for another dunk in the water at the Spring Hope Fireman's Day.

SPRING HOPE FIREMAN'S DAY
The Spring Hope Fire Department's Ladies Auxiliary sponsored Fireman's Day Saturday, August 14, at the Spring Hope Elementary Ball Field.
The event offered games, prizes, activities, food and music for all ages. More ...

Appreciation dinner
On Monday, August 2, Nashville residents Ken and Vickie Sykes prepared dinner for members of the Nashville Fire Department consisting of spaghetti, green beans, salad, tea and cake. Mr. Sykes, who serves as the Assistant Pastor at Christian Fellowship Church in Sandy Cross, read a poem that he wrote called "The Heart of a Firefighter."
More ...

Mt. Zion FWB News
Earl and I were able to attend worship service today. Praise God! Our choir sang "Our God Reigns" for the call to worship. Pastor Rogerson welcomed everyone and prayed the invocation. Hymns of worship were "He Loves Me" and "There is Power in the Blood". Prayer concerns for all those in nursing homes and rest homes: Etta Jones, Margie Matthews, Colon Matthews, Doris Young, Lucille Colston and all others. Those sick or recovering at home. Earl and I still need your prayers. More ...
ROSALENE BASS
Peachtree Community News
Pastor Whitehouse brought an inspiring sermon to the congregation on Sunday morning. It was based on the Book of Esther, Chapter 4. His sermon was titled "Faith Acting in Spite of Doubt". He stated that God's will is most often discovered in the ordinary events of life. Sometimes we are in an uncomfortable place but God arranges circumstances so that we will be in the right place to do His will. More ...
BARBARA HARDISON
Beulah News
Sunday morning flowers were placed in the church by Mildred Catlett. They were home grown and really beautiful. Thank you Mrs. Catlett. Several of our members were away on vacation and were greatly missed. We wish them a safe trip. Bre Matchem was in the hospital following her surgery.
More ...
WILMA ENROUGHTY
Ephesus News
Rev. Dougald McLaurin provided special inspirational music on Sunday as he sang "People Need the Lord."
Student Pastor Dan Crumley read our scripture from John 5:25-32. Pastor David Eidson delivered our message in God's Word, "How to Judge Correctly", and from verse 25 (NIV) I tell you the truth, a time is coming and has now come when the dead will hear the voice of the Son of God and those who hear will live. More ...
DEBBIE PHILLIPS
Red Oak News
Several from Red Oak Baptist Church attended the Mudcats game on Wednesday, Aug. 11. Everyone had a great time and the Mudcats won!
The Baptist Men had their monthly breakfast on Sunday, Aug. 15. More ...
SUZY PEARCE
We've got the back to school blues
I realize that for some Back to School time means a mix of emotions: sadness for many children, happiness for many adults and frightening for many teachers.
And, I have to admit there were days when I felt like the referee in a Battle Royal cage match, or Daddy Fussbucks and the thought crossed my mind that school starting back would make things easier in some ways. More ...
Mike Brantley
Family vacation was the best way to celebrate turning 30
Well I survived my 30's and to test out my youthfulness, I took a trip to Pigeon Forge, Tennessee. I figured if I could survive a family vacation, I could survive my 30's.
We left last Wednesday evening and made the seven-hour journey to Tennessee, which for some reason, took us eight hours. If you ever want to test your sanity, take a long car ride with your dad and husband. More ...
Amanda Clark
Backward Glances
This photo was originally published in The Graphic May 14, 1959. Majorettes in the Booker T. Washington Band of Rocky Mount marched in the sixth annual 4-H May Round-Up Parade held in downtown Nashville on May 2, 1959. (Graphic photo by Smith.)
More ...
A PICTORIAL LOOK INTO THE PAST
New Animal Shelter group forms in Nash County
Thanks to the challenge in your article "Animal shelter needs some friends", July 29, 2010 Editorial", I am stepping up to the plate. I do have the time, since I am retired. I currently have two dogs that I adopted. One last year from Nash County and one last week from Franklin County. What a difference between county shelters. We need to help our shelter to become current with the times. However, it will be up to the residents of Nash County to make a real difference by volunteering. More ...
Letter to the Editor:
New friends for the county animal shelter
I was so excited to receive an e-mail last week that started out with "OK, you got me!"
At first I was a little hesitant to open it. But once I read the first couple of lines, I almost jumped out my chair to do a little happy dance! More ...
Jo Anne Cooper
Do we really want our government to control us?
Over the past few weeks and months I have followed the antics of our Congress and President with interest. Their actions seem to be driving us to repeat our history again.
There have been many Bills past in the name of protection and support of the people of the United States. Are they really Bills that support the people or Bills that will drive us to repeat the early history of the United States? More ...
Letter to the Editor:

RUN TO GLORY. Southern Nash's Trendell Lynch breaks into the open field during a scrimmage against Louisburg as part of last Friday's North Johnston Jamboree.

Back To Business
KENLY -- Southern Nash used its high-powered rushing attack to pound all the way to the Class 3-AA State Semifinals last season.
The Firebirds aren't about to mess with a good thing.
SN's power quest continued last Friday as the Firebirds competed in the annual North Johnston High School Football Jamboree in Kenly. More ...
GEOFF NEVILLE, Graphic Sportswriter

IT TAKES TWO. Northern Nash quarterback Marquez Farmer (with ball) is brought down by a pair of North Johnston defenders during last Friday night's gridiron action at the North Johnston Jamboree in Kenly.

NN's Time To Shine?
KENLY -- NorthernNash's much-anticipated football campaign kicked off with a bang last Friday at the annual North Johnston High School Jamboree.
Utilizing their effective missile offense, the Knights were able to carve through a variety of defenses as part of the jamboree.
And on defense, Northern Nash showed off its overall team speed by being quick and tenacious to the ball. More ...
GEOFF NEVILLE, Graphic Sportswriter

MUSTANG MAGIC. Middle Creek's Garrett Leatham, who is regarded as one of the state's best quarterbacks, avoids a Nash Central pass rush during last Saturday afternoon's action at the Second Annual HighschoolOT.com Jamboree.

Dogs Grin & Garrett
RALEIGH -- After being challenged by Middle Creek's spread offense during jamboree action last weekend, the Nash Central Bulldogs will encounter a completely opposite strategy this Friday during their season opener at Tarboro.
Middle Creek, led by acclaimed quarterback Garrett Leatham, runs a pass-oriented spread that intends to expose single coverages. More ...
GEOFF NEVILLE, Graphic Sportswriter
Broadcast schedule finalized
NASH COUNTY -- The WZAX Jammin' 99.3 FM High School Football Game of the Week season will kick off this Friday with Northern Nash's road contest against the Bruins from Wilson Beddingfield.
Broadcasts will begin at 7 p.m., with kickoff scheduled for 7:30 p.m.
Games can also be heard at the station's website at www.jammin99.3.com. More ...
Staff Reports
PHIL FORD HIGHLIGHTS
A total of 22 celebrities, 120 sponsor players and countless volunteers were on hand for last Saturday's Phil Ford Golf Classic at Birchwood Country Club in Nashville. Here are some highlights (above) Former UNC and Phoenix Suns' great Walter Davis poses with Tiffany Delano.
More ...

Mudcats are no-hit against Suns
JACKSONVILLE, FLA. -- Jacksonville's Elih Villanueva tossed a five-inning, rain-shortened no-hitter against the Carolina Mudcats, the Suns' first in five years as the Suns defeated the Mudcats 1-0 at the Baseball Grounds on Sunday afternoon in a Class AA Southern League baseball contest. More ...
Staff Reports
County Line race action heating up
ELM CITY -- With perfect weather, 79 cars signed in for an awesome night of racing.
Up first, the Thunder & Lightning guys would line up for their feature with the L3 of Skeeter Liles on the pole, and the 21 of Michael Batten on the outside. More ...
Staff Reports
BIG GAIN
Nash Central running back Letovis Davis turns the corner and picks up substantial yardage for the Bulldogs during last Saturday's meeting with Middle Creek at the HighSchoolOT.com Jamboree, which was held at Southeast Raleigh High School in Wake County.
More ...

HEAVY HITTER
Northern Nash's Devonte Miller (34) tackles North Johnston's quarterback as he releases the ball on an option play during last Friday evening's football scrimmage action in Kenly.
More ...

RAFFLE WINNERS
The Nashville Kiwanis Club held a Gas Card Raffle last month, with two winning $100 for gas. Pictured is Elaine Robertson, Kiwanis Club Treasurer, at right, presenting Kirk Smith of Roanoke Rapids (at left) with his $100 prize.
More ...

McLEON ARMSTRONG
McLeon Armstrong, 82, passed away Friday, August 13, 2010. He was born December 16, 1927 in Halifax County. He was the son of the late J.L. and Eula Shearin Armstrong. More ...

JOSHUA TYLER STRICKLAND
Joshua Tyler Strickland, 20, passed away, Saturday, August 14, 2010. He was born July 10, 1990 in Nash County. He was preceded in death by his grandfathers, Willard Strickland and Eugene Burnette. More ...

BARRY VONZELL MOYE
ROCKY MOUNT – Barry Vonzell Moye, 50, of Rocky Mount, died on August 11, 2010 at Nash General Hospital in Rocky Mount. More ...

AARON BERNARD SMILEY
ROCKY MOUNT – Aaron Bernard Smiley, 25, of Rocky Mount, NC, died on August 10, 2010 at Wake Forest Baptist Hospital in Winston Salem, NC. More ...