Subscribe/Access
Advertisements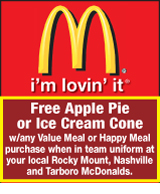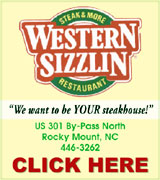 Sections
Member Options
Back
NCC moves forward on new facility design
Nash County Commissioners have agreed to advance Nash Community College $400,000 for architectural services on a new continuing education building.
Representatives from Nash Community College and Oakley Collier Architects came before the board on Monday, August 9 with the request. More ...
Amanda Clark, Graphic Staff Writer
Castalia board approves street paving projects
Castalia Commissioners agreed to move forward on a street paving project that may utilize more funds than allotted by USDA.
Brandon Powell, a project manager for Stocks Engineering, came before the board during a special meeting last Thursday to present information on the street paving projects. More ...
Amanda Clark, Graphic Staff Writer
Nashville to read downtown project bids Thursday
Bids for Nashville's Downtown Redevelopment Project are set to come in through Thursday at 2 p.m., at which time they will be opened and read aloud.
If everything checks out, Town Manager Preston Mitchell said Nashville's Town Council is set to accept a contractor at the town's September 7 regular meeting, which could mean construction could start as early as October. More ...
Amanda Clark, Graphic Staff Writer

TRAINING – Jessica Rogers (far left) and Morgan Tyson (far right) check out a victim of a simulated bus accident that occurred during a storm as Nash County Assistant Fire Marshal Scott Rogers looks on.

Nash youth train for CERT
During a disaster, no matter what your age, your assistance can be valuable to those around you. That's the message Nash County Emergency Medical Services (EMS) gave to Nash County teens last week during the final day of a three-day training session.
The training was part of Nash County's efforts to start a Community Emergency Response Team, or CERT. More ...
Amanda Clark, Graphic Staff Writer

Eunice Williams, Savada Minton and Delores Harris are all alumni of the Castalia Rosenwald School and visited last week with descendants of Julius Rosenwald.

Rosenwald descendants visit Castalia school
Descendants of Julius Rosenwald paid a visit to Nash County to visit two Rosenwald Schools last Thursday afternoon.
David and Stephanie Deutsch, first cousins to the Rosenwald family, visited four of the North Carolina Rosenwald Schools last week. The schools are four of 813 schools constructed in NC between 1917 and 1932. More ...
Amanda Clark, Graphic Staff Writer
FIRST DAY OF CLASS
Nash Community College President Bill Carver greets new students on Monday, August 16, during the college's first day of fall classes. Faculty and staff were stationed throughout campus to answer questions and assist students in finding their way. The College has also implemented a First Year Experience program called FOCUS that is designed to help students transition into the demands and expectations of college and empower them to achieve greater success.
More ...

Bergman and Peede unite in marriage
Elizabeth Anne Bergman and Rev. Daniel McCoy Peede were married Saturday, June 26, 2010 at Foundations Bible Collegiate Church. The officiating minister for the double-ring ceremony was Dr. H. T. Spence.
The bride is the daughter of Rev. Roger and Mary Bergman of Etxalar, Spain. More ...

Bissette, Batchelor wed
Amanda Lynn Bissette and Michael Timothy Batchelor were married Saturday, July 10, 2010 at Stoney Hill Free Will Baptist Church. The officiating minister for the 4:30 p.m. ceremony was Rev. Allan Stanley.
The bride is the daughter of Tim and Ila Ruth Bissette of Rock Ridge. More ...

WEDDING ANNIVERSARY
Doramous and Elouise Lucas celebrated their 65th wedding anniversary on August 6 along with their daughter, Ella, who also celebrated a birthday on August 6, 2010. On August 7 they went to Bill's Barbecue in Wilson with most of their children and other family members.
More ...

BIRTH ANNOUNCEMENT
Wayne and Laura Jones of Sandy Cross are pleased to announce the birth of a son, Michael Landon Jones, born July 13, 2010 at Nash General Hospital in Rocky Mount. He weighed 9 pounds, 6 ounces and was 20 inches long. More ...

Macklin earns Barton College scholarship
Crystal Macklin of Nashville, a transfer from Edgecombe Community College, is the recipient of a Transfer Incentive Award at Barton College. The renewable scholarship will cover $1,000 of tuition for the year.
Macklin is the daughter of Sandra Macklin of Nashville and Robert Macklin of Rocky Mount. She will enter Barton College in the fall semester and plans to major in Nursing.
More ...

Peachtree Community News
Pastor Whitehouse brought another soul-stirring message on Sunday morning. His sermon was titled "Trust in the Lord". It was based on Judges 6: 36-40. It was about Gideon, whose faith was weak, and he was demanding that God show him proof of His guidance. When you know God's will, you need to do it. We need to live by faith, not by sight. More ...
BARBARA HARDISON
Beulah News
We had another good week-end at Beulah Church of Christ. The New Grace singers sang on Saturday night and were enjoyed by all. On Sunday we had two great sermons brought to us by our minister, Daniel West. We were glad his wife, Amy was feeling better and was back with us at church. Our choir brought us a beautiful message in song, "Ten Thousand Years". More ...
WILMA ENROUGHTY
Rock Creek holds VBS for community
Rock Creek Baptist Church tried something new for Vacation Bible School this summer. They left the church. Well, not really. They left the building and took the church into the community. Buildings are wonderful and they serve an important function, but sometimes they actually inhibit the church's mission. Churches are called to go into the world and shine the loving light of Christ on everyone everywhere.
More ...

Red Oak News
The WMU Council met on Monday, Aug. 16 and began making plans for the new WMU year.
The Women in Action of Red Oak Baptist Church met on Tuesday, Aug. 17 at the home of Jeanette and Hazel Hill. They collected lots of school supplies to be donated to students at M.B. Hubbard Elementary School. They also made plans for the coming new year. More ...
SUZY PEARCE
Ephesus News
What a wonderful day to be in the house of the Lord!
Terry and Jenny Alford provided special inspirational music as they sang "Midnight Cry."
Student Pastor Dan Crumley read scripture from John 5:33-47 and Pastor David Eidson delivered our message in God's Word and quoted verse 39, "You diligently study the scriptures because you think that by them you possess eternal life.
More ...
DEBBIE PHILLIPS
Farm Service Agency News
A general signup opened for the Conservation Reserve Program on August 2, 2010 and continues through August 27, 2010, Suzanne Murray, County Executive Director of the Nash County Farm Service Agency (FSA), recently announced. More ...

NCC hosts trench rescue for area fire departments
The Trench Rescue Team members of the Town of Nashville Fire Department were joined by members of the City of Rocky Mount Fire Department, City of Wilson Fire/Rescue Services and the Town of Williamston Fire Department recently for a 20-hour training session on Trench Rescue. The class was held at Nash Community College. On Friday night, August 13 members reviewed trench rescue, atmospheric monitoring and rope rigging techniques. More ...

CHECK PRESENTATION
Southern Bank recently presented the Red Oak Fire Department with a check for $5,000 for the department's new wellness/fitness room in its new facility. Construction recently wrapped up on the department's new 18,000 square foot facility.
More ...


Pictured above is Parker (center) with Edgecombe County Sheriff James Knight (far left) and Rocky Mount Police Chief John Manley (far right).

U.S. Marshal Scott Parker speaks to members of VOICE
U.S. Marshal and Nash County resident Scott Parker was the guest speaker on Monday, August 9 at the VOICE of Nashville meeting. Parker serves as the U.S. Marshal for the Eastern District of North Carolina. He thanked Nash County residents and Nashville residents for their support of him. Parker spoke on his duties as a Marshal, where he is in charge of 44 counties in the eastern district.
More ...

Nash County Blood Drives for September 2010
Wednesday, September 1 from 12:30 until 4 p.m. at McLane Carolina, 7253 NC Highway 48, Battleboro
Thursday, September 2 from 4 until 8 p.m. at Coopers Volunteer Fire and Rescue, 2408 Volunteer Road, Elm City
Saturday, September 4 from 12 until 4 p.m. at Old Navy, 1587 Benvenue Road, Rocky Mount More ...

Texting, talking, drivng – I'm not LOL
I had my 10-year-old daughter in the front passenger seat, as I exited onto the Highway 64 West Bypass to go home.
Somewhere between Nashville and Momeyer, I noticed a car in my rearview mirror floating all over the left-hand lane. It got so close that I not only couldn't see it in the mirror, I was having trouble picking it glancing over my shoulder. More ...
Mike Brantley
We can change the numbers, one by one!
I've heard many times that to find volunteers, all you have to do is ask. You wouldn't think it was that simple would you?
I've covered many events where volunteers were recognized for their service. In many of those cases, the person being honored was simply asked to join an organization. They were asked to take on a role in that organization. More ...
Amanda Clark
Covering Nash news from Edgecombe County?
Forgive me this week, but I've got a little bit of bragging to do, but it doesn't come without a good deal of concern -- and a little bit of humor mixed with an appreciation of the absurd.
It seems that an Edgecombe County-based newspaper is planning to crank up a new weekly newspaper, and is professing that it will cover all of Nash County. More ...
Jo Anne Cooper
Backward Glances
HARVEST FESTIVAL – This photo was found in The Graphic's archives. It was taken at the 1959 Harvest Festival in downtown Nashville.
More ...
A PICTORIAL LOOK INTO THE PAST
It's up to all of us to keep children safe
Lately it seems that a lot of our children are being killed by parents, caretakers and other relatives.
This bothers all of us but one thing that greatly bothers me is that other people knew of the abuse before the child was killed. In a recent trial of a mother who killed her child, it came out that other people, including a grandparent knew that the child was abused. People knew she told the child she hated it and that she had hit the child.
More ...
Bill Creech, Nashville Chief of Police

A-HEAD OF THE GAME. Nash Central's Caleb Sanford executes a header during last Wednesday's road tie against Northern Vance. (Submitted photo by Ashley Steven Ayscue)

Even Experience
HENDERSON -- Nash Central High School boys soccer coach Timothy Mudd didn't quite know how to feel after his club's 2-2, season-opening equalizer against host Northern Vance last Wednesday in Henderson.
Mudd thought his Bulldogs carried the majority of play, and probably should have come away with a victory -- at least if judged by time of ball possession. More ...
Staff Reports

RUNNING HARD. Southern Nash's Terron Huffman (with ball) tries to escape a tackle attempt from Franklinton's Reggie Williams during last Friday night's season-opening football game on the FHS campus.

Where They Left Off
FRANKLINTON - Southern Nash picked up right where it left off during last Friday's season-opening football matchup at Franklinton.
Last year, the Firebirds made a historic run to the Class 3-AA State Playoff Semifinals before dropping an overtime heartbreaker to South Johnston. More ...
GEOFF NEVILLE, Graphic Sportswriter

LET'S GET PHYSICAL ON FIELD. (L to R) Bunn's Kevin Montes and Southern Nash's Tristan Stallings leap for possession during last Thursday afternoon's boys soccer match, which was held on the BHS campus.

Matthews Wins 1st
BUNN -- John Matthews sees nothing but positives in both the short-term and long-term future of the Southern Nash boys soccer program.
Matthews, who takes over for resigned veteran mentor Jeremy Perry, has several seasons of experience as a boys assistant at SN. He also serves as the head girls coach for Southern. More ...
GEOFF NEVILLE, Graphic Sportswriter
Nash Co. teams in Brittany
WILSON -- Five Nash County teams will take to the field this weekend for The Brittany For The Boys VI Soccer Showcase, which will be held once again at Gillette Park in Wilson.
County participants will be Northern Nash, Nash Central, Southern Nash, Rocky Mount Academy and Rocky Mount High.
Northern will be the first Nash club in action as the Knights will play against West Brunswick on Friday at 6 p.m. on Field Four. More ...
Staff Reports
RMSH takes first at Nash tourney
RED OAK -- Rocky Mount was pressed to five games but came out victorious in the championship match of the annual Nash County Volleyball Tournament, which was held at the Northern Nash High School Gymnasium last Saturday.
The Lady Gryphons beat Northern Nash 3-2 to claim the county title for the second straight year.
In the first semifinal match of the day, Rocky Mount defeated Southern Nash in a four-game match by a 3-1 margin. More ...
KENT WHELESS, Graphic Correspondent

IN A CROWD. Northern Nash's DeQuavias Mann (right) tries to escape Wilson Beddingfield's defense during the Knights' season-opening road victory last Friday night.

Great Start For Knights
WILSON -- Northern Nash opened its 2010 football campaign in fine style last Friday evening with a 21-13 win at Wilson Beddingfield.
The visiting Knights (1-0), who will stay on the road this week with a trip to Cary, sported a solid running duo in seniors Rashad Hedgepeth and T.J. Marshall, and they used that ground game to pile up over 300 yards of offense. More ...
CHARLES ALSTON, Graphic Correspondent

RISING ABOVE THE CROWD. Southern Nash's Maya Bryant elevates for a kill during the Ladybirds' road volleyball matchup last Tuesday afternoon against Franklinton High School.

SN Falls To Rams
FRANKLINTON -- Emily Regan didn't know what to expect heading into her first match as the volleyball coach at Franklinton High School.
Now, she expects even more.
Regan's club shined in her debut, rolling to a 25-16, 25-11, 25-21 victory against Southern Nash in last Tuesday's regular season opener at the FHS Gymnasium. More ...
GEOFF NEVILLE, Graphic Sportswriter
LOCAL TOURNEY
(L to R) Steve Young and Ed Vann were among 36 participants at a recent PGA Breakfast Golf Tournament at Benvenue Country Club in Rocky Mount. The winning team, with a net score of 118, was the foursome of Rob Martin, Fred Tulloss, Randy Vann and Jon Wiggs. The match play competition over 18 holes featured a best two-ball score.
More ...


TURNER TAKES CHARGE. Nash Central's Turner Votipka dribbles the ball while being defended by Louisburg's David Pearce during Monday afternoon's non-conference soccer match.

All Tied Up -- Again
ROCKY MOUNT -- Due to a nasty storm that moved through the area, Nash Central and Louisburg had to wait 45 minutes to begin their non-conference boys soccer matchup Monday afternoon on the NCHS campus.
The wait was even longer for someone to score -- and it never happened. More ...
GEOFF NEVILLE, Graphic Sportswriter
Carolina Mudcats mastered against Mobile
ZEBULON -- The Carolina Mudcats and Mobile BayBears locked in a pitcher's duel on Saturday night at Five County Stadium as Josh Collmenter and Scott Carroll locked horns and both pitched into the seventh inning however, it was Mobile taking advantage of their chances as they defeated the Mudcats 2-1 in a Class AA Southern League baseball event.
Carolina (24-31) had great chances to score in the first two innings but came up empty. More ...
Staff Reports
TRENDELL TAKES TO THE AIR
Southern Nash's Trendell Lynch literally flies into the end zone during the Firebirds' season-opening road victory last Friday at Franklinton.
More ...

JOSHUA DAVID KIRBY
ROCKY MOUNT - Joshua David Kirby, infant, passed away Friday, August 20, 2010. He was born August 20, 2010. More ...

DONNA SYKES
Donna Sykes, 49, passed away, Friday, August 20, 2010. She was born July 7, 1961 in Nash County. Donna was preceded in death by her mother, Lorene Swanson Sykes.
More ...

ELIZABETH "LIB" GRIFFIN REGES
RED OAK – Elizabeth "Lib" Griffin Reges, age 100, died on Wednesday, August 18th, 2010. She was born May 19, 1910 in Red Oak to Henry Daniel Griffin and Nina Jones Griffin. Mrs. Reges was preceded in death by her parents, husband R. U. Reges, Jr., 5 brothers: Tommy, Henry Lee, Russell, Fenner, and Bruce Griffin, sisters: Mamie G. Reid and Hattie Grace Edwards.
More ...

ALFORD "AL" LOU SWEATT, JR.
ROCKY MOUNT - Mr. Alford "Al" Lou Sweatt, Jr. 86, died Saturday, August 21, 2010. He was born on January 6, 1924 to the late Alford Lou Sweatt, Sr. and Jessie F. Murray Sweatt. He was preceded in death by sisters: Ada Beatrice Roberts; Lottie Juanita Perkins; Anna Mary Evelyn Cobb; Jessie Louise Kimmer; and brothers James Fred Sweatt; John Murray Sweatt; Harrell Gordon Sweatt, Alvin Eugene Sweatt, and William Branch Sweet.
More ...

KENNETH WAYNE LEE
Kenneth Wayne Lee, 67, passed away Tuesday, August 17, 2010 in his home. He was born February 9, 1943 in Johnston County. He was the son of the late Moses and Evelyn Johnson Lee. He was preceded in death by his parents; brother, A.C. Lee and sister, Hulda Lee Blackmon. More ...

ANDY C. ROWE
Andy Rowe, 57 passed away August 21, 2010. Andy was born on June 19 1953 in Rocky Mount to the late Andy C. Rowe and Journine "Jerrie' A. Rowe. More ...

JAMES EVERETTE PITTMAN
ROCKY MOUNT - James Everette Pittman, died August 17, 2010. Funeral Services will be Friday, August 20, 2010, at Church of Epiphany, 12 noon. Burial at Northeastern Cemetery. Viewing/visitation will be today from 6-8pm at Stokes Mortuary Chapel. Arrangements by Stokes Mortuary, Inc.
More ...

IOLA PERRY
Iola Perry, age 78 of Rocky Mount, passed away Saturday, August 21. She was preceded in death by her husband H.J. Perry, Jr. More ...