Subscribe/Access
Advertisements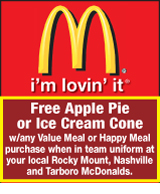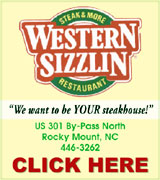 Sections
Member Options
Back
School board to petition Congress
The Nash-Rocky Mount Schools (NRMS) board agreed to a resolution at their meeting Monday night, urging the US Congress and presidential administration to make changes to the 2011 Budget Control Act to ward off looming budget cuts. Their resolution joins 12 others filed by school districts across the state and numerous others sent across the nation. More ...
Michele A. Cruz, Graphic Correspondent
Nashville woman found dead in home
A Nashville woman was found dead in her home on Tuesday afternoon and her boyfriend has been charged with first degree murder.
According to Captain Pat Joyner, of the Nash County Sheriff's Office, Nash County deputies responded to a possible homicide at 7389 Cedar Grove School Loop Road around 2:10 p.m. on Tuesday, December 4. More ...
Amanda Clark, Graphic Staff Writer
Nashville approves auction sales in downtown district
Downtown Nashville will soon be the home to a local auction company, Nashville Council Members unanimously agreed on Tuesday night.
Nashville's Town Council approved auction sales as a special use in the downtown district for The Red Barn Auction Company on Tuesday night during the board's regular meeting. More ...
Amanda Clark, Graphic Staff Writer
NASHVILLE'S CHRISTMAS CELEBRATION
Children gathered in downtown Nashville Saturday to participate in their very own Christmas Parade. Just before marching to the town's Christmas tree, Red Oak Middle School's Band and the Nash Central High School Chorus performed several holiday songs. Children decorated bikes, wagons, strollers, scooters and themselves to show their holiday cheer. Pictured above, Keegan Wallace, Rylie Wallace and Anna Carpenter stand ready to ride in the Children's Christmas Parade on Saturday on their decorated bikes and scooters. More ...

OH SANTA!
Pictured above little Everette Ziegenhorn meets Santa for the first time as he seemed quite amazed at the jolly ole' fellow! More ...

Nash oks solar farm
Nash County Commissioners approved a conditional use permit that will pave the way for the county's second solar farm.
The solar farm will be located on around 15 acres of a 62-acre tract east of Becton Road. The land is owned by Harold D. Cooley, II. More ...
Amanda Clark, Graphic Staff Writer

BELFIELD

New County Commissioner sworn in, Belfield named board chair
Nash County's Board of Commissioners was shuffled around a bit on Monday morning, as one commissioner turned over his seat to newcomer Lisa Barnes and the board elected a new chairperson.
Superior Court Judge Quintin Sumner swore in Barnes Monday morning during the board's regular meeting. Barnes was sworn in with her family watching. Barnes represents District Four. More ...
Amanda Clark, Graphic Staff Writer
Swift Creek students pledge to raise funds to help Rwanda kids
Students at Swift Creek Elementary School have pledged to raise money to help fellow youth in Rwanda buy shoes.
Last week, Brian Beckman, the US Executive Director of Play for Hope, spoke to students about his organization, which uses sports to provide a safe outlet for children to learn about themselves and to learn that they can make an impact in the world. More ...
Amanda Clark, Graphic Staff Writer
Spring Hope business owner requests town council to review water bill issue
A Spring Hope business owner got an unexpected surprise when he opened his water bill recently and discovered a higher than usual amount due.
George Godwin spoke to Spring Hope Commissioners on Monday night about the water bill. Godwin said the first water bill was for over $400. By the time Godwin got his water turned back on, the bill was over $500. More ...
Amanda Clark, Graphic Staff Writer
NASHVILLE POLICE BRIEFS
ARRESTS
Atlas Joyner Geddes - 12/3/12 - charged with violation of a court order
INCIDENTS
A criminal damage to property (vandalism) was reported on 11/26/12 at 726 E. Washington Street More ...

NASH COUNTY SHERIFF'S OFFICE REPORTS
A breaking, entering and larceny to a motor vehicle and damag to property were reported on 11/26/12 at 6460 Madison Road
A larceny from a garage was reported on 11/26/12 at 11231 Liles Road
A larceny of a credit card was reported on 11/26/12 at 3370 Pleasant Grove Church Road More ...


LaNika Richardson

NCWC announces 2012 Alumni Awards
More than 100 alumni and friends of NC Wesleyan College gathered for the annual Celebration of Excellence dinner held during its Homecoming Weekend. President James A. Gray, III welcomed the group and presided over the festive evening.
Following the meal, Director of Development Eddie Coats announced the 2012 Alumni Awards. More ...

Dedication
Debbie's Fund recently dedicated a memorial fountain at the Imperial Centre for Arts and Sciences honoring the life of Debbie Kornegay. A gift was also presented to the Nash Community College Foundation to provide support to a deserving Nash Community College Culinary Arts student. More ...

VETERANS DAY OBSERVANCE
In observance of Veteran's Day, residents of Autumn Care of Nash celebrated the occasion with a flag-raising ceremony. The flag was anonymously donated with thanks and gratitude for the veterans' service to our country during World War II. Accepting the flag for Autumn Care from Administrator, Karen Sparrow, is George Lewis and family. Mr. Lewis was a radio operator in the Navy. More ...

Honor Cards available in Nashville
William Mangum of Greensboro, one of the most popular and respected watercolor artist in the region, is celebrating 25 years of giving through the Honor Card which helps organizations across the state assist the homeless.
Mangum has donated his artistic skills creating a Christmas card each year using themes of real people he has met who have experienced being homeless. More ...

Stonewall Manor decorates for Christmas
Built circa 1830 by Bennett Bunn, Stonewall Manor stands today as one of Rocky Mount's most recognizable historic landmarks and a beautiful example of federal architecture. Each year the Membership of Stonewall Manor along with volunteers dedicate themselves and their time to decorating the Manor from top to bottom with fresh greenery from all over Nash County in an effort to honor the period in which the Manor was built and to display what a home during the 1830's would have looked like at Christmas.
More ...

Local inducted
Nashville resident Cassie Jeans, who is studying radiography at Edgecombe Community College, was recently inducted into the college's Alpha Omega Nu chapter of Phi Theta Kappa. Phi Theta Kappa is an honor society for students attending two-year schools. More ...

UDC BETHEL HEROES
Wallace Abernathy, local historian, was the guest speaker at the UDC Bethel Heroes Chapter 636 meeting in November. He spoke about Spies who served the confederacy during the War Between the States.
He spoke first on Edgar C. Singer who invented the Singer Percussion Torpedo. More ...
HELEN SHARPE
BEULAH COMMUNITY NEWS
It's time to mark your calendar again! Friday night from 5 to 8 is time once again for the Beulah Church of Christ monthly fish fry. Please plan to come on over to the Beulah Annex on Regus Road and join us for a lot of great food and fellowship. We always look forward to seeing old friends and meeting new ones. Speaking of old friends; last week several of us ran into Julian Fisher (retired dentist). More ...
WILMA ENROUGHTY
Nash County offers WIC services
WIC, or the special Supplemental Nutrition Program for Women, Infants and Children, is available at the Nash County Health Department.
WIC provides the following benefits: supplemental nutritious foods, nutrition education, breastfeeding support, vouchers for the healthy foods, and referrals to health care and community resources. More ...

Lights of Love raises over $5,000 for Pediatric ER
While it may be cliché to say that all the darkness in the world cannot put out one single light, the glow of generosity and hope shone brightly on a dark, chilly evening in November during the 9th annual Lights of Love celebration, led by the Nash Health Care Volunteer Auxiliary. The event raised more than $5,000 toward the new Pediatric Emergency room, which is currently under construction on the campus of Nash Health Care. More ...

Employee of the Month
Ivey Parker was selected as Nash County Department of Social Services Employee of the Month for October 2012. Ivey has been with the agency for 14 years as an Income Maintenance Caseworker in Family and Children's Medicaid. Known for her helpful and positive nature, Ivey enhances her unit through teamwork and support. More ...

MOUNT ZION FWB CHURCH NEWS
Robert Tyner welcomed everyone to Sunday school. There were 77 in attendance with one visitor. Welcome to everyone. We sang "Happy Birthday" to all those having birthdays this month. They were given candy by Carolina Modlin. Those with anniversaries this month were recognized also. They were also given candy. Robert mentioned several prayer concerns and prayed the closing prayer. More ...
ROSALENE BASS
PEACHTREE COMMUNITY NEWS
Peachtree folks gathered for worship on the first Sunday of Advent. Pastor Whitehouse welcomed those present. Jerry Hobgood and Marta Whitehouse led the Advent reading as Pastor Whitehouse lit the candle for "Hope." The choir sang, "Give Thanks" under the direction of the pastor. Sanctuary flowers were a large arrangement of poinsettias given by Bob and Fran Bunn in memory of Jeff Nelson, son of Dorothy and Bill Nelson. More ...
BARBARA HARDISON
MILITARY NEWS
Army Maj. Richard T. Bryant has been decorated with the Bronze Star Medal.
The medal is awarded to an individual who, while serving in the U.S. Armed Forces, has performed a heroic act, meritorious acts or achievements, or distinguished service not involving participation in aerial flight, in connection with military operations against an armed enemy of the United States; More ...

Nash County Blood Drives for December 2012
Saturday, December 8 from 9 a.m. until 3 p.m. at Capital Ford Lincoln, 2012 Stone Rose Drive, Rocky Mount
Tuesday, December 11 from 2:30 until 7 p.m. at Corinthian Masonic Lodge #230, 1700 S. Winstead Avenue, Rocky Mount
Thursday, December 13 from 11 a.m.until 5 p.m. at the Environmental Services Building on Thorpe Road in Rocky Mount More ...

LIVE NATIVITY
Rock Creek Baptist Church in Nashville will host its annual "Live Nativity Scenes" on Friday, Saturday and Sunday, December 7, 8 and 9 from 6:30 until 8 p.m. Make plans to come out and share the true spirit of Christmas through hearing and seeing the Christmas Story. There is no charge to attend but a love offering will be accepted.
More ...

Turkey Giveaway
In recognition of American Education Week and the Holiday seasons, the Southern Nash High School Administration teamed up with Piggly Wiggly of Bailey and held a Turkey Giveaway for the entire faculty and staff on Friday, November 16. Along with the turkeys, staff also received gift bags from Piggly Wiggly and Waste Industries. Several staff members opted to donate their turkey to needy families. Pictured above, Piggly Wiggly Manager Matt Roman (at left) hands automotive teacher Tom Worthington (at right) his goody bag. More ...

TRAINING
Nashville's Police Department participated in an Officer Safety and Readiness Training last month. The class was taught through Nash Community College by Sgt. M.A. Whitley, who serves as the Career Development Specialist for the Rocky Mount Police Department. More ...


Wes Parrish, Rose O'Malley and Colton Gibbs (L-R) were all a part of the local 4-H team, Bridles and Halters that participated in the 4-H Dairy Judging competition. The team placed sixth. (Graphic photo by Amanda Clark)

Nash 4-H team participates in Dairy Judging competition
The Bridles and Halters 4-H team recently returned from their first trip to a Dairy Judging competition.
The team, coached by Melissa Parrish and Mary Strickland, has been around for only four years and went to Salisbury, North Carolina for the competition.
There are four categories to participate in at the competition and teams can compete as individuals or as a team. More ...

The Soap Box Christmas gift guide for 2012
As you know, the Soapbox Staff is all about lending a helping hand, especially when it comes to Christmas. As usual, in the first week of December we always provide a handy shopping guide.
Our staff spends many seconds scanning various shopping outlets to find the best gift ideas of the year. We offer a guide to fit all budgets, and ask nothing in return, but of course won't refuse any gratuities you want to kindly slip in our mail slot in the door at our West Washington Street branch location. More ...
Mike Brantley
Parking tickets shouldn't be "pick and choose"
I am aware that this is the time of year to be jolly and thankful and all that other ho hum stuff but this week, I'm going to complain about something.
If you happen to work in Downtown Nashville, then you'll probably be familiar with my complaint. And, if you work in downtown, you know what to expect on pretty days Monday through Friday. More ...
Amanda Clark
Honor someone while helping the homeless
Be sure to take time to read the story about Honor Cards in today's paper on page 9-A.
North Carolina Artist William Mangum has once again donated his talent for a very worthy cause.
His art is featured annually on Honor Cards which are available at Christmas time throughout the state. All the proceeds from the cards go to local organizations and agencies that operate or aid homeless shelters. More ...
Jo Anne Cooper
Backward Glances
ARROW AWARD –– This photo was originally published in The Graphic on December 20, 1979. Cary Gentry received the "Arrow of Light" award from Ernie Wooten (second from left), cubmaster and Akela of Nashville Pack 76, and Tommy Rogers (left), Webelos leader, during the pack's meeting in December of 1979. Present at the ceremony were Cary's parents, Mr. and Mrs. Ralph Gentry of Nashville. More ...
A PICTORIAL LOOK INTO THE PAST
Nash County Animal Friends' Notebook
Cats die everyday at the Nash County Animal Control Shelter. Why is that? Because people obviously don't care. If they did, they would have their cats fixed (Spayed/Neutered) so there wouldn't be babies. Or they would keep them inside. Around half of what comes into the Shelter are cats. Most of them aren't adoptable because they were dumped outside and left to fend for themselves, with sometimes some food put out.
More ...
Carol Vierela, Nash County Animal Friends

CAN'T BE STOPPED. Nashville Hornets' quarterback Raymond Bullock (with ball) avoids a pair of Hawfields tacklers during last Saturday's semifinal contest of the Statewide Athletics Committee Football Tournament in Alamance County.

ONE FOOT AWAY
HAWFIELDS -- Nashville's long, 93-mile journey toward a possible state championship came up one foot short last Saturday.
The Hornets traveled to Alamance County to tangle with the Hawfields Jaguars in the semifinals of the Statewide Athletics Committee State Football Tournament. More ...
GEOFF NEVILLE, Graphic Sportswriter
Big East salutes Nash Co.
NASH COUNTY -- Wilson County teams tend to have a stranglehold on Big East Conference Boys Soccer top honors, but that wasn't the case during the 2012 campaign.
Instead, Nash County swept the chief awards, including Southern Nash's John Matthews as the Coach of the Year. More ...
GEOFF NEVILLE, Graphic Sportswriter

IN THE CLEAR FOR SN. Southern Nash's Jamie Rice makes strides toward the finish line during her event as part of last Thursday afternoon's Big East Conference Swim Meet, which was held at the Harrison Family YMCA in Rocky Mount.

Central Staying In The Swim
ROCKY MOUNT -- Once again, the Nash Central High School Lady Bulldogs continue to outdistance their competition in the Big East Conference swim standings.
Central was dominant during last Thursday afternoon's latest league meet at the Harrison Family YMCA.
The Lady Bulldogs piled up 144 points to claim the top spot. Non-league foe Tarboro was second at 135 points, though those points don't count toward the Big East numbers. More ...
GEOFF NEVILLE, Graphic Sportswriter
Northern a winner vs. B'field
RED OAK -- Homestanding Northern Nash secured a 51-29 victory over Wilson Beddingfield in prep wrestling action last Thursday at the NNHS Gymnasium.
Results from the match were as follows: More ...
Staff Reports

HOLD ON TIGHT. Nash Central's Josh Melton (left) puts a hold on Louisburg's John Cuddy during last Wednesday's wrestling showdown on the NCHS campus.

Bulldogs On The Build
ROCKY MOUNT -- After a period of mat stability, Nash Central High School has now had three wrestling coaches in the past three years.
New skipper Rashon Johnson is hoping to bring some continuity back into the Bulldogs' program.
A native of Wilson, Johnson had always hoped of being a mat coach, and he got his opportunity when the NCHS position came open. More ...
GEOFF NEVILLE, Graphic Sportswriter
HIGH SCHOOL GRID SCORES
NASH COUNTY -- Here are last weekend's scores from the North Carolina High School Athletic Association State Football Championships: More ...
Staff Reports
NC Wesleyan still unbeaten for year
ELIZABETH CITY -- The North Carolina Wesleyan College men's basketball team used a total team effort to secure a 24-point win over Mid-Atlantic Christian lastSaturday, downing the host Mustangs by a 77-53 score.
The win moves the Bishops to 7-0 on the season, marking the third-best start in program history and the best since 2008-2009, when the Bishops started 8-0 en route to a Top 25 national ranking. More ...
Staff Reports
Mudcats announce 2013 coaching staff
ZEBULON -- The Cleveland Indians have announced an all-new field staff to lead the Carolina Mudcats in 2013.
David Wallace will serve as manager, after earning a promotion from Low-A Lake County.
Hitting coach Rouglas Odor and pitching coach Jeff Harris will assist Wallace this summer. Jeremy Heller will return for his second season as athletic trainer. More ...
Staff Reports
MORE BIG EAST PHOTOS
BIG EAST EXCELLENCE. Nash County performers who took part in last Wednesday's Big East Conference Swim Meet included Nash Central's Delonte Austin. More ...

Nash Tourney pairings finalized
ROCKY MOUNT -- Nash Central High School will serve as the host for this year's Nash County Holiday Basketball Tournament.
The boys and girls prep event will be held from Dec. 18-20 at The Dawg Pound Gymnasium on the NCHS campus. More ...
Staff Reports
THREE AGAINST ONE
A trio of Nashville defenders -- (l to r) Turner Davis, Raymond Bullock and Coley Corbin -- team up to tackle Hawfields running back Tre'vonte Bozeman during last Saturday afternoon's semifinal contest of the Statewide Athletics Committee Football Tournament at Hawfields Middle School in Alamance County. More ...

LET'S RUN THIS
Nashville Hornets head coach Jim Glover (right) sends in a play to quarterback Raymond Bullock during last Saturday afternoon's game against the Hawfields Jaguars in the semifinals of the Statewide Athletics Committee State Football Tournament. The game was staged at Hawfields Middle School in Alamance County. More ...

JOE ANN HINES
ROCKY MOUNT –– Joe Ann Hines, 54, of Rocky Mount, died on Thursday, November 22, 2012, at Vidant Medical Center in Greenville. More ...

FRANCES SINGLETARY LUDLUM
NASHVILLE –– Frances Singletary Ludlum, age 85, passed away on Sunday, November 25, 2012. Born in Bladenboro NC on April 30, 1927, she was the youngest of three girls born to Berta and Tullie Singletary. She was preceded in death by her sisters, Vivian Hester and Mildred Hester and her husband Joseph "Buddy" Ludlum. More ...

BARBARA ANN JAMES
Barbara Ann James, 73, passed away Thursday, November 29, 2012. She was born March 13, 1939 in Nash County to the late Lonzie and Maggie Langley Parker. She was preceded in death by her husband, Raeford "R.J." James and a sister, Linda Rose Groover. More ...

RAYMOND COLEY, SR.
Raymond Coley, Sr., 86, passed away Thursday, November 29, 2012. He was born September 21, 1926 in Nash County to the late Otha and Minnie Coley. Raymond was preceded in death by his wife Myrtle Estelle Coley, a daughter, Linda Collins and a brother, Willie Gray Coley. More ...

RUTH FARMER HAMMOND
Ruth Farmer Hammond passed away on November 29, 2012. She was born October 13, 1921 and was the daughter of the late William Leslie and Bessie Murray Farmer. She was preceded in death by her loving husband of 62 years, William James Hammond, also five brothers, James Farmer, William Farmer, Leamon Farmer, Jack Farmer and Luther Farmer, a sister, Pearl Morris, a grandson, Jim Hammond. More ...

RICHARD PAUL BOGDOVICS SR.
Richard Paul Bogdovics Sr., 45, passed away Wednesday, November 28, 2012. He was born in Burlington County New Jersey. He was preceded in death by his father, Francis Bogdovics and his brother, Steven Bogdovics. More ...

MIRIAM COOPER MULLEN
Miriam Cooper Mullen, age 80, passed away November 28, 2012 at Kindred Care of Rocky Mount. Miriam is preceded in death by her parents Astor and Lottie Cooper. More ...

JAMES RAY DRAKE
James Ray Drake, 79, passed away Saturday, December 1, 2012. He was born in Edgecombe County on June 1, 1933 to the late Johnny and Nannie Pender Drake. More ...

JAMES "JIMMY" LEVAN KELLY, JR.
James "Jimmy" Levan Kelly, Jr., 69, passed away Friday, November 30, 2012. Born in Edgecombe County on July 8, 1943, he was the son of the late James Levan Kelly Sr. and Gladys Coley Kelly. More ...

JOYCE ANNE CUTHRELL
Joyce Anne Cuthrell, age 85, passed away Tuesday, November 27, 2012. A native of Rocky Mount, she was born on March 03, 1927, the daughter of the late Joel Monroe Cuthrell and Thelma Scammell Cuthrell. She was also preceded in death by her nephew, Ronald Ellis Smith Jr. More ...

LEONA WALKER BARNES
Leona Walker Barnes, age 98, passed away Tuesday, November 27, 2012 at Kindred Healthcare. Graveside services were conducted Saturday, December 1, 2012 at Rocky Mount Memorial Park Mausoleum with Reverend Richard Walker officiating. More ...

ROSA MCCOY
Rosa McCoy, 107 of Middlesex, passed away on Thursday, November 29, 2012. More ...

BRAD LEE NIHART
Brad Lee Nihart, 57, of New London, NC, passed away on November 22, 2012 at Stanly Regional Medical Center. Mr. Nihart was born on May 18, 1955 in Toledo, OH, a son of Roberta Corkle Nihart, and the late George W. Nihart, III. Brad had worked in the construction industry. More ...

STANLEY ARRINGTON
NASHVILLE - Funeral services for Stanley Arrington, 56, who died Friday, November 23, 2012, were held Friday, Nov. 30, at 3 p.m. at the Richardson Funeral Home Chapel with Rev. Kelsey L. Evans officiating. Burial followed in the Oakland Cemetery. More ...