Subscribe/Access
Advertisements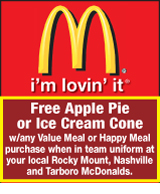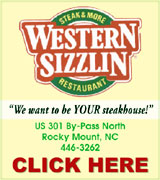 Sections
Member Options
Back
New attendance zones balance board priorities
The Nash-Rocky Mount Schools (NRMS) committee that was formed to create new student attendance boundaries began its work this year with seven board priorities, one of which was altered slightly.
"Our board of education carefully examined the student reassignment data, and after making a few adjustments, were satisfied that the new boundaries balanced the seven priorities in the best possible way, given the locations of our school buildings," Dr. Anthony Jackson, NRMS superintendent, told The Graphic. More ...
Michele A. Cruz, Graphic Correspondent
Red Oak prepares for Fiscal Cliff
Red Oak Commissioners voted Monday night to adjust 2013 salaries in order to accommodate any potential tax increases in the coming year. The salaries of the mayor and town clerk, who are paid monthly, will be adjusted automatically in January to reflect the new tax code that may take place under the president's second term or as a result of the "fiscal cliff." For now, the salaries of the commissioners, who are paid annually, will not be affected. More ...
Amelia Harper, Graphic Correspondent
Neville family presents portrait to Nash County
The family of Ben Holland Neville, Sr. presented Nash County Commissioners with a portrait to be hung in District Court as a way to honor the former judge and clerk of court.
Rachel Joyner, Nash County Clerk of Court requested on behalf of the Neville family that the portrait be hung in District Courtroom #2, where Neville served as a judge for over 10 years. More ...
Amanda Clark, Graphic Staff Writer
Concerns raised over biomass plant
Spring Hope commissioners amended the town's zoning ordinance last Monday night to allow biomass plants in a heavy industrial zone/special use district with a special use permit. But commissioners delayed issuing an actual special use permit for such a plant.
Preston Curtis requested a special use permit to operate ALP Generation, LLC. Curtis wants to open a wood-fueled electric generating plant at the former American Rockwell plant on East Nash Street. More ...
Amanda Clark, Graphic Staff Writer

COINS –– Nashville Fire Department Chaplain Rev. Vernon Potter and Chief Randy Goodbrod (back L-R) present a Challenge Coin to volunteer member Bill Jones on Saturday during the department's annual Christmas Banquet.

NFD honors all firefighters
Nashville's Fire Department held its annual Christmas Banquet on Saturday night to honor and thank members for their service.
Members, including junior, volunteer, career and retired, all received a special Challenge Coin as a token of appreciation.
Chief Randy Goodbrod presented the coins to members. More ...
Amanda Clark, Graphic Staff Writer
Momeyer man celebrates American flag
Walter Jackson loves the American flag and everything it stands for. So when he decided to paint the flag on the side of his barn, he didn't feel like he wasn't doing anything significant. But others disagreed.
Jackson, of Momeyer, said since the flag has been finished, lots of people have called him to ask if they could come see it for themselves. Jackson has always obliged but said he doesn't understand what the fuss is about. More ...
Amanda Clark, Graphic Staff Writer
Graphic sports correspondent dies
Charles Alston, who served as a sports correspondent for The Nashville Graphic for over 10 years, passed away on Monday. He was 54 years old.
Alston covered area high school athletics for The Graphic. He had worked for The Graphic as a correspondent since 1998. Prior to that he worked for The Rocky Mount Telegram. More ...

NASHVILLE POLICE BRIEFS
ARRESTS
Doris Batchelor - 12/4/12 - charged with driving while license revoked
Janice Simms - 12/5/12 - charged with violation of a court order
Latisha Katrel Alston - 12/6/12 - charged with possessing/concealing stolen property and driving while license revoked More ...

NASH SHERIFF'S OFFICE INCIDENT REPORTS
A breaking, entering and larceny of a residence was reported on 12/3/12 at 10580 Circle Nine Road
A breaking, entering and larceny was reported on 12/3/12 at 2528 Sherrod Road
A homicide was reported on 12/4/12 at 7389 Cedar Grove School Loope Road
More ...

"A CHRISTMAS CAROL"
As is tradition, Nash Arts is hosting "A Christmas Carol" this Christmas season. The play held shows this past weekend and will finish off with two more shows this weekend, on Friday, December 14 and Saturday, December 15 at 7:30 p.m. More ...

LIVE BURN TRAINING
The Nashville Fire Department conducted a training exercise for the junior members on December 6. Although juniors can't actually fight fire on a real incident, junior members got a chance to man hose lines to keep this training fire under control while Fire Fighters burned an old out building down. More ...

Nash County wins one appeal, faces another
While Nash County won the most recent case to reach the NC Court of Appeals, a new appeal in the most recent lawsuit (Barnes, et al. vs. Nash County) was filed this week, said Nash County Manager Bob Murphy. In the meantime, Sanderson Farms, whose interest in Nash County was the apparent root cause of the lawsuits, has pulled out of the county and no longer has any interest in building here. More ...
Amelia Harper, Graphic Correspondent
Nash youth participate in shows at State Fair, pics 1
Nash County 4-H youth participated in several animal shows at this year's North Carolina State Fair, which was held in October. Pictured is Julia Williams with her sixth place wether goat. Williams also showed her turkey and placed third. More ...
Contributed photos
Rose, Currie unite in marriage
Allison Victoria Rose and Rev. Jason Dean Currie were married Saturday, Oct. 20, at Sunset Avenue Baptist Church, Rocky Mount. The officiating ministers for the 3 p.m. ceremony were Dr. Robin D. Fisher and Rev. Larry Gilbreath Jr. More ...

ENGAGED
Jerry and Mary Carpenter of Trentwoods, formerly of Red Oak, announce the engagement of their daughter, Amanda Pauline Carpenter, to Benjamin Colby Griffin, the son of Dwayne and Brenda Griffin of Nashville. The wedding will take place on May 4, 2013 at Centenary United Methodist church, New Bern. More ...

ENGAGED
Mr. and Mrs. H.G. Matthews Jr. of Nashville announce the engagement of their daughter, Elizabeth Leigh Matthews, of Nashville to Daniel Byron Dupree of Tarboro. He is the son of Mr. and Mrs. James Dupree Jr. of Tarboro. She is the granddaughter of the late Mr. and Mrs. John Quick Jr, the late Horace Matthews, Sr. and the late Mrs. Alice Matthews. More ...

MOUNT ZION FWB CHURCH NEWS
Robert Tyner welcomed everyone to Sunday school. We had 82 in attendance to day. A white poinsettia was given by the adult choir. "Thank you." Robert prayed the closing prayer.
Our choir sang, "Infant Holy, Infant Lowly" for the call to worship. Robert Tyner prayed the prayer of invocation. More ...
ROSALENE BASS
PEACHTREE COMMUNITY NEWS
On the second Sunday of Advent, Peachtree folks gathered for worship. Pastor Whitehouse greeted those present and he and Marta Whitehouse led in the Advent reading and the lighting of the candle for Peace. There were many visitors who had come to hear John Michael Sykes and the Mission Team that recently returned from South East Asia. More ...
BARBARA HARDISON
BEULAH COMMUNITY NEWS
We wish to thank everyone who attended the monthly fish fry at the Beulah church of Christ Annex last week. It was good to see old friends again and also some new faces.
On Dec, 23 there will be a Christmas musical service presented by the Praise Teams on Sunday morning at 11. More ...
WILMA ENROUGHTY
RED OAK NEWS
Perry and Maxine Bobbitt of Littleton visited with Madgie Macklin and Dorothy Pearce recently.
Ladies from Red Oak Baptist Church gave a Christmas party for the women in Dorm B at Fountain Correctional Center in Rocky Mount on Monday, Dec. 3. Nell Boone read the Christmas story and Marilyn Boone led the singing of Christmas songs including their specialty, "The 12 Days of Christmas." More ...
SUZY PEARCE
DAUGHTERS OF THE AMERICAN REVOLUTION
The DAR Micajah Pettaway Chapter met November 15, 2012, 10:30 a. m. in Braswell Memorial Library. After Regent Dottie Barrett greeted everyone, she introduced prospective member guests Debra Tucker and Marjorie Bradley.
Speaker and former Regent Toni Wade delivered the program on cotton. More ...
DEE LONG
Convention
UDC Bethel Heroes Chapter 636 members recently attended the 119th Annual General Convention of the United Daughters of the Confederacy held in Richmond, Virginia. Pictured (L-R) is: Helen Sharpe, Madeline Lee, Dottie Barrett, Margaret Sink and Margie Brantley. More ...

Decorating, un-decorating not the best part
It is a time that tries men's souls.
It is stressful, tiresome and full of conflict.
"It" is the annual ritual of decorating for Christmas, and is only eclipsed in man-horror by shopping, musicals and un-decorating for Christmas. More ...
Mike Brantley
Final countdown to baby's arrival day
Well I'm in the short rows now and this baby could come at any minute. But, I'm hoping he doesn't.
His scheduled arrival date is December 21 and I'd like to stick to that date because I really don't have time for surprises right now. But for the past nine months, this baby has done his own thing so I suppose he'll finish this pregnancy doing the same thing. So, technically, he's going to come when he feels like it. More ...
Amanda Clark
Appreciating those who serve and protect
Amanda and I attended Nashville Fire Department's annual Christmas Banquet Saturday night, and as usual the food and fellowship were great and I went home remembering just how important local firefighters and law enforcement are to our communities.
The Reverend Vernon Potter, who volunteers and serves as the fire department's chaplain, once again did an outstanding job of describing the life of a firefighter. More ...
Jo Anne Cooper
Backward Glances
BROWNIES ENTERTAIN GUESTS –– This photo was originally published in The Graphic on December 13, 1973. Guests were entertained at a Christmas tea at the Nashville United Methodist Church by Brownie Troop 352. More ...
A PICTORIAL LOOK INTO THE PAST
Nash County Animal Friends' Notebook
I just saw a tee shirt and it had a print that is SO true. It said, "Animal Shelter – (an-uh-muh shel-ter) noun: A place where every time you breed or buy, another innocent animal dies, please adopt."
YES, Please ADOPT. There are some GREAT pets at the Shelter. It is an ever changing group of pets, but they all need LOVE and a SAFE place for someone to CARE for them. More ...
Carol Vierela, Nash County Animal Friends

MANNING THE MIDDLE. Southern Nash's Kadijah Manning (with ball) dribbles past Bunn's Whitney Bunn during last Tuesday's girls basketball game.

A SLOW START
BUNN -- Two teams looking for their first victory of the season met in an urgency-filled girls basketball showdown last Tuesday.
For Southern Nash, the necessity of the moment was even more critical, as the Ladybirds kicked off their campaign with three consecutive losses. More ...
GEOFF NEVILLE, Graphic Sportswriter

SHOOTING STAR. Southern Nash's Desmon Jackson goes up for a jumper during last Tuesday night's road contest versus Bunn HS.

SN boys falter in the 4th
BUNN -- Southern Nash's strong start was trumped by Bunn's furious finish during last Tuesday night's non-conference boys basketball contest.
The Firebirds led by nine points after the first frame, but BHS would rally the rest of the way, including a 16-4 spurt in the fourth quarter. More ...
GEOFF NEVILLE, Graphic Sportswriter
Round 3 Of League Swimming
ROCKY MOUNT -- The third time didn't prove to be a charm for opponents hoping to slow down the high-powered Nash Central High School girls swimming squad.
Instead, the Lady Bulldogs made it three team victories in a row in the Big East Conference during last Wednesday's latest league pool installment at the Harrison Family YMCA. More ...
GEOFF NEVILLE, Graphic Sportswriter
Batchelor honored by CIAA
MURFREESBORO -- The Central Intercollegiate Athletic Association has released this season's honorees for the All-CIAA Football First and Second Teams and Players of the Year.
Chowan University's Jobari Coleman-Wilson and T.J. Batchelor were honored on the All-CIAA Football First Team Offensive Team and Defensive Team, respectively. More ...
Staff Reports
Hunt sweeps Big East awards
NASH COUNTY -- Wilson Hunt was dominant in the Big East Conference and beyond during the 2012 prep football season.
The Warriors won the Big East in convincing fashion and eventually reached the semifinals of the Class 3-AA State Playoffs before falling to eventual champion Northern Guilford. More ...
GEOFF NEVILLE, Graphic Sportswriter
BATCHELOR EARNS HONORS IN CIAA
FORMER FIREBIRD EXCELS. Former Southern Nash High School standout T.J. Batchelor enjoyed a strong season in 2012 as a member of the Chowan University football squad. Batchelor, a linebacker. earned first-team all-league honors in the Central Intercollegiate Athletic Conference. Batchelor collected 77 total tackles and registered 12.5 sacks while helping the Hawks secure a 6-4 overall record. More ...

East-West Football moved to High Point
GREENSBORO -- The North Carolina Coaches Association has announced that the 65th East-West All-Star Football Game will be played at High Point's A.J. Simeon Stadium in July of 2013.
The All-Star Game, which has been played at Grimsley's Jamieson Stadium in Greensboro for the previous 64 years, is moving due to a construction project at the traditional site. More ...
Staff Reports
DRIVING FORCE
Southern Nash's Aisha High (with ball) heads to the bucket last Tuesday night against Bunn HS. More ...

ONE ON ONE
Southern Nash's Desmon Jackson (with ball) challenges Bunn defender Tavon Perry during last Tuesday night's non-conference, boys basketball rivalry contest at the Bunn Dome in Franklin County. More ...

SHOWING THE WAY
Kadijah Manning was the leading scorer for the Southern Nash Ladybirds during last Tuesday's non-conference road setback at Bunn HS. More ...

Cherry Hill offers special Christmas program
The board at the Historic Cherry Hill in nearby Inez is offering a special Christmas program this year, free of charge, in the spirit of the holiday season.
The Oakwood Waits will perform at 3 p.m. Sunday, Dec. 16.
The group began performing in 1984 when a group of friends got together to sing carols in the Oakwood neighborhood of Raleigh, where many of them lived. More ...

CLEOPHUS COLEY
ROCKY MOUNT - Mr. Cleophus Coley, 67, of Rocky Mount, died on Tuesday, December 4, 2012, at Nash General Hospital. More ...

VERTUS EUGENE BARNES
Vertus Eugene Barnes passed on December 3, 2012. He was born on October 3, 1937 in Nash County to the late William Hardy Barnes and Mattie Ruth Joyner Barnes. More ...

LEASA RENEE SMITH
Leasa Renee Smith, 41, passed away Tuesday, December 4, 2012. She was born in Nash County on August 16, 1971 to Sidney Earl Harper and Mavis Harrell Bailey. Leasa was preceded in death by her step-father, Gene Bailey. More ...

SARAH ANN HAGGERTY
Sarah Ann Haggerty, 65, passed away, Monday, December 3, 2012. She was born March 19, 1947 in Sussex, NJ to the late John and Margaret Anthony Szanyi. More ...

DORIS CARROLL ROBBINS
Doris Carroll Robbins, 75, passed away Tuesday, December 4, 2012. She was born January 31, 1937 to the late Charlie Ben Carroll and Evelyn Mangum Carroll. In addition to her parents, Doris was preceded in death by her husband, Jimmy Robbins. More ...

KATHLEEN BLONDELL BULLARD PERRITTE
Kathleen Blondell Bullard Perritte, age 74, passed away on Sunday, December 09, 2012. Born in Laurinburg NC on February 21, 1938, she was the daughter of the late Duncan Melvin Gibson and Naomi Butler Gibson. She was also preceded in death by her daughter, Sheryl Bullard Davis. More ...

RUBY LEE BISSETTE
Ruby Lee Bissette, 64, passed away Saturday, December 8, 2012. She was born May 4, 1948 in Duplin County to the late Glennie and Verna Mae Harris Edwards. More ...