Subscribe/Access
Advertisements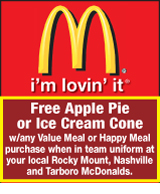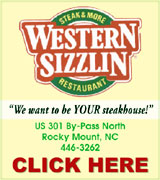 Sections
Member Options
Back
Superintendent responds to Newtown tragedy
Although Newtown, Connecticut may be hundreds of miles away from Nash County, the tragic incident that unfolded on Friday at an elementary school is on the minds of many, including those of our local school system.
In the wake of Friday's incident, where 20 first graders and six school staff members were killed by an armed man at an elementary school, administrators and educators from Nash-Rocky Mount Schools have been on hand to speak with students who may be experiencing grief. More ...
Amanda Clark, Graphic Staff Writer
Bailey approves Wal-Mart Express
Bailey Town Commissioners met on Monday night to give final approval to a new Walmart Express, the latest in the new concept stores being tested in the North Carolina market. Bailey commissioners have been discussing the issue since October when Walmart officials formally presented the idea to town commissioners. More ...
Amelia Harper, Graphic Correspondent

Jim Glover, Nashville's Recreation Director, also participated in the Kids and Cops Christmas, helping Jacob Whitaker pick out toys. Whitaker will turn one on December 27.

KIDS AND COPS CHRISTMAS
Ten local youth had the opportunity to go Christmas shopping with a Nashville Police Officer last Wednesday morning as part of the department's annual Nashville Kids and Cops Christmas.
This is the third year Nashville's Police Department has participated in the event, which has been called Shop With a Cop the past two years. The name was changed this year since Shop with a Cop is a trademarked name. More ...
Amanda Clark, Graphic Staff Writer
Bashore settles in as Nashville's Police Chief
Serving as the Police Chief of Nashville is a dream come true for Thomas Bashore.
Bashore, who began as Nashville's Police Chief on November 27, said he's at a point in his law enforcement career where he wants to do more pro-active policing. In Nashville, he feels he can do that.
Bashore came to Nashville from Rocky Mount's Police Department, where he served for 15 years. More ...
Amanda Clark, Graphic Staff Writer

Baker

Bailey woman to serve life in federal prison
A Bailey woman was sentenced to life in prison for her role in drug trafficking.
United States Chief District Court Judge James C. Dever, III sentenced 41-year-old Beverly Allen Baker to life in prison last Tuesday. In addition, 31-year-old Ronnell Lamont Perry was sentenced to 108 months in prison and three years of supervised release and Wayne Vick, 47, was sentenced to 168 months in prison followed by five years of supervised release. Both Perry and Vick are also from Bailey. More ...

Briggs receives Tom Downing Award
Wood Briggs attended the Oak Level Ruritan Club's annual Christmas banquet last Monday evening knowing two things. One, he'd be sworn in as the club's Vice President. And two, he'd be receiving a perfect attendance pin for 25 years of faithfully attending meetings.
But Briggs didn't know he'd receive one more honor; that he was the latest recipient of the Tom Downing Fellow Award. More ...
Amanda Clark, Graphic Staff Writer
Bender a no-show at Castalia Board Meeting
Despite statements that Castalia Commissioner Clarence Bender made to the press last week, he failed to show at this month's Castalia Town Meeting held on December 4. Bender was reportedly released on bail after the court lowered the bail amount from $300,000 to $50,000 at his last court appearance. He was charged with three counts of drug-related charges primarily connected with the sales and distribution of prescription pain killers. More ...
Amelia Harper, Graphic Correspondent
Cornerstone provides register books for residents to sign
In the wake of the tragedy that has occurred in Newtown, Ct, Cornerstone Funeral Home and its staff will have register books on site for each family that was affected by this tragedy.
Cornerstone would like to invite the public to sign the books and show your love and support for these families. More ...

REUNION
The Nashville High School Class of 1962 celebrated its 50th reunion on Saturday, November 23 at the Nashville Community Building. Twenty-three classmates and 14 guests attended the event. More ...

ENGAGED
Jerry and Mary Carpenter of New Bern announce the engagement of their daughter, Amanda Pauline Carpenter of New Bern to Benjamin Colby Griffin of Red Oak. He is the son of Dwayne and Brenda Griffin of Red Oak. The wedding will take place on May 4, 2013 at Centenary United Methodist Church in New Bern. More ...

Shopping
Nashville Patrol Officer Tiara Joyner helps Kamauri Walker shop last Wednesday at Wal-Mart as part of Nashville's Kids and Cops Christmas. More ...

GAMMA BETA PHI INDUCTION
Nash Community College's Gamma Beta Phi Chapter recently inducted 45 new members for the 2012-2013 academic year. Gamma Beta Phi is a non-profit, co-educational, honor and service organization for students in colleges and universities. Its objectives are to recognize and encourage excellence in education, to promote the development of leadership ability and character, and to foster, disseminate, and improve education through appropriate service projects. More ...

MILITARY NEWS
Navy Seaman Shawn M. Fahey, son of Doreen P. and Thomas M. Killoran of Rocky Mount, recently completed U.S. Navy basic training at Recruit Training Command, Great Lakes, Ill.
During the eight-week program, Fahey completed a variety of training which included classroom study and practical instruction on naval customs, first aid, firefighting, water safety and survival, and shipboard and aircraft safety. An emphasis was also placed on physical fitness. More ...

Sharpe sworn in as newest NRM school board member
William "Bill" Sharpe became the newest member of the Nash-Rocky Board of Education during the Board's regular meeting December 3.
During a ceremony held prior to the meeting, outgoing board member Tem Meyers was also honored for his service. Four current board members: Anne Edge, Doneva Chavis-Battle, Bob Jenkins, and Franklin Lamm were also sworn-in to their board seats. Board chair Evelyn Bulluck was affirmed to her board seat.
More ...

Red Oak Middle teacher recognized as Math TOY
Kim Parker, eighth grade teacher at Red Oak Middle School, was recently recognized as an "Outstanding Secondary Mathematics Teacher" by the North Carolina Council of Teachers of Mathematics. Parker was nominated by her former principal, Robin May, now Executive Director of Secondary Instruction with Nash-Rocky Mount Public Schools. More ...

DAISY AWARD
Michelle Cordova, a nurse at Nash Health Care, recently received the organization's quarterly DAISY Award for outstanding nursing. Cordova, of Wake Forest, has worked on the third floor of Nash General and is now working in the Emergency Care Center. She has been wiht Nash Health Care since 2010. The DAISY Award is a nationwide program that rewards and celebrates extraordinary clinical skill and compassionate care given by nurses. More ...

Nash teacher awarded grant
Wake Electric recently awarded 24 teachers in Durham, Franklin, Johnston, Nash and Wake counties with Bright Ideas education grants, totaling more than $49,844 in grant monies. The grants will be used for a variety of classroom programs throughout the school year.
"We're thrilled to award these dedicated educators with Bright Ideas grants," said Darnell Alford, Business Operations Specialist and Bright Ideas coordinator for Wake Electric. More ...


Pictured above are all members of the Nashville Boys and Girls Club along with staff.

B&G Club celebrate Thanksgiving with meal, awards
The Nashville Unit of the Boys and Girls Club celebrated Thanksgiving with a turkey feast and an awards celebration, where members all received an award for their hard work through the year.
The awards were presented by Nashville Unit Director Marisa Harley. More ...

Native earns Doctorate in Musical Arts
Daniel Lee Colston received a Doctorate of Musical Arts degree from the Peabody Institute of Johns Hopkins University in Baltimore, MD on May 24, 2012.
Colston graduated with distinction from the University of North Carolina at Chapel Hill where he earned a Batchelor of Music degree in violin performance and a Batcehlor of Arts degree in history. He was a member of the orchestra and was the winner of the 2002 concerto competition. More ...

Locals win at Special Olympics Bowling Tourney
Nash County residents are among those who participated in the 2012 Special Olympics North Carolina Bowling Tournament on December 2.
The event for the eastern part of the state was held in Durham, the central part of the state in Greensboro, and the event for the western part of the state was held in Newton. More ...

DSS Employee of Month
Christy Lynch has been selected as Nash County Department of Social Services Employee of the Month for November. Christy has been with the agency for 17 years as an Income Maintenance Caseworker in Food and Nutrition Services. More ...

Evans selected
Guyla Evans, senior clinical systems analyst at Nash Health Care, was selected to present two of her poster proposals at the first Health Informatics Symposium at East Carolina University (ECU). Evans is working toward her PhD in technical and professional discourse at ECU. More ...

Northern Nash Marching Band
The Northern Nash Marching Band recently completed another successful competition season, placing first in class at the Demoulin Challenge at Wake Forest University, with third place overall. The band also placed first in class at the Crystal Coast Band Classic in Havelock with a second place overall. Band directors are Erik Harris and Jim Boyce. More ...

MOUNT ZION FWB CHURCH NEWS
Our widows group get together for a meal and fellowship each quarter. Last Wednesday, we met at the home of Mozelle Batchelor for our Christmas meal. Those in attendance were Mozelle, Annie Manning, Barbara Manning, Shirley Batchelor, Mary Coppedge, Margaret Anderson, Beth Swanson, Catherine Ballard, Lois Jean Farmer, Erma Holt, Geraldine Nelms, Susie Mae Sanders, and myself. More ...
ROSALENE BASS
PEACHTREE COMMUNITY NEWS
Peachtree folks gathered for worship on the third Sunday of Advent. The theme for this Sunday is "Joy". Pastor Whitehouse greeted those present and led in the advent reading, as Ricky Tucker lit the candle in the advent wreath. More ...
BARBARA HARDISON
BEULAH COMMUNITY NEWS
As we celebrate the Christmas season we need to remember the reason for the season. Our greatest gift is the birthday of Jesus. Remember "Away in a manger no crib for a bed, the little Lord Jesus lay down his sweet head." As we rush around to buy presents, cook food, visit family and friends may we always be thankful for the greatest gift of all. I hope everyone has a good holiday. More ...
WILMA ENROUGHTY
Living Christmas Scenes
Rock Creek Baptist Church in Nashville hosted its annual Living Christmas Scenes on December 7, 8 and 9 for the community. The church has been showcasing the Christmas scenes depicting Jesus' birth through several scenes since 1998. Hundreds of people drive through the production each year. Pictured, Ben Lewis acts out the role of Shepherd in one of the scenes. More ...

BELLRINGERS
Volunteers for the Salvation Army ring bells during the Christmas season in shopping areas throughout Nash County at places similar to the pictured entryway at WalMart. This location is served by the Kiwanis Club. Pictured (L-R) are Rocky Mount Kiwanis members Ed Vann and Don Mucci. More ...

EDGECOMBE-NASH RETIRED SCHOOL PERSONNEL
The Edgecombe-Nash Retired School Personnel met 10:30 a. m., November 13, 2012 at Braswell Memorial Library. President Mary Williams greeted everyone, member Shirley Felton gave the devotion on "Every Day is a Day of Thanksgiving", and her son, Cleon Felton, gave important dates of the NC Legislature. More ...
DEE LONG
Strickland is recognized
Mary Elliott Strickland, executive director of the Nash General Hospital Women's Center, was recognized with the Barton College Alumni Achievement Award at the college's recent homecoming awards brunch on campus. Strickland, a resident of Nashville, has worked at Nash Health Care for more than 15 years and has been a past recipient of the Great100, an awards program that seeks to recognize the top 100 nurses in North Carolina. More ...

Our kids need comfort during this tragic time
There are no words that can be written in a column that can put our minds at peace over what happened last Friday –– the mass murder of 20 children and six adults at an elementary schoolhouse in Connecticut –– a place that is supposed to be safe.
Due to being laid up from surgery, I was in bed watching the news as it came over Friday morning. I just couldn't believe what I was seeing. I was hoping I was still groggy from anesthesia and it was all a bad dream, but it wasn't. More ...
Jo Anne Cooper
Don't leave Christ out of Christmas
I'm not one to preach to others and I certainly am not one to enter into arguments over religion. Though I am a church going (most of the time), God fearing (all of the time) woman, I am not one to push my religion down other's throats. But please don't correct me when I offer a simple Merry Christmas to you. I'm not trying to be politically correct. I'm just spreading Christmas cheer and you can't spread Christmas cheer by saying "happy holidays" because you leave an important aspect of it out. More ...
Amanda Clark
Yes, Virginia, there is a Santa Claus
As we make our last minute preparations for Christmas this week, most of us will view the holiday as the way we've celebrated just over the course of our lives. There seems like a reasonable view.
Christmas in this country has not always been a big deal. There was even a time when some colonies actually outlawed the celebration of the holiday. More ...
Mike Brantley
Reader finds nude photos in ECU magazine offensive
Dear editor:
What is "Hidden in Plain Sight" is vice chancellor of student affairs, Virginia Hardy's, Expressions staff and advisors inability to recognize porn when they see it. Mislabeling porn as "human nudity" does not make it any less pornographic. The pictures are so offensive that Expression posted several warnings that such photos were ahead. They knew what they were publishing is porn. More ...
Letters to the Editor:
Backward Glances
OH CHRISTMAS TREE! –– This photo was originally published in The Graphic on December 18, 1973. These youngsters were decorating the Christmas tree at Nashville Baptist Church. (Graphic photo by Smith.) More ...
A PICTORIAL LOOK INTO THE PAST
Nash County Animal Friends' Notebook
We pray it will be a Merry Christmas for the pets currently in the Nash County Animal Control Shelter. The Shelter is open all this week, but only on Thursday and Friday, Christmas week. They will also be closed New Years Day, but you still have time to save someone! The spay/neuter clinic by POP-NC will be back on Jan 3. Call and schedule NOW so you don't have to worry about babies in the Spring!
More ...
Carol Vierela, Nash County Animal Friends

THE BEST THERE IS. Southern Nash's Moises Gonzalez has been selected as the Big East Boys Soccer Player of the Year for two consecutive seasons.

THE STATE 'BIRDS
STANHOPE - After laughing at the Southern Nash High School soccer program for years, the joke was on the Firebirds' opponents during the 2012 season.
Southern made history this fall, going 18-5-1 overall and winning the Big East Conference's regular season and tournament championships. More ...
GEOFF NEVILLE, Graphic Sportswriter
Swimmers Break For Holiday
ROCKY MOUNT -- The final Pre-Christmas swim meet in the Big East Conference produced the same result as the three previous ones this season.
Once again, the Nash Central Lady Bulldogs pulled away to a convincing victory in the Big East girls team standings last Friday at the Harrison Family YMCA. More ...
GEOFF NEVILLE, Graphic Sportswriter
Big East standings released
NASH COUNTY -- Wells Fargo, along with the North Carolina High School Athletic Association, has announced the final standings in the Wells Fargo Conference Cup competitions for the 2012 fall sports season.
The Wells Fargo Cup Award recognizes the high schools that achieve the best overall interscholastic athletic performance within each of the state's four competitive classifications. More ...
Staff Reports
Alston mourned in county
NASH COUNTY -- A gentle man with a heart of blue and gold -- that's how Charles Alston will always be remembered.
Alston, one of Nash County's most beloved sports figures, passed away unexpectedly last week at the age of 54. More ...
GEOFF NEVILLE, Graphic Sportswriter
ALL-STATE SOCCER TEAM
NASH COUNTY -- Here is the Public Class 3-A All-State Boys Soccer Squad for 2012, courtesy of the North Carolina Soccer Coaches Association: More ...
Staff Reports
Coaching search winds down
RED OAK -- Northern Nash Athletic Director Dan Richwalski indicated that the school hopes to have its football coaching vacancy filled later this week.
The position became open at the conclusion of the 2012 season when Mickey Crouch announced his resignation. More ...
GEOFF NEVILLE, Graphic Sportswriter
RMA shines at prep swim meet
ROANOKE RAPIDS -- The Rocky Mount Academy Swim Team took part in its third meet of the season on Dec. 14 at the Roanoke Rapids Aquatic Center.
The RMA girls squad took third place overall, while the boys claimed the fourth position. Eight schools participated in the event. More ...
Staff Reports

TOTAL DOMINATION. Nash Central HIgh School senior No. 1 Singles Player Randi Price was unmatched by her peers this season en route to being tabbed as the Big East Conference Player of the Year.

NC sweeps tennis honors
ROCKY MOUNT -- Nash Central High School was untouchable in the Big East Conference and beyond during the 2012 girls tennis season.
The Lady Bulldogs, coached by Susan McCarthy, rolled through the Big East standings while hardly breaking a sweat with a talented, veteran squad. More ...
GEOFF NEVILLE, Graphic Sportswriter
NC Wesleyan drops matchups
GREENSBORO -- Guilford College used a strong second half effort to down North Carolina Wesleyan by an 80-64 score in last Saturday afternoon's non-conference men's hoops action.
The Quakers, who led just 37-35 at the break, out-scored the Bishops 28-13 over the final 11 minutes to secure their sixth win of the season. More ...
Staff Reports
Letters to Santa
Dear Santa,
My name is Kaileigh and I'm 9 years old. I want for Christmas is a phone, golf cart, and a I direction doll for Christmas. I have been good this year. Tell Mrs. Clause hello and the elf's too tell the reindeer that I said hello. Oh and I want a monkey covers and a monkey lamp for Christmas too and we love y'all. Can't wait and see you!! More ...

BETTY JEAN JOHNSON MOORE
Betty Jean Johnson Moore, 59, passed away Wednesday, December 12, 2012. She was born August 12, 1953 to the late Nelson Alton Johnson, Sr. and Betty Lois Bizzell Johnson. More ...

DALE CARY BONE
Dale Cary Bone, 69, of Wilson passed away Tuesday, December 11, 2012 at Wilson Medical Center. He was born in Nash county July 21, 1943, to Lucille J. Bone and Hubert C. Bone. He was preceded in death by his father, Hubert and his brother, William R. (Billy) Bone. More ...