Subscribe/Access
Advertisements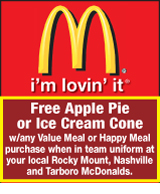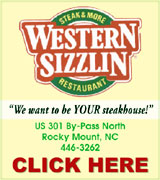 Sections
Member Options
Back
Parents address school board


Parents came out to the Nash-Rocky Mount Board of Education meeting on Monday night to express frustration over how various issues are being handled.
Two parents spoke during the public comments session about their concerns but other parents were in attendance as were teachers from the school.
Carla Moore said she is worried about what her two oldest daughters are facing at the middle school.

More ...
AMANDA CLARK, GRAPHIC STAFF WRITER

DRAKE
Battleboro woman charged with murder
A Battleboro woman was charged with murder after allegedly setting her boyfriend's house on fire.
The Nash County Sheriff's Office, along with the Red Oak, Battleboro and Salem Fire Departments, responded to a structure fire at 7426 Red Oak Battleboro Road, Battleboro around 4:40 a.m. on Thursday, March 1. During the process, a body was located inside the home.
More ...
Car accident claims three lives
The Southern Nash High School community is hurting following a Friday night accident that killed three and left one injured.
The accident occurred on Friday night, March 2 around 10:30 p.m. on NC Highway 231 in Middlesex.
According to the North Carolina Highway Patrol, the accident happened inside the city limits around Hales Avenue.
More ...

Amanda Clark (left) presents the Nashville Chamber of Commerce's 2018 Junior Achievement Award to Taylor Hall. (Graphic photo by Jo Anne Cooper)

Chamber names Carpenter Distinguished Citizen


Nash County native and basketball great Phil Ford said winning awards for his basketball talent was exciting but the most rewarding thing he has ever done is help others.
Ford was the guest speaker last Thursday night at the Nashville Chamber of Commerce's annual Distinguished Citizen event.

More ...
AMANDA CLARK, GRAPHIC STAFF WRITER
Town ok's downtown ordinance change


Nashville's Town Council unanimously approved amending ordinances that will allow some residential dwellings in the downtown area.
The specific request was to amend the zoning ordinance requirements to allow some high density residential dwellings in the B-2 Central Business District.
The B-2 district is the downtown area from CVS Pharmacy to the corner of Washington and Barnes Streets and a portion of Church Street.

More ...
AMANDA CLARK, GRAPHIC STAFF WRITER

Several clogging groups performed in between acts at Nash Art during the 40th annual Elsie Clark Memorial Opry, which is hosted by Nashville's Business and Professional Women.

BPW Opry celebrates 40th year in Nashville


A variety of entertainment was provided at the annual Elsie Clark Memorial Opry on Friday night, an event that has been put on now for 40 years by Nashville's Business and Professional Women (BPW).
The event is one of the organization's only fund-raisers, with proceeds going to fund the Hazel Valentine BPW Scholarship.

More ...
AMANDA CLARK, GRAPHIC STAFF WRITER
Nash to host Recycles Day
Saturday, March 10 from 10 a.m. to 1 p.m. will be an opportunity for residents to rid their homes of old electronics, unwanted and unused prescription drugs, paper and much more during Nash County Recycles Day. This event, open to the public, will be held in the parking lot of the Nash County Courthouse. The courthouse is located at 234 W. Washington Street in Nashville, N.C.
More ...
NCWC announces promotion
North Carolina Wesleyan College has announced the promotion of Ben Lilley to Associate Director of Admissions. The announcement was made by Judy Rollins, Vice President of Enrollment and Marketing.
As Associate Director of Admissions, Lilley is responsible for freshmen engagement, recruitment, and admissions.
More ...

Nash County K9 Dako and K9 Dino (above) received bullet proof and stab proof vests from a non-profit organization, Vested Interest in K9s, Inc.
Nash K9s receive bullet proof, stab proof vests
Nash County Sheriff's Office K9s Dako and Dino have received bullet and stab protective vests thanks to a charitable donation from non-profit organization Vested Interest in K9s, Inc.
K9 Dako's vest was sponsored by an anonymous sponsor and embroidered with the sentiment "This gift of protection provided by Vested Interest in K9s, Inc."
More ...
Man caught smuggling drugs into Nash County jail
A man required to serve a weekend in jail as part of probation added some time to his sentence after trying to smuggle drugs into the jail.
Dominique Darcoa McCalop, 26, of Watson Seed Farm Road, Whitakers, reported to the Nash County Detention Center on Tuesday, February 27 to serve his arranged weekend probationary time as mandated by his probation sentence.
More ...
Vehicle stop leads to drug bust on US Hwy 64
The Nash County Sheriff's Office charged two with trafficking cocaine on Saturday after a vehicle stop.
Members of Platoon Four of the Patrol Division stopped a dark colored Nissan Altima on Saturday, March 3 with 30-day license tags for a traffic violation on US 64 Westbound, near South Old Franklin Road.
More ...
RMPD implements cold case homicide task force
The Rocky Mount Police department reports it is meeting the expectations of Interim Police Chief Willie Williams' promise to focus full attention on solving homicides. This includes the review of all unsolved cold homicide cases.
Two weeks ago, Williams organized a new Rocky Mount Police Department Homicide Squad.
More ...
NASH COUNTY SHERIFF'S OFFICE REPORTS
Found property and misdemeanor probation violation was reported on 2/25/18 at 227 Barnes Street
A social media threat was reported on 2/26/18 at 3170 Red Oak Battleboro Road
A larceny of a motor vehicle was reported on 2/26/18 at 6298 Land Road
More ...
NASHVILLE POLICE REPORTS
INCIDENTS
A driving while impaired, assault on a female and assault by strangulation was reported on 2/26/18 at 2236 Barnes Court
A domestic criminal trespassing and damage to property (vandalism) was reported on 3/1/18 at 103 Village Lane
More ...
Local horse camp set for Saturday March 24th


A local horse club wants to offer the community a chance to experience all there is to know about horses.
The Bits and Boots Horse Club will offer its first ever Family Horse Camp on Saturday, March 24 from 11 a.m. until 2 p.m.
The club has been meeting for around 14 years, said Nadia Strickland, a member of the club, and is a group of horse lovers who get together to ride and do community events.

More ...
AMANDA CLARK, GRAPHIC STAFF WRITER
Governor Cooper launches Hometown Strong
Governor Cooper recently announced Hometown Strong, a new initiative to partner with local governments to support local economies, improve infrastructure and strengthen rural communities.
"Small communities like the one I grew up in have a special character and so much to offer. They deserve a real partner in state government and a chance to thrive," Gov. Cooper said. "That's Hometown Strong."
More ...
Hospital announces new board members
Nash UNC Health Care welcomed new members Sheila G. Wallace and Joel Lee Bryant to its Board of Commissioners at Thursday's board meeting. Hospital executives and fellow board members also recognized and thanked Leorita B. Hankerson, Board Secretary, for her time and valuable contributions to the hospital as she completed her final term.
More ...
Nashville receives economic development update


The next few years will be exciting ones for the Twin Counties, Norris Tolson, of the Carolina Gateway Partnership told Nashville Town Council Members at their annual retreat.
Tolson said the Twin Counties had a good year last year and projects are starting to come to fruition.

More ...
AMANDA CLARK, GRAPHIC STAFF WRITER
Spring Hope auditor presents positive report to board


The town of Spring Hope is in good financial standing, according to its 2016-2017 audit report.
Town auditor Scott May presented his findings to the board at the Monday night meeting.
He said the town's governmental fund, or the general fund, at the end of the year had one incurrent of assets of $1,047,278 with a capital asset at $2,029,944 and deferred outflows of resources at $101,220.

More ...
KENDRA JONES, GRAPHIC CORRESPONDENT
Public presentations are part of Castalia meeting


At its regular monthly meeting on Tuesday, the town board of Castalia barely had a quorum. The mayor was absent due to illness, so Mayor Pro Tem James Alston facilitated the meeting. Two other commissioners and the town clerk were also present.
The board heard brief presentations by a couple of the members of the public. First, Rev. Victor Fenner, pastor of Castalia Missionary Baptist Church, discussed the idea starting a family centered event in the park.

More ...
JESSICA A. SMITH, GRAPHIC CORRESPONDENT
Nash County roadways to get restriped this year
About 350 miles of roadway in Edgecombe, Halifax, Johnston, Nash, Wayne and Wilson counties will be restriped this year with a longer-lasting, reflective paint that will be easier to see at night or in the rain.
The N.C. Department of Transportation last month approved three contracts totaling $3.4 million to Roadmark Corp. of Butner to redo the lane markings in the six counties east of Raleigh that comprise the department's Highway Division 4.
More ...
PEACHTREE COMMUNITY NEWS


The month of March came in "like a lion" as the old adage says. Last Friday we had high winds and many power outages in the area. So the sunshine on Sunday morning was much appreciated as Peachtree folks gathered at the church for worship.
Sanctuary flowers were given by Bob and Fran Bunn in honor of Fran's father, Jake Robertson, and their two grandsons, Georgia and JR.

More ...
BARBARA HARDISON
RED OAK NEWS


The Nash County WMU Spring Meeting will be Monday, March 12 at 10:00 am at Calvary Baptist Church in Rocky Mount.
It's coming! The Children's Community Easter Egg Hunt will be Saturday, March 17 next to the Red Oak Baptist Church Family Life Center. Festivities will begin at 11:00 am and will include the Easter egg hunt and bouncy houses. Following the hunt everyone will enjoy hot dogs, chips, and drinks.

More ...
SUZY PEARCE
Luke's Word for the Week


Hello fellow followers of the Way - may this day be, for you, a day of joy and strength in the Holy Spirit as you continually allow Him to conform you to His likeness step by step.
As is the habit, I'd like to begin our time together by posing a question to you, "What does the Church, here in the United States of America, need?" Go ahead and ponder it, chew the fat of it, think on it, analyze it - "Google it" if you'd like.

More ...
LUKE WHITEHEAD
Nash County Blood Drives for March 2018
Friday, March 10 from 10 a.m. until 2 p.m. at Nashville Fire Department, 501 S Barnes Street, Nashville.
Tuesday, March 13 from 1 until 7 p.m. at Englewood Baptist Church, 1350 Winstead Avenue, Rocky Mount
Wednesday, March 14 from 11 a.m. until 4 p.m. at NC Wesleyan College, 3400 N Wesleyan Boulevard, Rocky Mount
More ...
Nashville resident named to Dean's List
Erin Binkley, of Nashville who is in the ASL-English interpretation program, made the Dean's List for the fall semester at Rochester Institute of Technology.
Degree-seeking undergraduate students are eligible for Dean's List if their term GPA is greater than or equal to 3.400; they do not have any grades of "Incomplete," "D" or "F" and they have registered for, and completed, at least 12 credit hours.
More ...
Homeschool group hosts annual Science Fair
The Classical Conversations, Inc. community held a Science Fair on Thursday, January 25 at Church on the Rise in Rocky Mount.
Using the steps of the scientific method, the students worked for several weeks on their experiments. They prepared a detailed research paper and display board.
On the night of the fair, students were interviewed by judges. Scores were combined from their reports, displays, and interviews.
More ...
Awarded
Several Nash Community College employees are recipients of the 2018 National Institute for Staff and Organizational Development (NISOD) Award. As a member of NISOD, the College has been honoring faculty, staff and administrators with this award of recognition annually since 1992. Recipients are selected based on their proven commitment to high performance and extraordinary service to Nash Community College, its students, and the community.
More ...
Scouting For Food
Local Boy Scout Troop 76 participated in Scouting For Food on Saturday February 10th. All of the food that was collected was donated to Faith Christian Ministries. Dillon Jenkins, Jaden Crudup and Hayden Cahoon are pictured delivering the food to Faith Christian Ministries.
More ...
New member
Clay Batchelor (right) was installed as a new member of the Coopers Ruritan Club Feb. 15, 2018 by President Steve Williams (left).
More ...
NCC names culinary wing
Nash Community College has announced the naming of the Peggie T. Moore Culinary Arts Wing in the College's Business & Industry Center. The naming is in recognition of longtime supporters of Nash Community College and advocates for the community college system, J. Edgar and Peggie T. Moore of Rocky Mount.
The Moores established an endowed chair in 2009 to honor NCC culinary faculty and their commitment to exemplary teaching and excellence in the classroom.
More ...
Bailey man wins lottery
Alex Jasinski of Bailey checks his e-mail every morning before work, but this time, sitting in his in-box, was a message telling him he'd won a $25,000 A Year For Life Lucky For Life prize.
"When I saw it I couldn't believe it," said Jasinski, a school bus driver for Nash-Rocky Mount Public Schools. "I did a double take and thought, 'What? Huh? Is this for real?'''
More ...
Controlled burn planned at Medoc Mountain State Park
Neighbors and visitors to Medoc Mountain State Park may notice smoke in the air and fire on the mountain in the next few weeks, but should not be alarmed--it's all part of a plan to improve the ecosystem and reduce hazardous forest fuels.
The N.C. Division of Parks and Recreation will conduct a prescribed burn on 240 acres of land inside Summit Loop Trail to the summit of Medoc Mountain in the next few weeks.
More ...
Locals earn degrees at WGU
Two Nash County residents werea mong those receiving degrees from Western Governors University (WGU) recently.
The university held its 64th commencement ceremony at the Disney Coronado Springs Resort in Orlando on February 10th to celebrate the graduation of about 15,000 graduates from across the country.
More ...
Considerations on the value of public art


It only takes a little appreciation for old houses or history, or maybe just a little travelling to make a person realize the value of public art.
Or, maybe, I should say how undervalued public art can be.
For example, right here in Nashville we have plenty of examples. The biggest is perhaps the Courthouse on Washington Street.

More ...
Mike Brantley
Policies are fine, when they work


I've always been told the toughest years of raising a child are the middle school years. Everything changes for a child - and the parent. Kids begin to think in a different direction. They crave acceptance from their peers yet want to become independent thinkers. Hormones begin kicking in around this time too. All these changes begin to happen rapidly and kids become what is known as the typical "tween" who will pretty much give any parent a run for their money at times.

More ...
Jo Anne Cooper
Backward Glances


This photo originally published in The Graphic on May 4, 1978. Ronald Braswell (right), president of Braswell Milling Co., in Nashville, was named winner of the Nash County Clean Air Award given by the Tar River Lung Association. Presenting Braswell with the award were Donna Medlin and Ken Glover, co-chairmen of the Southern Nash Senior High/Tar River Lung Association Youth Board.

More ...
A PICTORIAL LOOK INTO THE PAST

KEEPING HER EYE ON THE BALL. Southern Nash's Taylor Bailey follows the ball into the catcher's mitt during last Friday's softball game at Bunn.

Southern Kicks Off Campaign


BUNN -- Scott Collie is putting his young Southern Nash softball squad to the test early in the season -- with the hope that the strategy will pay off once Big East Conference action begins.
The Ladybirds, with four freshmen and two sophomores in the starting lineup, are playing the likes of area powerhouses Bunn and Cleveland as part of their non-league slate.

More ...
GEOFF NEVILLE, Graphic Sportswriter

BLAST OFF. Southern Nash's Brisa Savilla-Castro (left) sends the ball forward for the Ladybirds during last Wednesday's season-opening girls soccer showdown on the road against the Bunn Ladycats.

BUILDING PROCESS


BUNN -- Southern Nash will field one of its younger teams in the history of the school's girls soccer program this spring.
And while that fact might bode well for the future, the present might prove to be a bit more difficult -- especially in the unforgiving world of Big East Conference soccer.

More ...
GEOFF NEVILLE, Graphic Sportswriter

PADGETT'S PLAN. Nash Central's Drifton Padgett (with ball) executes a force play last Saturday against Rocky Mount.

MAKING A MOVE


ROCKY MOUNT -- Nobody can accuse Nash Central High School baseball coach Willie Langley of easing into the 2018 season.
The Bulldogs have a brutal early-season non-conference slate that includes two contests apiece with Nash County rivals Southern Nash, Northern Nash and Rocky Mount.

More ...
GEOFF NEVILLE, Graphic Sportswriter

NC WESLEYAN'S SHELBY GODWIN

Godwin stars for Wesleyan


RALEIGH -- The North Carolina Wesleyan College Battling Bishop softball team kicked off USA South play over the weekend, splitting with Meredith last Saturday before sweeping William Peace on Sunday.
Junior Shelby Godwin went 2-0 on the mound, and freshman Beth Braswell drove in five runs over the two-day span to help NCWC improve to 10-6 on the season, 3-1 in conference play.

More ...
Staff Reports

NC STATE COACH ELLIOTT AVENT

Avent now at 800 wins


RALEIGH -- The 10th-ranked North Carolina State University baseball team earned its seventh consecutive win with an 11-1 victory against Bowling Green last Friday afternoon at Doak Field at Dail Park, as head coach Elliott Avent recorded his 800th win at NC State.
Now in his 22nd season, Avent owns the seventh-most wins among active power five conference head coaches at their current school.
He now has 1,024 career wins.

More ...
Staff Reports
NASH CO. REC REPORT


NASH COUNTY -- Here are updated Nash County Recreation & Senior Services Youth Football and Basketball League scores:

More ...
Staff Reports
RM to offer boxing instruction


ROCKY MOUNT -- The Rocky Mount Parks and Recreation department is implementing a new program.
Registration is currently being accepted for Fundamentals of Boxing.
The program is open for individuals between the ages of 12 and 18, with eight-week training sessions taking place at the South Rocky Mount Community Center March 12 to May 2, May 14 to July 4 and Aug. 13 to Oct. 3.

More ...
Staff Reports
STATE BASKETBALL SCHEDULE


CHAPEL HILL -- Here are Saturday's pairings for the North Carolina High School Athletic Association's State Basketball Championship Games:

More ...
Staff Reports
FIREBALLER
Nash Central High School's Trey Whitley delivers a pitch towward home plate during last Saturday afternoon's home baseball matchup against backyard rival Rocky Mount.
More ...
FLIP THROW
Southern Nash's Kierstin Cooper (right) retires a Bunn baserunner during last Friday's softball game.
More ...
GOT YA
Southern Nash third baseman Caroline Winstead throws to first base to record an out during last Friday afternoon's road softball matchup against backyard rival Bunn High School.
More ...
THERE IT GOES
Southern Nash's Kathryn Robinson (right) sends the ball out of harm's way during last Wednesday's non-conference girls soccer showdown against the host Bunn Ladycats.
More ...
Opry pics, 1


Danny Plyer participates in a song about animals with Linda Ripke at the Opry.

More ...
Graphic photos by Amanda Clark
Opry pics, 2
Michele McKnight was one of several performers to perform at the 40th annual Opry.
More ...
Opry pics, 3
Ronnie Ezzell and Amy Kornegay perform together on Friday night at the annual Elsie Clark Memorial Opry. Ezzell helps emcee for the event.
More ...