Subscribe/Access
Advertisements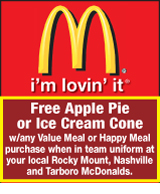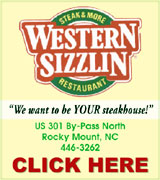 Sections
Member Options
Back
Boards to seek funding for new school


A new elementary school is still at the top of the wish list for the Nash Rocky Mount Board of Education and Nash County Commissioners.
Members from the two groups met last Thursday to discuss the possibility of grant funding for the new school.
The topic was one of several that was discussed during the first joint meeting between the two boards.

More ...
AMANDA CLARK, GRAPHIC STAFF WRITER
Town to honor former council member


Nashville's Town Council unanimously passed a resolution last week honoring the first woman elected to the council.
The resolution honored Rebecca "Becky" Bass for her service to the board for 12 years, from 1975 to 1987.
"As far as we can tell, Becky was the first woman elected to the council," Mayor Donald Street said upon presenting the resolution.

More ...
AMANDA CLARK, GRAPHIC STAFF WRITER

School Resource Officer Angel Ricks looks for the shooter at Coopers Elementary School during a training drill last Thursday.

Officers get hands-on training for active shooter scenario


School shootings are on the minds of many following a highly publicized shooting in Florida last month that killed 17 people.
The Nash County Sheriff's Office is trying to take a proactive approach by conducting active shooter training for school resource officers.
The training was held last Wednesday afternoon for school resource officers.

More ...
AMANDA CLARK, GRAPHIC STAFF WRITER
Nash okays zoning for new restaurant


Nash County Commissioners approved a rezoning request that will pave the way for a small restaurant in southern Nash County.
The request was for a 5.25 acre tract at the northwest corner of South NC 231 and Cone Road from A-1 (Agricultural) to RC (Rural Commercial).
The property is owned by Taranpreet Singh, who goes by Lucky, and owns a convenience store across the street at 3477 S NC Highway 231.

More ...
AMANDA CLARK, GRAPHIC STAFF WRITER
Relay for Life plans set for 2018


Nash County Relay for Life is still over a month away but organizers are finalizing plans for the 24th annual event.
This year's event will be held on Friday, April 27 and Saturday, April 28 at the Rocky Mount Sports Complex.
Teams are continuing to host fund-raisers prior to next month's event.

More ...
AMANDA CLARK, GRAPHIC STAFF WRITER
Creekside Music Series kicks off March 23rd!


The Town of Nashville's Parks, Recreation and Cultural Resources Department will once again host its Creekside Music Series, thanks to grant funding from the NC Arts Council.
This year, there will be four music series with the first one to be held on Friday, March 23 at Stoney Creek Environmental Park.

More ...
AMANDA CLARK, GRAPHIC STAFF WRITER
Local woman thanks public service staff for saving her life


A Nashville woman recently had the chance to thanks those who saved her life.
April Jordan met EMS worker and Nash County Sheriff's Deputies last week during a special reception that was held in the Nash County EMS Training Room.
Jordan's best friend, Amy Addington, put together the reception so Jordan could meet the men and women who helped save her on January 26.

More ...
AMANDA CLARK, GRAPHIC STAFF WRITER

BRACKETT
NC Wesleyan announces staffing appointments
North Carolina Wesleyan College President Dr. Dewey Clark announced the appointment of Suzanne Brackett as Vice President of Finance and Chief Financial Officer. Andrew Votipka has been named her successor as Controller. Reporting to the President, Brackett is responsible for the strategic oversight and management of the College's financial resources and operations. She provides strategic direction and oversight to the Finance, Information Technology and Financial Aid, departments as well as the campus bookstore and the Dunn Center for the Performing Arts.
More ...
City of Rocky Mount offers utility bill assistance
The city of Rocky Mount has experienced an increase in customer calls related to high energy bills due to this winter's extremely cold weather. Customers having difficulty paying their utility bills are encouraged to call Customer Service at (252) 972-1250 as they may be eligible for pay arrangements and/or assistance programs.
More ...
NASHVILLE POLICE REPORTS
INCIDENTS
A damage to property (vandalism) was reported on 3/5/18 at 222 W Washington Street in the parking area
An exploitation of a disabled or elderly adult was reported on 3/7/18 at 629 Western AVenue
More ...
NASH COUNTY SHERIFF'S OFFICE REPORTS
An identity theft was reported on 3/5/18 at 4629 Dayspring Drive
A possession with intent to manufacture, sell and deliver heroin, possession with intent to sell and deliver cocaine and maintaining a vehicle for a controlled substance was reported on 3/5/18 at Highway 64 and Highway 581
More ...
Tar River Academy programs
Tar River Academy in Rocky Mount recently asked Halifax Resolves Chapter member Ken Wilson to present two programs for their students. The Battle of Kings Mountain was presented to the high school Social Studies classes of Ms. Charman Pearson and the middle school classes of Ms. Jacquetta Harrison attended a presentation about U.S. Flag History, Etiquette and Folding. Ms. Harrison also received various SAR CD's/DVD's to use as teaching aids. In total, approximately 40 students attended the two presentations. Pictured above is Wilson speaking to high school students about the Battle of Kings Mountain.
More ...
Local agents receive Pinnacle Award
Century 21 Real Estate LLC recently recognized two Rocky Mount area sales affiliates with the CENTURY 21 Quality Service Pinnacle Producer Award.
Bill Lump and Diane Box, both of Century 21, The Combs Company, were recognized with the award.
More ...
Boys and Girls Club announces Youth of the Year


The Boys and Girls Club Tar River Region held its annual Youth of the Year Ceremony at the Booker T. Theatre on March 1st.
Four young club members were selected as finalists in the rigorous competition that involved multiple interviews, essays contests, and public speaking engagements. Charisma Cooper was chosen as the 2018 Youth of the Year, and Shania Robinson was the runner up.

More ...
JESSICA A. SMITH, GRAPHIC CORRESPONDENT
Nash County Relay for Life teams to host fund-raisers


Fund-raising for Nash County Relay for Life is in full gear, with numerous events planned over the next month.
On Saturday, March 17, the Relay for Life Auction will be held at the Farmer's Market. The auction will include a variety of items from furniture to food and is an event many look forward to each year.

More ...
AMANDA CLARK, GRAPHIC STAFF WRITER
Valentine elected to NC Coastal Heritage board


The North Carolina Coastal Heritage Association inaugurated its 2018 agenda with a general membership meeting Tuesday, February 6 at The Bridge DownEast on Harkers Island, NC.
Commercial fisherman Keith Bruno of Oriental, NC was elected president.

More ...
Contributed
Snell receives 2017 J. Edgar and Peggie T. Moore Staff Award
Linda Snell of Pinetops, Nash Community College's Conference Center Manager, was selected by her peers as the 2017 J. Edgar and Peggie T. Moore Staff Award recipient. She has been employed with Nash Community College since 2014.
Thanks to Linda Snell's exceptional work, Nash Community College's meeting facilities are in high demand as a known resource to the local community and region.
More ...
Nashville student named to Dean's List at CSU
Charleston Southern University has named Laura Elizabeth Brown, of Nashville, to the Dean's List for the fall 2017 semester. Brown is a junior majoring in Graphic Design.
Students named to the Charleston Southern Dean's List have earned a 3.5 GPA or better and earned 12 or more credit hours for the semester.
More ...
Nash UNC celebrates helicopter base site
UNC Health Care has established Nash UNC Health Care as the permanent base site for one of its medical transport helicopters. Hospital staff recently celebrated the helicopter's first landing.
"Having the helicopter and flight crew based on our Nash campus provides time-saving advantages for our patients as well as all emergency transfer patients in eastern North Carolina," said Ian Buchanan, interim chief executive officer at Nash UNC Health Care.
More ...
Easter egg hunt is March 25th
The Imperial Centre for the Arts and Sciences will be the rain or shine location for one of the largest Easter egg hunts in the City of Rocky Mount.
Easter Eggstravaganza will take place Sunday, March 25, 2018 from 2 to 4 p.m. Easter Eggstravaganza will include the hiding of about 24,000 Easter eggs throughout the Imperial Centre grounds according to Sheila Long, recreation services supervisor for the city of Rocky Mount.
More ...
RED OAK NEWS


Come enjoy fun and fellowship at the Children's Community Easter Egg Hunt at Red Oak Baptist Church on Saturday, March 17! Fun begins with the Easter egg hunt next to the family life center at 11:00 am. Then fellowship while eating hot dogs, chips, and drinks. There will also be bouncy houses, too! All children in 5th grade and under are invited! Rain date will be Saturday, March 24.

More ...
SUZY PEARCE
PEACHTREE COMMUNITY NEWS


Sunday was cloudy and dreary all day. But the spirit of Christian love and fellowship was present as Peachtree folks gathered at the church for worship.
Sanctuary flowers were given by Dianne and Ricky Tucker in memory of Rickey's parents, Jensy and Kent Tucker.
The special worship music was "Change my Heart, O God" by the adult Choir, under the direction of the Pastor.

More ...
BARBARA HARDISON
Luke's Word for the Week


The Christian faith, which is impossible to tie to one certain worldly culture, is filled with dynamic people who followed in the footsteps of Jesus by proclaiming the Kingdom of God in a wide array of cultures. We remember that the disciples were charged with being power-filled witnesses of the resurrection from Jerusalem, Judea, Samaria and throughout the ends of the earth (Acts 1:8).

More ...
LUKE WHITEHEAD
Nash County Blood Drives for March 2018
Monday, March 19 from 2:30 until 6:30 p.m. at Nashville United Methodist Church, 209 East Washington Street, Nashville
Monday, March 26 from 3 until 7 p.m. at Ridgecrest Worship Center, 1120 West Mount Drive, Rocky Mount
Saturday, March 31 from 11 a.m. until 3 p.m. at Wal-Mart, 1511 Benvenue Road, Rocky Mount
More ...
Training provided to nurses affected by Hurricane Maria
​​Nash Community College's Nurse Aide instructors ​recently provided a refresher course for 2​0​ nurses from Puerto Rico who, due to the devastation left from Hurricane Maria, are now seeking employment in the United States.
"Nurses working in Puerto Rico are not able to come to the states and go directly to work as nurses due to some differences in the training in Puerto Rico and the United States.
More ...
COMMUNITY HELPERS
Students in Mrs. Cindy Puckett's four-year-old class at the Nashville United Methodist Church Weekday School recently learned about community helpers. Students received visits from area community helpers and visited the Rocky Mount Police Department. On March 1, Graphic reporter Amanda Clark visited the students to talk about being a reporter.
More ...
Nashville man elected Chief Rabban
Noble Carl W. Smith, of Nashville, was elected as the Chief Rabban at the Sudan Shriners annual meeting and election of officers on January 27, 2018.
The term Chief Rabban is a title given within Shriners International to one of the seven elected officers of a temple and as such is a voting member of the Divan (Board of Directors).
More ...
It's really time to move past emotions


I couldn't believe what I was hearing on TV Sunday.
The man being interviewed worked in Hollywood for half a century, most notably as a producer for The Tonight Show with Johnny Carson. He'd worked with other notable personalities, and gave interesting perspectives on their personalities and lives through anecdotes.

More ...
Mike Brantley
Celebrating St. Paddy's day for a different reason


You're bound to see lots of green on Saturday since it's St. Patrick's Day.
It's a holiday I've never quite understood but March 17 is a day I celebrate for other reasons than the little green leprechaun fella.
It's my daddy's birthday.

More ...
Amanda Clark
Backward Glances


FASHION SHOW WINNERS -- This photo originally published in The Graphic on April 13, 1978.

More ...
A PICTORIAL LOOK INTO THE PAST

NASH CENTRAL'S MALLORY ROUGHTON

Central Shines At The Brittany


WILSON -- Securing a victory in the state playoffs made Nash Central's girls soccer year in 2017 -- and is already paying dividends this spring.
The Lady Bulldogs continue to build on their confidence they gained last season and are off to a perfect start that includes a 3-0 decision over Roxboro Person at last Saturday's Brittany Girls Soccer Showcase at Gillette Park in Wilson.

More ...
GEOFF NEVILLE, Graphic Sportswriter

NORTHERN NASH'S MAYCEE AYCOCK (WITH BALL)

DIFFICULT MATCHUP


RED OAK -- Northern Nash didn't necessarily have the best pairing at the annual The Brittany Girls Soccer Showcase, which was held last Saturday at Gillette Park in Wilson.
The Knights were tabbed to tangle with Durham School of Arts, a highly touted program that is expected to be an elite-level contender this season on the Class 2-A level.

More ...
GEOFF NEVILLE, Graphic Sportswriter
DEFENSE FIRST


WILSON -- With 10 sophomores and six freshmen on the roster, it's understandable that the Southern Nash Ladybirds have gotten off to an 0-4 start to the girls soccer season.
Pictured (Above): Southern Nash's Eliza Hernandez (right) tries to run down the ball during last Saturday's action versus Bartlett-Yancey at The Brittany Girls Soccer Showcase at Gillette Park in Wilson.

More ...
GEOFF NEVILLE, Graphic Sportswriter
Southern sweeps Bulldogs


STANHOPE -- Host Southern Nash secured a baseball/softball sweep at home last Friday against county rival Nash Central.
In the baseball outing, the Firebirds continued their strong early-campaign start by defeating the Bulldogs by a 14-6 margin.
Nash Central took an early 3-0 advantage, but the Firebirds rallied and took charge with a nine-run uprising in the bottom of the fourth stanza of action.

More ...
Staff Reports
Brackett wins 500th contest


ROCKY MOUNT -- North Carolina Wesleyan College head softball coach John Brackett picked up the 500th win of his coaching career last Saturday afternoon at Edge Field when his Battling Bishops posted a 6-1 victory over Methodist University.
The milestone victory came in the opening game of their USA South twinbill, which saw the Monarchs take game two by a 3-2 score and avoid the sweep.

More ...
Staff Reports
A District Star


RED OAK -- Northern Nash enjoyed one of its best-ever boys basketball seasons in 2017-18 -- so it was no surprise that the Fighting Knights were well-represented on the North Carolina Basketball Coaches Association's All-District 3 Team.
Northern Nash senior wing Undray Cherry, who was also tabbed as the Big East Conference Player of the Year, was one of six performers to earn First-Team All-District honors.

More ...
GEOFF NEVILLE, Graphic Sportswriter
STATE BASKETBALL RESULTS


CHAPEL HILL -- Here are last Saturday's final results for the North Carolina High School Athletic Association's State Basketball Championship Games:

More ...
Staff Reports
BRAXTON VARNELL IN ACTION
BULLDOGS' BACKSTOP. Former Faith Christian School standout Braxton Varnell is a freshman catcher this season for the Pitt Community College Bulldogs. Varnell is hitting .385 to date with a pair of home runs. He is shown in action last Wednesday during a showdown with the Louisburg College Hurricanes in Franklin County.
More ...
Bishops Visit NCMS


NASHVILLE -- Nash Central Middle School Principal Eric Mitchell welcomed North Carolina Wesleyan College Athletic Director and Head Men's Basketball Coach, John Thompson and Head Women's Soccer Coach Bev Biancur along with members of their teams last Friday at the NCMS Gymnasium.
The representatives from NCWC were on hand to help Nash Central celebrate its second 9 weeks of Positive Behavioral Intervention and Support success.

More ...
Staff Reports
BLOCKED PATH
Nash Central's Taylor Baker (right) provides sturdy defense for the Lady Bulldogs during last Saturday's event versus Roxboro Person at The Brittany Girls Soccer Showcase.
More ...
GREAT EIGHT
Southern Nash High School's Isabella Wooten (left) sends the ball away for the Ladybirds during last Saturday's meeting with Bartlett-Yancey as part of the annual Brittany Girls Soccer Showcase, which was held at Gillette Park in Wilson.
More ...
I'LL TAKE THAT
Northern Nash's Markela Avent (right) tries to gain possession of the ball during last Saturday afternoon's showdown at the annual The Brittany Girls Soccer Showcase, which was staged at Gillette Park in Wilson. NN lost the match by a 7-0 margin.
More ...
MALLORY IN THE MIDFIELD
Nash Central's Mallory Roughton (right) eyes a steal during last Saturday's showdown versus Roxboro Person at The Brittany Girls Soccer Showcase in Wilson.
More ...
ON THE OFFENSIVE
Northern Nash's Grayson Tanner looks for an open teammate while moving past midfield during last Saturday's contest with Durham School of Arts at The Brittany Girls Soccer Showcase.
More ...
Suzy Bogguss to perform at Nash Arts
Nash Arts' Nashville Showcase will present Suzy Bogguss next Thursday, March 22 at 7:30 p.m.
The event is sponsored by the Nash County Tourism Develoment Authority.
During the creative explosion that was country music in the 1990s Suzy Bogguss sold four million records with sparkling radio hits like Outbound Plane, Someday Soon, Letting Go, and Drive South. But you can't peg Suzy that easily.
More ...