Subscribe/Access
Advertisements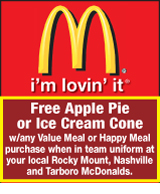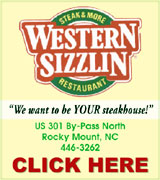 Sections
Member Options
Back
Nash considers selling home health


Nash County Commissioners will discuss next month the idea of potentially selling the county's Home Health Agency.
The county recently issued a public notice that "it plans to consider declaring its intent to sell or otherwise convey its home health agency, Nash County Home Health Agency, in a manner consistent with the governmental purpose and which ensures the continued provision of quality care to the communities it serves."

More ...
AMANDA CLARK, GRAPHIC STAFF WRITER
Three caught for appliance theft


A Spring Hope man is among three recently arrested for breaking into vacant homes and stealing appliances.
Nash County Sheriff Keith Stone announced on Tuesday that Wesley Adam Narron, 26, of Spring Hope, Thomas Glenn Wiggs, 44, of Dudley and Kimberly Dale Adams, 49, of Knightdale, were arrested for stealing appliances from homes across 12 counties.

More ...
AMANDA CLARK. GRAPHIC STAFF WRITER

Pat Griffin, of Griffin's Food Store, talks to Jaeden Baker during the career fair held at Red Oak Elementary School last week.

Red Oak Elementary School hosts annual career fair


It's never too early to expose children to careers.
That's the thinking of Red Oak Elementary Guidance Counselor Dottie Cannon, who has been organizing career fairs at the K-2 school for several years.
Cannon said she feels it's important for youth to start learning about careers at an early age.

More ...
AMANDA CLARK, GRAPHIC STAFF WRITER
Nashville identifies parking for veterans


The Town of Nashville will join Nash County in designating veteran parking spaces at publicly-owned facilities.
A request was brought before Nashville's Town Council in February by Rick Thomason, Senior Vice Commandant for the Departmet of North Carolina Marine Corps League. Thomason, a lifelong Nash County resident, proposed that the town acquire signs to be placed in parking lots of town-owned buildings.

More ...
AMANDA CLARK, GRAPHIC STAFF WRITER
Library hopes to reduce overdue fines


Nashville's H.D. Cooley Library is trying to reduce its overdue fines and also help a local organization next month during National Library Week.
Library Director Emily Enderle said the library will be doing a "Food for Fines" event April 9 through 14, which is celebrated as National Library Week.
Enderle announced the program to Nashville Council Members earlier this month at the board's regular meeting.

More ...
AMANDA CLARK, GRAPHIC STAFF WRITER
Taylor celebrates 100th


Family and friends recently gathered to celebrate the 100th birthday of Thelma Wright Taylor.
Taylor was born in Erwin County, Georgia on March 14, 1918. She moved to Rocky Mount in 1953 and has lived there ever since.
Taylor worked at Nash Garment. She has five children: R.L. Taylor, Ralph Taylor, Marilyn Boone, Bobby Taylor and Jimmy Taylor.

More ...
AMANDA CLARK, GRAPHIC STAFF WRITER
School administrator pay tops joint meeting


Administrative salaries was the topic for the second committee meeting of members of the Nash-Rocky Mount Board of Education and Nash County Commissioners.
The committee met on Tuesday afternoon.
Susan Blackwell, Chief Finance Officer for the school system, provided information on salaries for principals, assistant principals and teachers and how, in some cases, teachers can make a larger salary than administrators.

More ...
AMANDA CLARK, GRAPHIC STAFF WRITER
Town of Nashville offers spring break program for youth


Nashville Parks, Recreation and Cultural Resources is offering a free enrichment program over Spring Break for school-aged youth.
The event, S.T.E.A.M. Spring Break, will be held Monday, April 2 through Wednesday, April 4 from 2 until 4 p.m. each day.
The event is for children in kindergarten through sixth grade.

More ...
AMANDA CLARK, GRAPHIC STAFF WRITER
NASHVILLE POLICE REPORTS
INCIDENTS
A left of center and driving while impaired was reported on 3/12/18 at Eastern Avenue and Eastpointe Avenue
An obtaining money/property by false pretense was reported on 3/12/18 at Wal-Mart, 1205 Eastern Avenue
More ...
NASH COUNTY SHERIFF'S OFFICE REPORTS
A fraud was reported on 3/12/18 at 1583 Green Road
A larceny of a motor vehicle was reported on 3/12/18 on US 64 Westbound at the 450 mile marker
A driving while impaired was reported on 3/12/18 at US 64A and Virginia street
More ...
Red Oak property owners submit rezoning request


Red Oak's town board members were informed of a rezoning request from property owners at its monthly meeting Monday night.
Town Clerk Tracy Shearin described the situation, "This is really just preliminary to let [the board] be aware of what's going on. They [homeowners in Red Oak Hills and Hunter's Point subdivisions] are asking for the entire area that is currently zoned R30-MH, to be rezoned R30.

More ...
JESSICA SMITH, GRAPHIC CORRESPONDENT
Nash County Ruritans hold 59th annual meeting


Nash County Ruritans met last week at the Momeyer Ruritan Club for their 59th annual meeting.
A highlight of the annual meeting is the presentation of Rudy Bears. Each year, the organization donates Rudy Bears to law enforcement, emergency services or fire services. This year, the bears were donated to the Nash County Sheriff's Office.

More ...
AMANDA CLARK, GRAPHIC STAFF WRITER

ELSIE
Nash UNC Health Care introduces Pet Therapy
Nash UNC Health Care has introduced "Caring Canines of Nash," a pet therapy program designed to provide short visits, comfort and enjoyment to patients who love dogs.
The hospital is using a type of pet therapy known as animal-assisted activity, which involves a specially trained dog and its handler spending 10 to 15 minutes with a patient who has requested the visit.
More ...
NRMS Students honor Florida shooting victims
Students across the Nash-Rocky Mount Public Schools district honored the 17 fallen victims from Parkland, Florida in various ways.
Tar River Academy created a memory wall and used the artistic display in the school to honor the victims. Students at Nash-Rocky Mount Early College High School decided to plant trees in their honor. The Student Government Association of Nash Central High School created posters that memorialized those fallen.
More ...
Holocost survivor speaks at local DAR meeting


Holocost survivor, Mr. Abe Piasek, was the guest speaker at the March meeting of Micajah Pettaway Chapter of the Daughters of the American Revolution.
The group was spellbound as he described his harrowing experience that began when the German Army invaded Poland in 1939. He was only 11 years old at that time.
Life changed in 1940 when the German soldiers in his town were replaced by officers of the SS.

More ...
1 opinion posted
COOPERS RURITAN NEWS
Mike Glover, at right, Vice President of the Coopers Ruritan Club, installed its newest member Michelle Daughtridge, at left, at its March meeting.
More ...
Luke's Word for the Week


Greetings, fellow follower of the Way! It's my prayer that this is a day for you, where you are soaked in the Word of God and moving in the Spirit of God.
What you believe matters. What you do matters. The way you live your life matters.
When Jesus came to this earth he had many purposes (way too many to list here), but the one I want to highlight today is that Jesus came to show us life matters.

More ...
LUKE WHITEHEAD
Intersections: God and Life


Focus. I recall participating in a short term mission trip to Ukraine in the early 1990's. Our team went under the partnership between North Carolina Baptist Men and Ukrainian Baptist.
As we prepared for our trip (my first airplane flight and my first trip overseas), we collected needed supplies from individuals and churches.

More ...
CARLYLE HALL
DEPC plans first charity golf tournament April 13
The Down East Partnership for Children (DEPC) will host its first annual charity golf tournament on Friday, April 13 at Northgreen Country Club in Rocky Mount. Proceeds from the "FORE Every Child" golf tournament will benefit the children and families that DEPC serves. The tournament kicks off with registration at 12:00 Noon and a shotgun start at 1 p.m. The format is a Superball and open to all skill levels of golfers.
More ...
Maybe it's time to dumb things down a bit


I remember when my wife and I got our first cellphone in the mid-1990s.
There was a promotion at the State Fairgrounds before a Raleigh IceCaps hockey game. The device looked like the walkie-talkie John Wayne used in "The Sands of Iwo Jima," and for $19.95 a month we got 30 minutes of talk time for "emergencies."

More ...
Mike Brantley
It's never too late to spread a little sunshine


Here we are, creeping into April and the cold just won't go away!
Despite the cold, and on some days lately, snow dustings, I'm gonna share some sunshine with ya'll!
Technically, Sunshine Week was last week but it's never too late to spread some sunshine!

More ...
Amanda Clark
Backward Glances


This photo originally published in The Graphic on May 25, 1978. These nine Northern Nash athletes were awarded most valuable player trophies in their respective sports at the school's annual athletic banquet sponsored by the Northern Nash Booster Club.

More ...
A PICTORIAL LOOK INTO THE PAST

MAKING A MOVE. Northern Nash's Kamden Johnson carries the baton during a relay race as part of last Saturday's action at the T Sanders Invitational Track and Field Championships in Franklinton.

SANDERS TITLE!


FRANKLINTON -- Members of the Northern Nash boys track and field team hoped to take away some valuable experience from last Saturday's T Sanders Memorial Invitational Track and Field Meet at Franklinton High School.
But the Fighting Knights didn't anticipate bringing home the event's two most prestigious pieces of hardware.

More ...
GEOFF NEVILLE, Graphic Sportswriter

ROCKY MOUNT HIGH SCHOOL PITCHER CAROLINE JOYNER

Lady Gryphons Fall At FHS


FRANKLINTON -- It's been awhile since the Rocky Mount Lady Gryphons have been a factor in the Big East Conference softball standings -- but the Gryphons hope that skein eventually changes due to a talented freshman class.
RM has six ninth-graders on its roster this spring, including new pitcher Caroline Joyner and leadoff hitter Nykeria Garvin.

More ...
GEOFF NEVILLE, Graphic Sportswriter

NORTHERN NASH'S LEE CASPER

WINDING RIVER


BUNN -- The River Golf and Country Club in Franklin County is challenging enough under normal circumstances -- let alone adverse weather conditions.
But that was the prospect Big East Conference golfers encountered as part of the league's annual trek to The River, which serves as the home course for Southern Nash High School.

More ...
GEOFF NEVILLE, Graphic Sportswriter
Earl Coley Golf Classic scheduled for May 25


ROCKY MOUNT -- The Ninth Annual H. Earl Coley Golf Classic will be held May 25 at Belmont Lake Golf Club.
All proceeds will go toward the O.D.Moore Scholarship Foundation, which provides scholarships to deserving Nash County high school seniors.
Check in will be at 8:30 a.m., with a shotgun start to follow at 9 a.m.

More ...
Staff Reports
Hill closes out GWU hoops career


LYNCHBURG, VA. -- Savannah Plentovich scored a game-high 16 points, but the Runnin' Bulldogs came up short as No. 7 Gardner-Webb fell on March 9 to No. 2 Radford by a 53-51 score in the quarterfinals of the 2018 Big South Conference Women's Basketball Championship, hosted by Liberty University.
It was the final career game for Northern Nash alum Alexus Hill, who was a four-year standout at Gardner-Webb.

More ...
GEOFF NEVILLE, Times Sportswriter
Wesleyan enjoys big weekend


ROCKY MOUNT -- North Carolina Wesleyan College's athletic teams completed a perfect 12-0 weekend with six more victories on Sunday, highlighted by the Bishop women's tennis team knocking off defending champion Methodist by a 5-4 score to close out play at the Slick Family Foundation Tennis Center.
• Women's Tennis -- The Bishop women posted a pair of victories on Sunday, beginning with an 8-1 USA South win over Averett earlier in the day.

More ...
Staff Reports
A MOMENT TO REMEMBER
Northern Nash's Brandon Richardson receives the Boys MVP Plaque last Saturday afternoon at the T Sanders Invitational Track and Field Meet. Presenting the award is Tina Sanders, the widow of former FHS head coach Trent Sanders.
More ...
FLIGHT PATH
Northern Nash High School veteran standout Christian Crawford likes the look of this approach shot during last Thursday's Big East Conference practice round at The River GC.
More ...
FLIGHT PATH
Northern Nash High School's Chance Puckett follows the flight of this tee shot off the par-3 8th hole during last Thursday's Big East Conference practice round action at The River Golf and Country Club, which is located near Bunn in Franklin County.
More ...
IN THE NICK OF TIME
Rocky Mount's Iverson Brown (left) fields a relay throw at first base during Monday's road setback against Big East Conference softball opponent Franklinton High School.
More ...
NASH COUNTY 12s
The Nash County 12-Under Boys Basketball Team recently won the Statewide Athletics Committee Sectional Championship, which was held in Spring Hope and Nashville. The team was coached by Shawn Brake, Varian Hall and Justin Howard.
More ...
NASH COUNTY 16s
The Nash County 16-Under Boys Basketball Team recently won the Statewide Athletics Committee Sectional Hoops Championship. The team was coached by Tyrone Tabron, Chris Harris and Sylvester Tabron.
More ...
NASH COUNTY 8s
The Nash County 8-Under Boys Basketball Team recently won the Statewide Athletics Committee Sectional Championship. The team was coached by Kwamaine Battle and Jessica Battle. Players were (in no particular order) Jeremiah Battle, Joshua Battle, Kwamaine Battle, Jasiah Fenner, Jaylen Hunter, Mike Jenkins, Brian Pulley Jr., Nigel Turner and James Vick.
More ...
SUPER SIX
Rocky Mount High School's Nykeria Garvin prepares to make contact for the Lady Gryphons during Monday's Big East softball meeting at Franklinton.
More ...
Steven Curtis Chapman plans stop in Rocky Mount
The Dunn Center of the Performing Arts located at North Carolina Wesleyan College welcomes Steven Curtis Chapman on Sunday, April 8. The multi-Grammy award winning artist announced earlier this year plans to continue his successful tour, SCC SOLO: A Night of Hits, History, and Influences, this spring. The tour plans to make two appearances in North Carolina, in Kernersville on April 7th and in Rocky Mount on April 8th from 7 to 9 p.m.
More ...