Subscribe/Access
Advertisements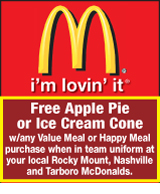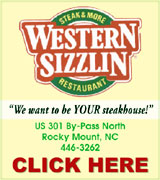 Sections
Member Options
Back

Red Oak Town Commissioner Barbara High-Tyre was speechless when presented with the Order of the Long Leaf Pine Monday night. Red Oak Mayor, Levell Langley, is pictured presenting the award to Tyre.

LONG LEAF PINE


At the regular monthly meeting of the town board of Red Oak Monday, Commissioner Barbara High-Tyre was presented with the prestigious Order of the Long Leaf Pine. According to longleafpinesociety.org, "Since its creation in 1963, it has been presented to honor persons who have a proven record of service to the State of North Carolina or some other special achievement, and to others as a gesture of friendship and good will."

More ...
JESSICA SMITH, GRAPHIC CORRRESPONDENT
Wells keeps Nash seat


Voter turnout was high for the 2018 General Election, with 55.12 percent of the 67,072 registered voters in Nash County casting ballots.
In local races, all incumbents who were seeking re-election won.
Mary Wells, a Democrat who was seeking her third term on the Nash County Board of Commissioners, defeated Bruce Berry, a Republican.

More ...
AMANDA CLARK, GRAPHIC STAFF WRITER
Nashville oks grant for hardware store


A Nashville business officially became the first to benefit from Nash County's newly created Retail and Small Business Incentive Grant Program.
Jeremy Bell and Bell's Hardware will receive $10,000 from the grant program as well as a $10,000 match from the Town of Nashville.
Nashville's Council Members approved the allocation on Tuesday night at their regular meeting.

More ...
AMANDA CLARK, GRAPHIC STAFF WRITER
NASH COUNTY HERITAGE DAYS
HERITAGE DAYS - Nash County Cooperative Extension hosts Heritage Days each year for area fourth graders, demonstrating how things were done many years ago. Several stations were set up for youth to visit, including animal stations, corn grist, corn shucking, outhouse, quilting, butter churning and honey making. Pictured above, volunteer Sammie Crumley (far left) shows Coopers Elementary fourth graders Ta'Kira Silver, Armondie Silver and Daziah Williams corn after its ground up.
More ...
NRMS to hire police officer at central office


The Nash-Rocky Mount Board of Education approved hiring a part-time police officer for Central Office in Nashville.
A Memorandum of Understanding was unanimously approved by the board on Monday night at the board's regular meeting. The agreement approved contracts with Nashville's Police Department to provide a rotating group of off-duty police officers for the school system's central office buildings, which includes Central Office, the Transportation Building and the Technology Warehouse.

More ...
AMANDA CLARK, GRAPHIC STAFF WRITER
Nash okays debated rezoning


A majority of the Nash County Board of Commissioners agreed to rezone a portion of property an Old Smithfield Road from R-40 to R-20.
The request was to rezone 5.52 acres of a larger tract on the east side of Old Smithfield Road and the north side of Friday Road from R-40 (Single Family Residential) to R-20-CU (Medium Density Residential Conditional Use).

More ...
AMANDA CLARK, GRAPHIC STAFF WRITER

Nash County Clerk of Superior Court Rachel Joyner is pictured in the left photo after receiving a congratulatory letter, upon her retirement, from U.S. President Donald Trump and First Lady Melania Trump.

County honors retiring Clerk of Court


Nash County Commissioners recognized long-time Clerk of Court Rachel Joyner with a resolution honoring her service.
Board Chair Robbie Davis presented the resolution to Joyner at the start of the board's regular meeting on Monday
The resolution highlighted Joyner's career, which began as the Assistant Clerk to Jim "Nick" Sills in 1952.

More ...
AMANDA CLARK, GRAPHIC STAFF WRITER
Spring Hope resident voices concerns of safety and health issues from burned home


A mess left at a home in Spring Hope has become bothersome for one resident.
William Capps lives next door to a home on 503 North Walnut Street. He said the home has tarps covering areas of its roof damaged by a fire.
Over time, the tarps have collected sitting water and are "blowing all over the place." Capps said the property has trash thrown all over the place as well.

More ...
KENDRA JONES, GRAPHIC CORRESPONDENT
Chamber celebrates opening of Active Fitness


Nashville's Chamber of Commerce recently celebrated the opening of Nashville's newest gym.
Active Fitness opened in July at 603 S Barnes Street. A ribbon cutting was held to celebrate the business last week.
It's the second location for Phanthip Allen and her husband, Clark. The couple also own Active Fitness in Spring Hope, which has been there for around six years.

More ...
AMANDA CLARK, GRAPHIC STAFF WRITER
Park maintenance, clerk retirement discussed by Castalia Board


There was no new business at the regular monthly meeting of the town board of Castalia on Tuesday.
There was some old business. First, the board approved the proposal for park maintenance (including fertilization, weed and fire ant control, and pine straw mulch of certain areas) that was presented at last month's meeting.

More ...
JESSICA SMITH, GRAPHIC CORRRESPONDENT
NASH COUNTY SHERIFF'S OFFICE REPORTS
A simple assault was reported on 10/28/18 at 222 W Washington Street
An obtaining property by false pretense and forgery and uttering were reported on 10/29/18 at 8781 Mill Branch Road
A felony larceny was reported on 10/29/18 at 1232 First Street Extension
More ...
NASHVILLE POLICE REPORTS
INCIDENTS
A larceny (shoplifting) was reported on 10/31/18 at Wal-Mart, 1205 Eastern Avenue
A failure to appear was reported on 11/1/18 at 1765 Red Oak Road
More ...
Stomach illness reported from patrons of Rocky Mount restaurant
The Nash County Health Department is investigating numerous reports of stomach illness from patrons who ate at a Rocky Mount restaurant recently.
Numerous patrons who ate at El Tapatio, located at 1296 N Wesleyan Boulevard, Rocky Mount, on or after October 25 reported symptoms of nausea, vomiting, diarrhea, fever, chills and headache.
More ...
PIE-A-PASTOR
The Children's Ministry of Word Tabernacle Church hosted a Family Fall Fun Fest recently at the Impact Center. Families of infant children through fifth grade participated in games, food, fellowship and entertainment while the Youth Ministry, grades six through 12, and its investors served as volunteers for the event. The final activity was "Pie A Pastor," where names were drawn and youth were given the opportunity to pie a pastor of their choice.
More ...
God looks beyond our faults and our Pride


I have to give credit to one of my former pastors for this devotion. Several years ago, he preached a sermon on the prodigal son that inspired me to think about the "other son" in the parable. His slant on the meaning of this parable was both fresh and provoking.
Interestingly, a number of the newer Bible translations refer to this parable as the "Parable of the Lost Son" rather than the "Parable of the Prodigal Son".

More ...
MIKE RUFFIN
Luke's Word for the Week


Allow me to say clearly, I am not an expert on issues related to the problems of the world. However, when I read the Bible, I find that the Spirit who inspired the words of the Bible has very clearly shown us from Genesis to Revelation what the grand problem of the world is and it's not just one problem - it's two.
What are they? Glad you asked.

More ...
LUKE WHITEHEAD
PEACHTREE COMMUNITY NEWS


A glorious day met The Peachtree Baptist Church Congregation Sunday as they gathered to worship
The Sanctuary flower arrangement Sunday was presented to glorify God by Joan and Ray Eason in loving memory of Ray's brother, Mike Eason.
Fran Bunn, Sunday School Director, welcomed the Sunday school gathering.

More ...
FRAN BUNN
RED OAK NEWS


Fisher Pumpkin Farm was the site of the second annual Barbecue and Bluegrass event on Saturday, November 3 presented by the Red Oak Area Preservation Society. Many enjoyed the food and time with friends. Iron Horse Bluegrass Band Revival and Shannon Baker and Sometime Soon provided entertainment. Thanks to all who worked to make this possible to raise funds to preserve the Red Oak Teacherage.

More ...
SUZY PEARCE
Rocky Mount Toastmasters Club
The Rocky Mount Toastmasters Club #8957 recently celebrated an increase in its membership, which allowed the club to receive the Distinguished Club Award for 2018 status. A club must have at least 10 members July 1, 2017 to June 30, 2018. Members of the club are also completing manuals for prepared speeches and leadership roles to receive recognition for Education Awards that can lead up to Distinguished Toastmaster(DTM).
More ...
Nash County Animal Friends' Notebook


Come, Adopt a Pet before the Holidays!
We are talking about getting an early present, but this way your pet can settle in and adjust. They would love being part of the family during Thanksgiving and Christmas! We know that if many of these pets are not adopted or rescued, they will not see Christmas. Pets are great companions and give unconditional love.

More ...
CAROL VIERELA, NASH COUNTY ANIMAL FRIENDS
Peacemakers to open toy store December 7-8
Peacemakers is holding its Fourth Annual Christmas Toy Store December 7 and 8. Last year, through the generosity of individuals and organizations in the Rocky Mount community and the tireless efforts of many volunteers, Peacemakers of Rocky Mount helped 400 families including more than 1,000 children.
"Christmas is a tough time for many low-income families. Parents often lack the resources to provide gifts for their children.
More ...
UNC Cancer Care welcomes oncologist
Jay Manikkam, MD, recently joined the medical oncology staff of UNC Cancer Care at Nash, located in the Danny Talbott Cancer Center on the Nash UNC Health Care Campus. Manikkam completed his residency in Internal Medicine at Abington Jefferson Health in Abington, PA and his fellowship in Hematology & Oncology at the University of Nebraska Medical Center in Omaha, NE.
More ...
Coffee really could in fact be a lifesaver


It's been a classic love story, really.
I'll never forget the moment we met. An early winter storm had blown into the area and paralyzed the state from here to Raleigh.
We had a baby daughter to worry about, so I kept our generator running. This required me to go outside, add fuel, kick the machine, and curse every three hours or so.

More ...
Mike Brantley
Sometimes one stone for two birds isn't good


The Town of Nashville held two public meetings at the same time last week. A public hearing was held in the town council chambers at the same time the town's planning board was in session -- in a different room.
If you - a tax paying member of the public -- wanted to attend both -- you would have been out of luck.

More ...
Jo Anne Cooper
Leadership is a public trust


Dear Editor: Leadership is a public trust. Those of us who pastor churches, are elected officials, direct not for profits, preside over companies, operate small businesses, or lead in higher education, have been granted a unique role in our society - moreover, in our community. The residents of our community have entrusted us to lead with integrity and to embrace the fundamental ideals of equity and decency.

More ...
LETTER:
Backward Glances


This photo orginially published in The Nashville Graphic on July 25, 1968. This group of young girls, ages 8 to 12, had completed a course for beginning seamstresses which was conducted in the Nash County home agents office in Nashville.

More ...
A PICTORIAL LOOK INTO THE PAST
Kennedy To Coach SN Girls Soccer


STANHOPE -- Robbie Kennedy may not be a soccer expert, but he knows plenty about coaching -- and he will put those lessons to work next spring as the girls soccer coach at Southern Nash High School.
Kennedy is SN's long-time athletic director, head boys basketball coach and assistant football skipper.

More ...
GEOFF NEVILLE, Graphic Sportswriter

WRIGHT TO THE FINISH. Northern Nash High School's Matt Wright (right) races to the finish line during last Saturday's action at the Class 3-A State Cross Country Championships in Kernersville.

A CLOSING SPRINT


RED OAK -- Strong finishes at the Class 3-A State Championships are nothing new to the tradition-rich Northern Nash High School cross country program.
But this year's event proved to be extra gratifying for the Fighting Knights, especially because of the go-out-in-style performance from long-time senior standout Jordan Richardson.

More ...
GEOFF NEVILLE, Graphic Sportswriter

TURNING THE CORNER. Southern Nash High School's Chason Royal (with ball) picks up yardage for the Firebirds during last Thursday night's Big East Conference football victory on the road against the Franklinton Red Rams in Franklin County.

STILL PERFECT


FRANKLINTON -- Franklinton is the unquestioned most improved team this fall in the Big East Conference football standings -- but the Southern Nash Firebirds still stand far above everyone else in the league.
That was evident last Thursday as Franklinton hosted SNHS in a duel with huge league standings implications at stake.

More ...
GEOFF NEVILLE, Graphic Sportswriter
Bulldogs' runners honored


ROCKY MOUNT -- Nash Central High School capped off another successful cross country season with a pair of Bulldogs earning all-league honors in the Eastern Plains Conference.
Honorees were Mallory Roughton for the NC girls and Evan Bullock for the boys.

More ...
GEOFF NEVILLE, Graphic Sportswriter
Knights fall to Gryphons


ROCKY MOUNT -- In what was another late-announced short week, Northern Nash's football team struggled once again.
The Knights dropped a 53-21 loss to arch-rival Rocky Mount last Thursday, continuing their drought of not having defeated the Gryphons since 2011.
With the loss, the Knights fell to 3-6 on the year with an 0-4 Big East record, and Rocky Mount now sits at 8-1 overall, with a 4-1 Big East record, and is done with its regular season.

More ...
CHANCE PUCKETT, Correspondent
NC Wesleyan defeated at home
ROCKY MOUNT -- The North Carolina Wesleyan College football team dropped its final home game of the season last Saturday, falling 50-29 to USA South Conference foe Huntingdon College (Ala.) on Senior Day at the Rocky Mount Athletic Stadium.
The Hawks got out to a quick and big lead with a 21-point first quarter using a 83-yard kick return and short fields to build their 21-3 advantage at the end of the quarter.
More ...
Tourney Time


NASHVILLE -- This past Saturday, the Town of Nashville 8U soccer players competed in a tournament at Glover Park to determine the season's overall champion.
Century 21- Bill Lumpp played Murray's Auto and Tire to start the morning off.
Century 21-Bill Lumpp had goals scored by Elijah Hudgins, Hayden Strutton, Eli Lanfranchi, Charish Fields, and Israel Kirtz.

More ...
Staff Reports
ECU announces baseball sked


GREENVILLE -- Twenty-nine home games at Lewis Field inside Clark-LeClair Stadium, including the 16th-Annual Keith LeClair Classic, highlight the 2019 East Carolina University baseball schedule, which was announced recently by fifth-year head coach Cliff Godwin.
The 2019 state features 22 games (7/home, 15/away) against 11 teams that earned a bid to the 2018 NCAA Regionals, 33 against squads with 30-plus wins (30 with 35-plus, four with 40 or more wins) and 16 contests versus nine clubs that finished ranked or received votes in the final national polls.

More ...
Staff Reports
Wrestling card coming to NCHS


ROCKY MOUNT -- Mid Atlantic Championship Wrestling (MACW) will present a Night of Champions card on November 17 at the Nash Central High School Gymnasium.
The event will feature former WCW Superstar Buff "The Stuff' Bagwell, former WWE Star Shane "The Hurricane" Helms, Johnny Swinger, The Heatseekers and many other MACW Superstars.

More ...
Staff Reports
COUNTY SOCCER UPDATE


NASH COUNTY -- Here are updated Nash County Recreation & Senior Services Youth Soccer Tournament Scores:

More ...
Staff Reports
THAT CHAMPIONSHIP FEELING
Hobart Brantley (with ball) and the Faith Christian School Patriots won the North Carolina Independent School 8-Man Class 2-A State Championship last week with a 24-20 victory at Raleigh St. David's in the title game. For more on the contest, see next week's edition of The Nashville Graphic.
More ...
WHAT A WAY TO GO OUT
Senior star Jordan Richardson, one of the most decorated distance runners in Northern Nash High School history, capped off his career last Saturday by earning a ninth-place finish and a spot on the All-State Team at the Class 3-A State Cross Country Championships in Kernersville, which is located in Forsyth County.
More ...
BARBECUE AND BLUEGRASS


The pumpkin porch at Fisher Farm turned into a bluegrass amphitheater on Saturday for the second annual Barbecue and Bluegrass Fundraiser.
The event was sponsored by the Red Oak Area Historic Preservation Society and was held at Fisher Pumpkin Farm on Saturday, November 3.
The event served as a fundraiser to restore the Red Oak Teacherage, which is located across from Red Oak Elementary School.

More ...
AMANDA CLARK, GRAPHIC STAFF WRITER
Faith Christian presents the Musical Adventures of Flat Stanley Jr.
Faith Christian School will present a production of the "Musical Adventures of Flat Stanley, Jr." on November 9th and 10th at 7 p.m. at the Dunn Center in Rocky Mount.
The production is based on the book "Flat Stanley" by Jeff Brown, illustrations by Scott Nash. Lyrics are by Timothy A. McDonald and Jonathan K. Waller. Music is by David Weinsten, Jonathan K. Waller, Timothy A. McDonald and Stephen Gabriel.
More ...