Subscribe/Access
Advertisements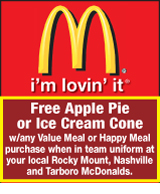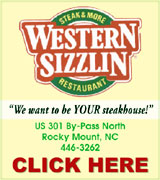 Sections
Member Options
Back

Pictured above is where the church first began in 1818, when it was known as the Sharon Episcopal Methodist Church. The church moved to its current location in 1922.
Red Oak Methodist celebrates 200 years
Red Oak United Methodist Church recently celebrated its 200th anniversary with a special tent service.
Reverend David Joyner, who has served as pastor of the church since 2013, served as the celebrating minister. Over 100 people attended the celebration, with music provided by Grafted and both past and present members of the congregation sharing memories and stories about what the church has meant and continues to mean to their families today.
More ...

Members of Post 293 look in the program to read along during the event, which featured music and a message by Rev. Nathaniel Bunn.

NASH COUNTY VETERANS DAY


Nash County veterans were recognized on Sunday and Monday in numerous ceremonies that took place throughout the Twin Counties.
Social Union Baptist Church hosted a special Veterans Appreciation Ceremony for the men and women of American Legion Post 293 on Sunday afternoon.
The worship celebration included music by The Wash Board Man, Brother Jerry Harrison and Faith as well as a message from Rev. Nathaniel Bunn, who serves as the pastor of Social Union Baptist Church.

More ...
AMANDA CLARK, GRAPHIC STAFF WRITER
Election win leaves board vacancy
Nash County Commissioner Lisa Barnes will soon vacate her commissioner's seat and move to a seat on the North Carolina House of Representatives.
Barnes defeated current Representative Bobbie Richardson in last week's election, receiving 70 percent of the votes.
With Barnes' win, there will be a vacancy left on the Nash County Board of Commissioners, said Mark Edwards, Chairman of the Nash County Republican Party.
More ...
Nashville to buy fire truck shelter


Nashville's Fire Department recently celebrated a new fire truck being put into service. As the new truck was backed into the bay, another truck was backed out and has since been sitting out in the weather.
Last week, Nashville's Town Council voted to allow the fire department to purchase a shelter for the truck at a price tag of $5,600.

More ...
AMANDA CLARK, GRAPHIC STAFF WRITER
Nash 4-H Festival of Tables is Nov. 30th


Nash County 4-H will kick off the holiday season on Friday, November 30 with its Fourth Annual 4-H Festival of Tables.
This year's event will be held at Nashville United Methodist Church.
Nash County Cooperative Extension Director and 4-H Agent Sandy Hall said the event was moved from the Nash County Agriculture Center due to some HVAC issues the building is having.

More ...
AMANDA CLARK, GRAPHIC STAFF WRITER
Nashville's Christmas event is Dec. 1
Nashville will kick off its Christmas season with its annual Children's Christmas Parade on Saturday, December 1.
The celebration will begin at 4 p.m. in front of the Nash County Courthouse with music.
Following the music, the children's parade will begin.
More ...
NASH COUNTY VETERANS DAY, pics
Prentis Clemons, the Vice Commander for the American Legion Post 293 speaks during the POW/MIA Empty Chair Ceremony on Sunday at Social Union Baptist Church, which hosted a special Veterans Appreciation Service for members of Post 293.
More ...
Edward Jones office moves downtown


Eleven years after starting a new career with Edward Jones Investors, Cliff Joyner celebrated the opening of his new location in Downtown Nashville.
Nashville's Chamber of Commerce hosted a ribbon cutting last Friday for Joyner.
Joyner moved into his new spot, at 207 W Washington Street, on August 7. Previously, Joyner was located at 802-A East Washington Street.

More ...
AMANDA CLARK, GRAPHIC STAFF WRITER
Former Graphic writer wins national award
Rocky Mount native Clifton Barnes, who worked for at the Nashville Graphic in the 1980s, has won a national award for an online book he wrote.
An e-book telling the history of the Order of the Bell Tower at the University of North Carolina won an Award of Excellence from the DC area-based Communications Concepts through its 2018 Awards for Publication Excellence competition.
More ...
Officials urge caution, prevention of Norovirus
Norovirus has been identified as the agent responsible for the outbreak of gastrointestinal illness that affected patrons of a Rocky Mount restaurant.
According to Bill Hill, Nash County Health Director, staff at the Health Department responded to complaints at El Tapatio, at 1296 North Wesleyan Boulevard immediately after they were reported on October 30.
More ...
CLERK RECOGNIZED
Nashville's Town Council recognized Town Clerk Lou Bunch last week at the board's regular meeting for obtaining her Certified Municipal Clerk Designation. Mayor Donald Street presented Bunch with a certificate and congratulated her at the start of the meeting.
More ...
Bennett appointed Red Oak Mayor Pro Tem


Red Oak Commissioner Tony Bennett was appointed as the Mayor Pro Tem during last week's town board meeting. Bill Moore made the motion with Craig New seconding. The appointment was approved unanimously.
During the meeting, the board also heard a brief presentation by Tyler Staverman, Veterans' Service Officer.

More ...
JESSICA A. SMITH, GRAPHIC CORRESPONDENT

North Carolina's First Lady Kristin Cooper was the guest speaker for My Sister's House annual Empty Chair event, which was held on October 25 at Edgecombe Community College.

First Lady speaks at Empty Chair event


Forty-two chairs sat empty outside the Fleming Building at Edgecombe Community College on October 25, representing the 38 adult and four children whose lives were lost in North Carolina this year to domestic violence.
A moment of silence began the annual Empty Chair event, which is held each year to benefit My Sister's House.

More ...
AMANDA CLARK, GRAPHIC STAFF WRITER
Steve Jobs said life is about making choices


Apple's new releases of souped-up iPhones iPads and MacBooks turned my thoughts to Steve Jobs. The company now has 250 billion in cash in the bank and most of it is due to Jobs' genius.
He's been dead now for over 7 years, and most of us do not give him the credit he deserves.

More ...
MIKE RUFFIN
Intersections: God and Life


"Blessed is the God and Father of our Lord Jesus Christ, who has blessed us with every spiritual blessing in the heavens in Christ."
We are blessed beyond measure and beyond our comprehension!
I have been endeavoring to preach through the Apostle Paul's letter to the Ephesians, and as I do so, the Lord is giving me a fresh love for Himself and His word.

More ...
CARLYLE HALL
Lamb appointed to commission
Governor Roy Cooper recently appointed new members to 55 boards and commissions.
"These appointees go the extra mile in serving North Carolina," said Governor Cooper. "I'm thankful for the experience and dedication they will bring to these boards and commissions."
More ...
PEACHTREE COMMUNITY NEWS


The Lord gave us another glorious day Sunday as the Peachtree Baptist Church Congregation gathered to worship on Veteran's Day.
The Sanctuary flower arrangement Sunday was presented to glorify God by Joan and Ray Eason in honor of their 51st wedding anniversary.
Fran Bunn, Sunday School Director, welcomed the Sunday school gathering.

More ...
FRAN BUNN
Luke's Word for the Week


Hi Fellow Followers, I originally wrote this article in 2016 for Thanksgiving and I'm sending it out again with the hopes that it will be beneficial to you and yours as you prepare to celebrate Thanksgiving in the days ahead. I love you all and am grateful to be your brother in Christ. May all honor and glory and praise be to Him who is able to do far more than we can ask or imagine!

More ...
LUKE WHITEHEAD
RED OAK NEWS


Barbara High Tyre, Red Oak Town Commissioner, was honored recently with the Order of the Long Leaf Pine during the town board meeting. The award was presented by Red Oak Mayor, Levell Langley. Friends and family joined her for the presentation. The Order of the Long Leaf Pine is a prestigious honor presented by the Govenor of North Carolina to individuals with extraordinary service to the state. Congratulations, Barbara!

More ...
SUZY PEARCE
Be grateful for every Thanksgiving!


No doubt the last quarter is my favorite time of the year.
The majority of my friends are summer people, a smaller number are spring people and a handful are even winter people. But I'm solidly a fall, fourth quarter, nip in the air, turkey on the table, presents under the tree kind of guy.
I've always been that way, but for reasons that have changed in each stage of life.

More ...
Mike Brantley
Volunteers are crucial to all parts of our society!


Last year, I had this bright idea that I needed to step way out of my comfort zone and "do stuff."
My first attempt to "do stuff" was volunteering to coach soccer. I will admit, I enjoyed it way more than I thought I would but I had an amazing co-coach and that made a big difference!

More ...
Amanda Clark
Backward Glances


This photo originally published in The Nashville Graphic on July 4, 1968. Two Northern Nash girls were set to attend the National Future Homemakers of America Convention in Miami, Fla.

More ...
A PICTORIAL LOOK INTO THE PAST

HAVING A BLAST. Senior hitter Kayla Richardson enjoyed a strong season at the net for the Northern Nash High School volleyball squad.

Franklinton Dominates Big East


NASH COUNTY -- No team has been capable of defeating the Franklinton Lady Rams on the volleyball court since they joined the Big East Conference before the 2017 campaign.
Through two years, Franklinton is undefeated in the league and has claimed the Big East's regular season and tournament championships in each of those seasons.

More ...
GEOFF NEVILLE, Graphic Sportswriter

SOUTHERN NASH'S TRISTAN ROCCO

SOCCER STANDOUTS


NASH COUNTY -- It wasn't the best season for Nash County's high school boys soccer teams in the Big East Conference as both Southern Nash and Northern Nash were unable to qualify for the Class 3-A State Playoffs.
Still, several Firebirds and Knights have earned spots on the prestigious 2018 All-Big East Conference Boys Soccer Team.

More ...
GEOFF NEVILLE, Graphic Sportswriter

TITLE TIME FOR THE PATRIOTS. Members of the Faith Christian School football team celebrate with the state championship plaque. (Photo Submitted by KJ Bradley Photography)

A QUICK STUDY


ROCKY MOUNT -- Some observers scoffed when Russell Weinstein announced his intention to immediately build the Faith Christian School program into a powerhouse when starting the program two years ago.
Maybe they weren't familiar with Weinstein's pedigree, or the lofty expectations he always carries for his team.

More ...
GEOFF NEVILLE, Graphic Sportswriter
Changes come to tourney


ROCKY MOUNT -- Big changes are coming to the annual Nash County Christmas Basketball Tournament.
For the past two decades or so, the tourney has featured a four-team format of all-Nash County squads.
And the tournament was held every year at a rotating site between Southern Nash, Northern Nash, Rocky Mount and Nash Central.

More ...
GEOFF NEVILLE, Graphic Sportswriter
NN will play at BHS event


BUNN -- The annual Bunn High School Holiday Boys Basketball Tournament will be held Dec. 27-29 at the Bunn Dome in Franklin County.
Northern Nash will return in an attempt to defend its championship, while other entrants are Bunn, Wake Forest, Faith Assembly Christian Academy, Word of God, Warren County, perennial powerhouse Kinston and East Wake, which is coached by former Southern Nash girls skipper Gerald Melton.

More ...
GEOFF NEVILLE, Graphic Sportswriter
STATE FOOTBALL BRACKETS


CHAPEL HILL -- Listed are the brackets for the upcoming Class 3-A State Football Championships, which will feature the Southern Nash Firebirds and the Rocky Mount Gryphons:

More ...
Staff Reports
Wesleyan wins hoops opener


ELIZABETH CITY -- The visiting North Carolina Wesleyan College men's basketball team rolled to a season-opening road win over non-conference foe Mid-Atlantic Christian University 81-67 last Saturday afternoon.
Senior forward Rob Wilson led the Bishops with 23 points, 8 rebounds and 2 assists in the game as he helped the Bishops pull away with a 43-point second half as they outscored the Mustangs 43-35 in the second after taking the first 38-32.

More ...
Staff Reports
Red Oak hoops sked released


RED OAK -- Red Oak Middle School will kick off its 2018-19 boys and girls basketball schedules on Dec. 6 with a road game at Edwards Middle School in Rocky Mount.
Red Oak is the defending boys conference champion and will once again be coached by Kristian Cox. Veteran skipper Russell Rouse will guide the girls team.

More ...
Staff Reports
Bishops defeated at Maryville


MARYVILLE, TENN. -- The North Carolina Wesleyan College football team completed its conference season last Saturday, falling 31-14 on the road at conference champion Maryville College (Tenn.).
Maryville finished 7-0 in the conference and will now advance to the Div. III playoffs for the first time since 2013.

More ...
Staff Reports

STEINERT
Pianist, vocalist to perform at Cherry Hill
Pianist/organist Daniel Steinert will return to Cherry Hill on November 18th. The 3 p.m. program will feature lyric soprano Farren Hilliard and will include works by Bach, Schumann, Strauss, Brahms, Puccini, Gilbert and Sullivan, Rodgers and Hammerstein, and other well-known composers.
Farren Hilliard is from West Columbia, South Carolina. In 2015 she completed a Graduate Vocal Performance degree at Appalachian State University.
More ...