Subscribe/Access
Advertisements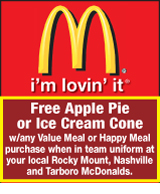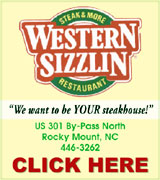 Sections
Member Options
Back
New chief sworn in to service


Nashville's new police chief is now official.

Mayor Donald Street swore in Chief Anthony Puckett on Tuesday night prior to the start of the town council's regular meeting.

Puckett has been serving with the town since June 18 but was unable to be officially sworn in because of paperwork needing to come through.

More ...
AMANDA CLARK, GRAPHIC STAFF WRITER
School board okays cuts


The Nash-Rocky Mount Board of Education was presented a Reduction in Force (RIF) recommendation last Wednesday night that included a decrease of four positions.
The positions included one instructional support position and three data manager positions, Chief of Staff Brian Miller told board members during a special called meeting.

More ...
AMANDA CLARK, GRAPHIC STAFF WRITER
Police chase leads to arrest of wanted man
The Nashville Police Department nabbed a wanted person last Thursday following a vehicle pursuit.
A officer was on patrol around 7:15 a.m. when he attempted to stop a vehicle for a safe movement violation. While attempting to stop the vehicle, the vehicle sped up and began driving recklessly. The officer initated a short vehicle pursuit on Oak Level Road near E. Old Spring Hope Road.
More ...
FREEDOM CELEBRATION
RED OAK CELEBRATION - Red Oak hosted its first Freedom Celebration on Sunday night, with local churches coming together to offer free food and entertainment while the Town of Red Oak provided fireworks.
Pictured above, Legend Reavis, 4, enjoys a snow cone treat at the event.
More ...
Filing begins Friday


Filing for Nash County Municipal Elections begins on Friday, July 5 at 12 noon.
Filing will end two weeks later, on July 19 at 12 noon.
In Nashville, the mayor's seat is up for grabs along with seats currently held by Councilwoman Louise Hinton and Councilman Charles Taylor.

More ...
AMANDA CLARK, GRAPHIC STAFF WRITER
REMEMBERING KOJACK


CASTALIA -- The wondering never stops for Linnie Anderson.
For the past 10 years, she's wondered about the whereabouts of her son, Roger Wade "Kojack" Ayscue.
In darker times, friends and family wonder if he's in a shallow grave, having been left for dead.

More ...
CAREY JOHNSON, SPECIAL TO THE GRAPHIC

Connor Vick
SCHOLARSHIP
The Momeyer Ruritan Club recently awarded scholarships to Tristen Edwards and Connor Vick at their meeting on Monday, June 17. Stuart Parker, President of the Momeyer Ruritan Club's Scholarship Committee presented the scholarships. Vick was unable to attend the meeting due to orientation at East Carolina University so his grandfather, Art Vick, accepted on his behalf.
More ...
Scholarship awarded
Nashville's Business and Professional Women (BPW) recently recognized Kenly Byrd as the 2019 Hazel Valentine Scholarship recipient at their June 17 meeting. Pictured (L-R) are BPW members Shirley House and Brenda Foster with Kenly Byrd and her parents, Shelley and Kenny Byrd.
More ...
Nash County 4-H beef raffle to aid tornado victims


Nash County 4-H is holding a fundraiser to help one of its own.
On Monday, May 13, a tornado tore through Larry and Marina Strickland's home, leaving the home condemned and numerous barns severely damaged.
The Stricklands are long-time supporters and volunteers for Nash County 4-H.

More ...
AMANDA CLARK, GRAPHIC STAFF WRITER
Woman travels pipeline route by horseback


A Virginia woman riding the route of the Atlantic Coast Pipeline on horseback passed through Nashville last week.
Sarah Murphy, of Charlottesville, Virginia, said while work on the pipeline seems to have come to a halt in Nash County, she can still see the impact it's having on Nash County residents.

More ...
AMANDA CLARK, GRAPHIC STAFF WRITER
Nashville native receives lifetime achievement award
Jim Inscoe, a 1958 graduate of Nashville High School, recently received the Jonnie Dee Little Lifetime Achievement Award from the Alabama State Council on the Arts, along with his wife, Elmore Inscoe.
The Council's "Celebration of the Arts" award program shines a spotlight on the arts in Alabama and on individuals who have made important contributions to the state's rich cultural landscape.
More ...
MILITARY NEWS
U.S. Air Force Airman Tanylia R. Caudle graduated from basic military training at Joint Base San Antonio-Lackland, San Antonio, Texas.
The airman completed an intensive, eight-week program that included training in military discipline and studies, Air Force core values, physical fitness, and basic warfare principles and skills.
More ...
Local officer noted for heroic efforts at NC Coast
A captain with the Nash County Sheriff's Office is credited with saving the life of a young girl at Atlantic Beach recently.
Captain Allen Wilson was off-duty, enjoying a vacation with his family when he noticed a group of children playing in the water near the Pine Knolls Shore and Atlantic Beach vicinity with no parents nearby. One of the children began to drift further away from the group and Wilson took notice.
More ...
STORM DAMAGE
A June 20th storm that came through the area toppled trees throughout Nash County, including the limb of this tree at 519 Church Street. The homeowners said they had just moved into the home in December and completely remodeled the home. A branch fell off a tree and toppled onto the roof of the home, going through the ceiling. Pictured, a worker with Cockrell's Tree Service watches as the limb is removed from the home.
More ...
Nash Central Middle School honor rolls
Nash-Rocky Mount Schools has released its Honor Roll lists for the final semester of the 2018-2019 school year.
The following students at Nash Central Middle School made the A or A/B Honor Roll.
More ...
Nash Central High School honor rolls
Nash-Rocky Mount Schools has released its Honor Roll lists for the final semester of the 2018-2019 school year.
The following students at Nash Central High School made the A or A/B Honor Roll.
More ...
NASHVILLE POLICE REPORTS
INCIDENTS
A damage to property (vandalism) was reported on 6/27/19 at Sheetz, 100 E Evans Drive
A flee to elude arrest by motor vehicle, failure to heed blue lights and siren, dirving while license revoked, violation of a court order, failure to appear for an expired registration tag and failure to appear for an expired registration card tag and no inspection was reported on 6/28/19 at NC 58 and East Old Spring Hope Road
More ...
NASH COUNTY SHERIFF'S OFFICE REPORTS
A possession of a stolen firearm and possession of marijuana was reported on 6/23/19 on US 264 Eastbound
A domestic was reported on 6/23/19 at 4832 Swift Creek School Road
A possession of marijuana and possession of drug paraphernalia was reported on 6/23/19 on I-95 northbound at the 129 mile marker
More ...
League offers local scholarships
The Board of Directors of the Kitty Powell Scholarship Fund recently presented $5,250 in scholarships to members of the local bowling community.
The Kitty Powell Scholarship Fund was established in 1989 to provide educational assistance to members of the Rocky Mount bowling community. The scholarship is named for Kitty Powell who was the long-time General Manager of the Bowling Center in Rocky Mount, and who has given so much to the sport of bowling.
More ...
50TH ANNIVERSARY
David and Christine Morningstar will soon celebrate their 50th anniversary with a party given by their family. The couple were married on July 12, 1969 at St. Josephs Church in South Bend Indiana. David retired from Honeywell and Christine worked as a registered nurse for 27 years. The couple live in Nashville. They have three children and five grandchildren.
More ...
COOPERS RURITAN NEWS
Wanda Powell of Coopers Ruritan Club presents the Coopers Ruritan Club Scholarship to Abby Darak. She will be attending Cape Fear Community College this fall.
More ...
Spring Fling
Coopers Ruritan Club took part in the Coopers Elementary Spring Fling again this year, selling Chick-fil-A sandwiches, chips, and drinks. Proceeds were presented to Coopers Elementary PTO. Kelly Joyner Hager (right) accepts the donation for the PTO. from Jane Tyson (left) Coopers Rurtian Treasurer.


More ...
CITI High School Honor Rolls
Nash-Rocky Mount Schools has released its Honor Roll lists for the final semester of the 2018-2019 school year.
The following students at CITI High School made the A or A/B Honor Roll.
More ...
Cedar Grove Elementary Honor Rolls
Nash-Rocky Mount Schools has released its Honor Roll lists for the final semester of the 2018-2019 school year.
The following students at Cedar Grove Elementary School made the A or A/B Honor Roll.
More ...
God Bless America - our unofficial National Anthem


"Verily I say unto you, inasmuch as ye have done it unto one of the least of these my brethren, ye have done it unto me." (Matthew 25:40)
In just a few days, we'll be celebrating July 4th. Patriotic music is always a keystone of that celebration. For example, we'll hear Lee Greenwood sing his classic, I'm Proud to be an American. It's a great one.

More ...
MIKE RUFFIN
Word for the Week


Jesus uses "The Parable of the Good Samaritan" to teach us what kind of neighbor we should be - one that is merciful, compassionate, generous, and loving. Being a neighbor means seeing a need and then filling that need without hesitation. It's more than a nice smile and a friendly wave; it's a constant attitude of selflessness and service.

More ...
KAITLYN STOCKS

Deputy William Toney and his K-9 partner, Chase, are pictured with youth from the Summer Food/Enrichment Program at First Timothy Church in Nashville.
NCSO visits local summer enrichment program
The youth at the First Timothy Church of Love's Summer Food/Enrichment Program had a special visit recently from the Nash County Sheriff's Office by Deputy William Toney and his K-9 partner, Chase as well as Deputy Angel Ricks.
Deputy Toney visited on June 13 and talked to the youth about his job and what it was like to work with a K-9.
More ...
SANDY CROSS NEWS


At Kingdom International Church, the teaching on Wednesday night 6/26 was given by Dr. Traci Holloman - "The Keys To Entering Your Space - What Wise People Already Know".
The KIC Aftershock youth are highlighting one youth each week.

More ...
EMILY SILLS
July 4th, a great time to be an American


The lady working the checkout in the dollar store asked me last week if I was ready for July 4th.
"I guess so, how 'bout you?" My thoughts drifted briefly to a day of doing even less than usual and having everyone home.
"Well, I haven't been to South Carolina yet, but I'm going," she said with a smile and wink.

More ...
Mike Brantley
4-H is something a child will carry a lifetime


Lately, I've had the opportunity to see firsthand the significance 4-H plays on a child.
Growing up, I was involved in a lot of extracurricular activities. However, I was never a part of 4-H.
I never really understood the importance of 4-H until coming to Nash County and even then, it was hard to truly know its significance.

More ...
Amanda Clark
Backward Glances


This photo originally published in The Nashville Graphic on October 17, 1968. Pictured are officers of the DECA Club at Nash Central High School.

More ...
A PICTORIAL LOOK INTO THE PAST

SOUTHERN NASH'S DARIUS EDMUNDSON (SHOOTING)

DARIUS IS IN!


STANHOPE -- Robbie Kennedy didn't have to look very far to find a replacement player for the East Team at the annual North Carolina Coaches Association East-West All-Star Boys Basketball Game.
Kennedy, the head coach at Southern Nash, had previously been selected to coach the East squad, and had gone about the arduous task of picking a roster from variety of senior standouts across the Eastern portion of the state.

More ...
GEOFF NEVILLE, Graphic Sportswriter
A GREAT CAUSE


ROCKY MOUNT -- ACDi hosted the 7th Annual Charity Golf Tournament in support of My Sister's House on May 17 at the picturesque 18-hole Belmont Lake Golf Club, which is located just north of North Carolina Wesleyan College in Rocky Mount.
A total of 92 golfers enjoyed a sunny day of golf, raffles, and refreshments while taking on the challenging layout at Belmont Lake.

More ...
Staff Reports

NASH CENTRAL'S DRIFTON PADGETT

Whitley, Padgetts All-State


ROCKY MOUNT -- Brothers Chandler and Drifton Padgett made plenty of history during their star-studded careers as members of the Nash Central High School baseball squad.
But the Padgetts had one final first-ever contribution to the program when they were recently saluted as part of the North Carolina Baseball Coaches Association's Class 2-A All-State Team.

More ...
GEOFF NEVILLE, Graphic Sportswriter
Northern opens vs. Warriors


RED OAK -- Northern Nash's Fighting Knights will kick off their 2019 varsity football campaign August 23 with a road outing against the East Wake Warriors in Wendell.
Northern's first home contest will be Aug. 31 versus Wilson Beddingfield.

More ...
Staff Reports
Mudcats fall to Nationals


ZEBULON -- Ryan Aguilar went 2-for-3 with a run and starter Matt Smith pitched through five scoreless innings, but the Carolina Mudcats failed to finish off a series sweep while falling 9-1 to the Potomac Nationals on Sunday afternoon at Five County Stadium in a Class A Carolina League baseball meeting.

More ...
Staff Reports
2019-20 HURRICANES SKED


RALEIGH -- The National Hockey League has released the 2019-20 regular-season schedules for its 31 member clubs.
The Carolina Hurricanes will open the season at PNC Arena on Thursday, Oct. 3, against the Montreal Canadiens.
For the third consecutive season, the Hurricanes will begin the season on home ice.

More ...
Staff Reports
CHECK PRESENTATION
(L to R) Kim Boykin, General Manager of ACDI, presents a check to My Sister's House Director Emily Lemus following the recent benefit golf tournament at Belmont Lake GC.
More ...