Subscribe/Access
Advertisements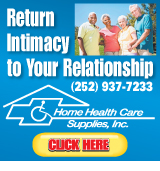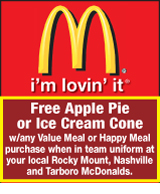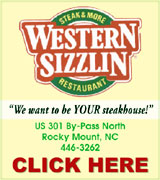 Sections
Member Options
NRMS drafts Capital Improvement Plan
At their work session last Thursday night, Dr. Eric Cunningham, Nash-Rocky Mount Schools (NRMS) associate superintendent, shared the administration's Capital Improvement Plan draft with the board. This same presentation was given by Dr. Anthony Jackson, NRMS superintendent, to parents of students at Red Oak, Swift Creek, Johnson, and Pope elementary schools last Wednesday and was scheduled to be given to parents of students at Rocky Mount and Parker middle schools on Monday this week. More ...
Michele A. Cruz, Graphic Correspondent

WOOD

Area men charged with copper theft
A Bailey man faces charges of stealing over $100,000 worth of copper out of Progress Utility fixtures in Nash County.
According to the Nash County Sheriff's Office, Douglas Charles Wood, Jr, 35, faces seven felony larceny charges, along with one count of first degree trespassing and one misdemeanor larceny charge. More ...


GIDDY UP HORSEY! Little Molly Jackson rides the carousel while visiting the 17th Annual Nashville Blooming Festival. Pictured with Molly is her mother Gray Jackson.

Blooming Festival reports record attendance at annual event
The 17th annual Nashville Blooming Festival wrapped up on Saturday night with record numbers.
Cindy Puckett, one of the event's organizers, said this year's event brought the largest crowd ever. Even with a short rainfall on Saturday night, the overall attendance this year was excellent, Puckett said.
"Overall, it was a huge success," she said. More ...
Amanda Clark, Graphic Staff Writer
Fire damages Castalia home
A stove left unattended caused a Castalia home to catch on fire Friday afternoon.
The home, at 8786 N NC 58, Castalia, caught fire around 3:30 p.m. on Friday, May 10.
According to David Braswell, of the Castalia Fire Department, the fire was started from a stove that was turned on and left on. More ...

Red Oak plans new park improvements
Red Oak Commissioners discussed new park improvements at the regular business meeting held on Monday, May 7, at the town hall. If all goes well, the park may be enhanced by a new irrigation system as well as by new seating for those viewing the games played on the facility fields.
As part of the enhancement, the town voted to spend an estimated $39,000 to install a new irrigation system designed by Premium Landscaping in Wilson, NC. More ...
Amelia Harper, Graphic Correspondent
Watch out for tractors!
Nash County Cooperative Extension Director Charlie Tyson warns motorists to beware of slow moving farm equipment on public roads.
Tyson said it's the time of year where farmers are getting busier with tillage and crop planting so motorists may experience farm equipment on roadways. More ...

Middlesex budget includes recycling fee
Middlesex Commissioners will meet one more time to finalize budget preparations before holding a public hearing and approving the Fiscal Year 2013-2014 budget.
A brief budget workshop was held on Monday night, following the board's regular meeting, which lasted several hours due to a closed session for employee performance reviews. More ...
Amanda Clark, Graphic Staff Writer