Subscribe/Access
Advertisements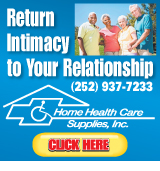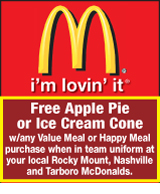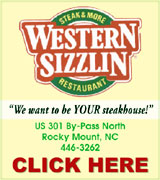 Sections
Member Options
Former Nashville businessman passes away
Roger Murray, 76, passed away Friday, May 17, 2013. He was born January 1, 1937 in Nash County to the late Ivan and Verna Rhodes Murray. Roger enjoyed fishing and spending time with his grandchildren whom he loved very much. He started his own business, Murray's Auto and Tire Service in 1971 and remained in business for 39 years. More ...

Two men die in automobile accident
Two men were killed in a single-vehicle accident last Saturday night on Winters Road near Bailey.
According to the NC Highway Patrol, a pickup truck, driven by 49-year-old Johnnie Mitchell, of Bailey, was traveling south on Winters Road around 9 p.m. on May 11 when it crossed the center line and ran off the left shoulder of the road and collided with a ditch. After impact, the vehicle then collided with a tree. More ...

Man sentenced to prison for possessing machine gun
United States District Judge Terrence W. Boyle sentenced Samuel Lee Cooper, Jr., 36, of Rocky Mount to 76 months in prison followed by five years supervised release for possessing a machine gun.
On July 11, 2012, Cooper pled guilty to possessing a firearm in furtherance of a drug trafficking crime and possessing a machine gun. More ...

NASHVILLE POLICE BRIEFS
INCIDENTS
A larcey after breaking and entering and breaking and entering a commercial building was reported on 5/13/13 at Murphy's Express, 1151 Eastern Avenue
A breaking and entering a residential property was reported on 5/13/13 at 624 Jackson Way More ...

NASH SHERIFF'S OFFICE REPORTS
A breaking, entering and larceny of a residence was reported on 5/13/13 at 544 E. Old Spring Hope Road
A breaking, entering and larceny to a motor vehicle was reported on 5/14/13 at 5579 Lochmere Bay Drive
A breaking, entering and larceny to a motor vehicle was reported on 5/14/13 at 5495 Lake Vista Court
A breaking, entering and larceny to a motor vehicle was reported on 5/14/13 at 6416 Waters Edge Drive More ...

Nash County Blood Drives for June 2013
Wednesday, June 5 from 2 until 6 p.m. at Arlington Baptist Church, 1500 Bethlehem Road, Rocky Mount
Thursday, June 6 from 12 until 6 p.m. at Englewood Presbyterian Church, 100 South Englewood Drive
Friday, June 7 from 11 a.m. until 5 p.m. at Englewood Presbyterian Church, 100 South Englewood Drive
Monday, June 10 from 3 until 7 p.m. at First Baptist, 200 South Church Street, Rocky Mount More ...

Valentine wins national scholarship competition
Jackson Valentine, a student from Nash Central High School, was a winner in the 44th annual national Washington Crossing Foundation Scholarship Competition. The prestigious awards are granted to high school seniors for the best all around presentations including an explanation of why they are planning careers in government service. More ...

Husband, wife earn advanced nursing degrees
For better or worse, richer or poorer, and completing graduate school.
Stan and Amy Winstead didn't include an advanced degree in their wedding vows 12 years ago, but mutual encouragement and support saw them through the past two years as graduate students in the East Carolina University College of Nursing. More ...
Crystal Baity, ECU News Services
NEW PARTNER
The Valentine Law Firm of Nashville recently announced that Kirkland Bass has been named a partner in the firm. Bass is a native of Momeyer and is a graduate of East Carolina University and Campbell University Law School. He has practiced with the firm since December, 2010. Bass is the son of Kirk and Vicky Bass. He and his wife, Denise, have a two-year-old son, Avery. More ...

Harper graduates from Bob Jones University
Nashville resident Bradley Harper was among the more than 800 students who graduated from Bob Jones University earlier this month.
Harper graduated with a MA in Ministry.
During the 86th commencement exercises, 595 students received undergraduate degrees and 73 students received associate degrees. More ...

MOUNT ZION FWB CHURCH NEWS
Today was Youth Sunday at Mt. Zion. We studied from I Peter a lesson on "Serving One Another" in Sunday school.
The pretty flowers were given by the youth in honor of Mrs. Margaret Anderson. She was the pianist for the service. Ms. Margaret is a retired teacher and was a minister's wife. She is also a great-grandmother. More ...
ROSALENE BASS
PEACHTREE COMMUNITY NEWS
On Sunday morning Peachtree folks gathered for worship. The sanctuary flowers were given in memory of James M. Wood by his family- Patricia, Bill and Bart Wood. The choir sang, "Before the Throne of God Above," under the direction of the pastor. More ...
BARBARA HARDISON
RED OAK NEWS
Welcome to Lenny, Sherry, and Andrew Lewis who joined the family at Red Oak Baptist Church on Sunday, May 12!
The rain held off for most of the morning on Saturday, May 18, as the youth, children, and parents of Red Oak Baptist Church held their annual bake sale, yard sale, BBQ sandwich sale, and car wash. More ...
SUZY PEARCE
BEULAH COMMUNITY NEWS
I want to send our sincere sympathy to the family of Roger Murray who recently passed away. The family also lost their home to a fire recently. Continue to pray for them. We also are keeping the family of Alton "Hoover" Earl Daniel in our thoughts and prayers. He passed away the same day as Roger Murray, May 17. More ...
WILMA ENROUGHTY
Marshall graduates from Appalachia State University
Megan Farrar Marshall, of Walnut Cove, graduated Summa Cum Laude from Appalachia State University in Boone on May 11. Marshall received a Bachelor of Science Degree in Elementary Education with a specialization in Spanish. She was the student speaker representing the Reich College of Education at graduation. Marshall student taught in Ashe and Watauga Counties. More ...

UDC Bethel Heroes
Members of the local UDC Bethel Heroes Chapter 636 gathered on May 10, 2013 at the Confederate Monument in Battle Park to celebrate the Confederate Memorial Day and to pay tribute to the local men who served in the War Between the States. More ...

GOOD CITIZENSHIP WINNERS
GOOD CITIZENSHIP WINNERS are pictured (L-R): Emanuel Jones, Our Lady of Perpetual Help Catholic; Daniel Tavon Thorne, Englewood Elementary, Chryshanta Johnson, Williford Elementary; Elizabeth Tebo, Spring Hope Elementary; Regent Dottie Barrett. Not present: Lorah Beth Currin, Faith Christian, and Susana Contreras-Blanco, Princeville Elementary. (Contributed photo) More ...

DAUGHTERS OF THE AMERICAN REVOLUTION
The annual Silver Tea of the Daughters of the American Revolution Micajah Pettaway Chapter was Saturday, April 6, 2:00 P. M. in Braswell Memorial Library's Warner Room.
After Regent Dottie Barrett welcomed everyone, refreshments were served. The program highlight was honoring DAR Good Citizenship (fifth grader) and Good Citizen (senior) winners from local schools. More ...
DEE LONG
MILITARY NEWS
Petway
Civilian Sidorayon J. Petway, son of Joey T. Petway, of Rocky Mount, and Debbie M. Petway, of Rocky Mount, recently enlisted in the United States Navy under the Delayed Entry Program at Navy Recruiting District, Raleigh. More ...

TEA TIME
The Nash County Senior Center hosted "High Tea" last Wednesday afternoon. The tea featured entertainment by Pat Montgomery (pictured above), who painted and sang. More ...

School Visited
International Photographer Jerome De Prlinghi visited Swift Creek Elementary School students last month to talk about his photography. De Prlinghi reviewed student's photographs and answered questions. The school was able to purchase cameras thanks to a grant from the DeLeon Carter Foundation. More ...

Project Lifesaver helps Sheriff's Office find missing Nash woman
The first activation of Project Lifesaver was a success, as a 71-year-old woman was found within an hour of being reported missing.
Project Lifesaver is a rapid response program that locates people with a cognitive impairment, such as Alzheimer's, Autism, Down Syndrome and Dementia, that wander away from their caregivers. More ...

Nash Board discusses SB127
Nash County Commissioners are pleased with Nash County's placement in a proposed realignment of Economic Development Zones but expressed concern over Edgecombe County not being a part of the new Central Region.
County Manager Bob Murphy told commissioners on Monday morning that Senate Bill 127 is looking at realigning the Economic Development Zones across the state. More ...
Amanda Clark, Graphic Staff Writer
Tax preparer sentenced for filing false returns
A Rocky Mount tax return preparer was sentenced to 41 months in prison for filing false tax returns.
United States District Judge Terrence W. Boyle sentenced Delane F. Alston, of Rocky Mount, on May 9 for aiding and assisting in the preparation of false federal income tax returns. In addition to serving 41 months in prison, Alston was also sentenced to one-year of supervised release and will have to pay $121,845 in restituion. More ...

Cause of fire linked to home's garage
An origin and cause investigation into a Nashville house fire has pinpointed the garage as the location where the fire started, Nashville Fire Chief Randy Goodbrod said.
Goodbrod said it was not possible to determine the exact cause of the fire that occurred on May 4 at 2000 Exum Road. However, Goodbrod added that there is nothing to indicate the fire is incendiary in nature. More ...

NCC presents President's Cup to Progress Energy
Nash Community College's most prestigious award, the President's Cup, was awarded in April to Progress Energy in appreciation of their collaboration and support of the Electric Line Construction program. Each year, the President's Cup can be awarded to anyone affiliated with Nash Community College who has made an indelible mark on the College. More ...