Subscribe/Access
Advertisements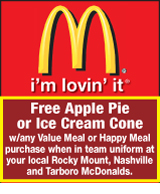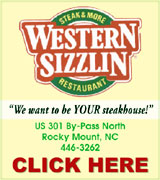 Sections
Member Options
Back
N-RMS board member passes away at 69
NASHVILLE - Mary Lewis Griffin Foote, 69, passed away last Tuesday at her Nashville home, leaving an empty seat on Nash-Rocky Mount's School Board as well as many empty hearts in the Nash County community.
Foote was an active Nashville resident, dedicating many hours to many different organizations throughout the county. She was born in Nash County but traveled around the world and returned back home to serve as Executive Director of the Nash Arts Council. More ...
By Amanda Clark, Graphic Staff Writer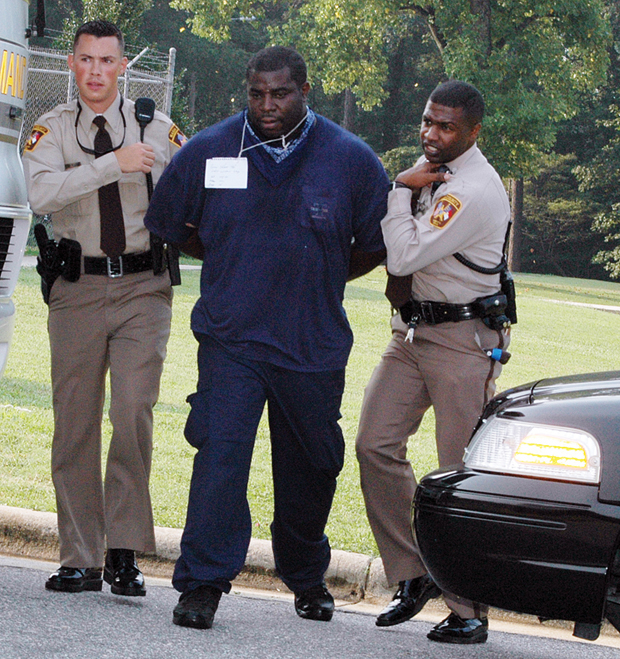 MOCK DRILL - Area law enforcement agencies and emergency services participate in a mock drill at Northern Nash High School last week. In above photo, deputies with the Nash County Sheriff's Officer arrest a suspect.

Mock high school shooting drills area law enforcement
On Thursday morning as teachers returned to school from summer break, six suspects entered Northern Nash High School and unleashed a tirade of gunfire, injuring students, staff and law enforcement.
Though this "shoot out" wasn't real, law enforcement officials hope the training exercise will better prepare them if the scenario ever did become real. More ...
By Amanda Clark, Graphic Staff Writer
Nash Extension Agent accepts position with HUD
NASHVILLE - Tracey Harvey has resigned his position as Extension Agent for Nash County's Cooperative Extension Program and accepted a position with Housing and Urban Development in Washington, D.C. More ...
By Amanda Clark, Graphic Staff Writer
Spring Hope looks at replacing water lines
SPRING HOPE - Spring Hope will start tackling its water line problems as money becomes available, Town Manager John Holpe told board members last week.
Kevin Varnell, of Stocks Engineering, gave the board a brief presentation of how the town could tackle water lines throughout town. He recommended the board start with Branch Street. More ...
By Amanda Clark, Graphic Staff Writer
Nash Health Care Systems CEO resigns
ROCKY MOUNT - Nash Health Care Systems (NHCS) Board Chairman Robert (Ziggy) Zalzneck announced last week the resignation of Chief Executive Officer (CEO) Richard K. (Rick) Toomey. In making the announcement, Zalzneck informed the NHCS Board of Commissioners and employees that Toomey has accepted the position of CEO of Beaufort Memorial Hospital in Beaufort, SC. More ...

BIRTH
Sgt. James M. Denton and Hee Kyong Denton of Fort Lewis, Wash., announce the birth of a daughter, Mandy Yun Joy Denton, on July 31, 2007 at 121 Hospital Camp Yongsan in Seoul, South Korea. She weighed 6 pounds, 7 ounces and was 19 inches long. More ...

UNC-W announes Dean's list and graduates
The University of North Carolina at Wilmington recently announced its graduates for the Spring 2007 semester, including several Nash County residents. UNC-W also announced its Dean's and Chancellor's List. More ...

Red Oak Community News
Several women from Red Oak Baptist Church attended the Adopt-a-Dorm Bible Study at Fountain Correctional Center on Aug. 6. Jean Mellor led the study with Jean Stallings and Nell Boone also attending. More ...
By SUZY PEARCE
Peachtree Community News
There was a lot of excitement in the Aubrey and Kathy Farmer Family on Wednesday. Their daughter, Jennifer, and her husband, Derrick Pittman, arrived home for a visit. They were returning from a three year tour of duty with the U.S. Air Force in Misawa, Japan. They will be in the community for a couple of weeks. They will then go to their new assignment in Nevada. Welcome home! More ...
By BARBARA HARDISON
Mt. Zion FWB ChurchNews
The pretty green plant with tiny blue flowers that graced the altar table was provided by Mary Coppedge. Thank you. More ...
By ROSALENE BASS
Ephesus Community News
Rev. Tony Futrell's message on Sunday morning was concerning God's command to all of us to tell people to repent and be saved and have eternal life. This was taken from the scripture of Mark 6:7-13. More ...
By LOTTIE LOU DICKENS
Beulah Community News
We really missed our minister's wife, Amy West, this weekend at church. She left last Thursday from Raleigh-Durham Airport to go to New Hampshire to visit her father who is seriously ill. She will return on Monday, Aug. 20. We continue to keep her in our prayers and hope she will have a safe trip back. We also pray for her father and the family. More ...
By WILMA ENROUGHTY
Castalia Church & Community News
School Days, School Days, dear ole' golden rule days! Remember that song! Brings back memories of crayons, construction paper, clay and for me lots of crying as a student who didn't want to leave home and later on as a mom who didn't want to let go of my child just yet. More ...
By KATHY FREEMAN-ROBLES
Presidential election and other weird stuff
Because we proudly claim to be the column of choice for people with Attention Deficit Disorder — or daydreaming, as they called it when I was in school — we have lots to cover this week, such as: More ...
Mike Brantley
Mary Lewis-Foote's contributions, visions, will never be forgotten
Not long after we put the paper to bed last Tuesday, I received a phone call relaying the news that a dear friend and prominent Nash County citizen, Mary Lewis Griffin Foote, had passed away. Upon hanging up the phone, I just sat quietly for a moment thinking it hadn't been that long ago I spent a couple of hours one morning with Mary Lewis just after a Boys & Girls Club Advisory Board meeting, chatting about numerous things. More ...
Jo Anne Cooper
Spreading it on thick
STANHOPE - When Louisburg High School head football coach James Collier scheduled a scrimmage against Southern Nash -- for the second straight season -- he had no idea the long-term benefits the event would provide. More ...
By Geoff Neville, Graphic Sportswriter
Wildcats, Firebirds to clash
STANHOPE -- Two teams with scores to settle will meet Friday for a season-opening football contest at Firebird Stadium.
The last time Bunn visited Southern Nash two years ago, the Wildcats were whacked 27-0 in one of the most lopsided defeats in recent BHS grid history. More ...
By Geoff Neville, Graphic Sportswriter
Red Rams wreck Firebirds, 7-0
FRANKLINTON -- Franklinton boasts 11 seniors on a talented, veteran-laden roster, while Southern Nash returns only three starters from last season's squad.
Those intangibles didn't provide a recipe for a close match during Monday's season-opening boys soccer event at the Franklinton Recreation Park. More ...
By Geoff Neville, Graphic Sportswriter
Nashville schedule released
NASHVILLE -- The Nashville Hornets will open their regular season schedule youth football schedule Sept. 8 at Roanoke Rapids.
The Hornets' complete varsity and junior varsity worksheet is as follows (home games at The Hornets' Nest are listed in CAPS): More ...
From Staff Reports
Hahula is hip for Gryphons
ROCKY MOUNT -- Most team followers knew Rocky Mount junior Nick Hahula was going to be a force in the Gryphons' kicking game this season. But few thought he'd be a major contributor to Rocky Mount's running attack. More ...
By Charles Alston, Graphic Correspondent
Bulldogs blitz Tarboro, 41-12
ROCKY MOUNT -- Nash Central has seen its share of tough, to-the-end games against Tarboro in recent years.
Last Friday's season-opening matchup versus the Vikings won't be remembered as one of them. More ...
By Geoff Neville, Graphic Sportswriter
Mudcats nab final game of home series
ZEBULON -- The Carolina Mudcats batted around during a five-run seventh inning to salvage the final game of their five-game series with Mississippi, downing the Braves 6-4 at Five County Stadium before 5,782 fans on Saturday night in a Class AA Southern League baseball matchup. More ...
From Staff Reports
Nash Arts to host benefit concert
A flagpole will soon adorn downtown Nashville's Battleship area thanks to the efforts of a local scout.
Allen Stanton, 17, is currently working on his Eagle Scout project. For his project, Stanton decided to try something different and he started in his own hometown. More ...
By Amanda Clark, Graphic Staff Writer
MARY LEWIS GRIFFIN FOOTE
NASHVILLE – Mary Lewis Griffin Foote died in her home in Nashville, NC on Tuesday, August 14, 2007, after a wonderful life that was, in her own words, "spent, not wasted." More ...

IRMA BOYD
Irma Boyd Briley, 81, passed away, August 20, 2007. She was born September 23, 1925 in Pitt County. She was the daughter of the late Bruce and Sudie Cook Boyd. Irma was a life long member of West Haven Presbyterian Church. She was very fond of her affiliation with the Eastern Star and Shrinette Organization and Railroad Ladies Auxiliary. She was preceded in death by her husband, Carl H. Briley Sr. More ...